Archipelago Collective 2019 Chamber Music Festival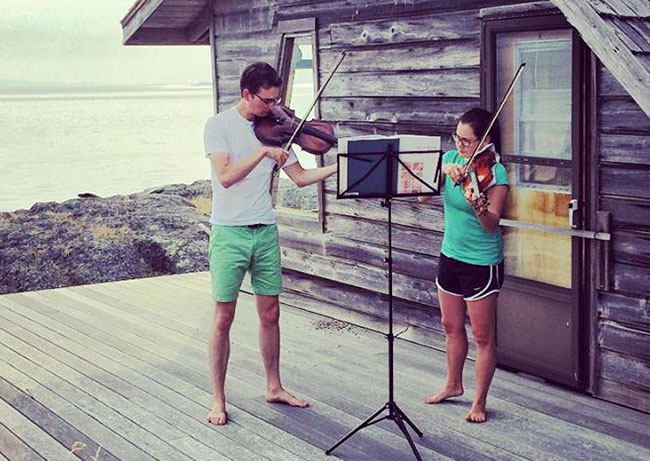 This September marks Archipelago Collective's fifth anniversary performing exhilarating and world-class classical music on San Juan Island. Our 2019 festival week will present five concerts in a celebration of chamber music both old and very new.
Our musicians are unparalleled virtuosi who come from across the country, and this year you'll be able to hear them all over Friday Harbor. From the museum, to the library, to the local schools, and to our home base at the Brickworks, they will perform programs that are exciting, challenging, and, deeply moving. As always, our concert venues are small and intimate, bringing the performers and audience together for a truly collaborative experience.
To mark our fifth anniversary, we have curated programs displaying the diverse voices in classical music. Alongside perennial favorites like Schubert, Debussy, and Dvorak you will hear fresh sounds from Schafer, and Magrill, and Andrès, including world premiers from Megan Bledsoe Ward and Miguel del Aguila.
In addition to three concerts at the centrally located Brickworks, we will present two free concerts, open to all. On September 6, our powerhouse piano couple presents a concert in partnership with SJIMA's exhibit "Deep Dive". The marine life of the Salish Sea will be woven into the program of four-hands piano works in an exploration of local art and environment. On the 7th, Directors Sophie Baird-Daniel and Dana Jackson will perform as BARP! The region's premier (and only) bassoon and harp duo. This will be a fun and family friendly program at the Friday Harbor Library.
Tickets can be purchased here: https://www.archipelagocollective.org/festival – Adults $20, or $50 for all three ticketed events. Students and children admitted free.
Archipelago Collective's vision is to be an integral part of the rich artistic community on San Juan Island. Our annual chamber music festival provides top tier professional musicians the time and freedom to explore small ensemble music and delve into the creative process. Throughout the week we perform in various venues at which intimacy and interaction with the audience are foremost.
In avoiding the traditional concert hall paradigm, Archipelago Collective presents classical chamber music in a way that invites audience participation and inquiry. We strongly believe in the value of music education; we give presentations at local schools and our concerts are free to all local students.
Dates: September 6-8
Phone: 206-457-9814
Email: archipelagocollective@gmail.com
Friday Harbor, San Juan Island, WA-
www.archipelagocollective.org