Heart-felt thanks to the Stand Up Men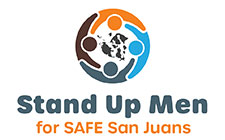 In the SJ Update mailbag, here's a letter to you from Dave Dunaway…
Four years ago a simple fundraising idea on San Juan Island sparked an inspirational movement among men. That idea was to see if 100 men would take a public stand against domestic violence by donating $100 to DV/SAS of the San Juans (now called SAFE San Juans), the agency serving San Juan County's survivors of domestic violence and sexual assault.
Those funds would make it possible for the agency to hire staff to teach relationship skills and domestic violence/sexual assault (DV/SA) prevention in the local schools with the goal of changing the basic thoughts and attitudes which can ultimately lead to domestic violence or sexual assault. More than 100 men "stood up" and accepted the challenge.
Having men take a stand was a bold and important move toward ending domestic violence and sexual assault (DV/SA). But those men who stood up didn't stop with their personal donations. They formed themselves into an ad-hoc community action group and began holding a weekly stand-in on the courthouse lawn. Every Friday at noon for the last four years, a group of "Stand Up Men" have taken their place and made an hour-long silent protest against the attitudes and actions of those who perpetrate violence.
These men have also volunteered their time helping SAFE carry out fundraising and community-awareness events, and in some cases they provided valuable physical assistance to survivors of DV/SA. More recently the men have taken upon themselves a goal of raising $45,000 on behalf of SAFE San Juans so our agency can provide comprehensive DV/SA prevention education in schools across the county. They have reached out to friends and gone from business to business asking their owners to consider supporting SAFE San Juans. They have set up tables at the grocery stores and Farmer's Market where they hand out information about SAFE San Juans services and ask people to consider making a donation.
The efforts of our San Juan Island Stand Up Men have been noticed in other communities, and there are now men on Orcas and Lopez Islands forming their own groups. King 5 News put them in the state spotlight late June when a reporter and a camera operator came to Friday Harbor and featured them on the nightly news. People from other parts of Washington are noticing and wanting to stand up too.
Every now and then a question is asked about how the Stand Up Men are related to SAFE San Juans. It's a logical question given our mutual interest in seeing the end of domestic violence and sexual assault. The short answer is that the Stand Up Men are an independent group of men who care deeply about the issues at hand. Though we share common interests, Stand Up Men do not operate under the guidance, supervision or instruction of SAFE San Juans. When the men conduct their vigils or ask people to donate to SAFE San Juans, they do so as concerned citizens operating entirely on their own. As an agency, the staff of SAFE San Juans are grateful for the support.
SAFE San Juans is a community-based nonprofit agency serving residents and visitors of San Juan County with offices in Friday Harbor, Eastsound, and Lopez Village. Our mission is the elimination of domestic violence and sexual assault through services, education, community awareness and cultural and social change. Our services run the gamut from crisis intervention and counseling, safety planning, legal advocacy (including protection orders), medical advocacy, to support groups. Given the nature of what survivors of DV/SA experience, all of our services are confidential and free of charge, including therapy from Master's level professionals for those impacted by sexual assaults. It doesn't matter who you are, we are here to help if you are suffering from domestic violence or have experienced the trauma of DV/SA.
So, I have a request to my fellow islanders. The next time you see a Stand Up Man, thank him for caring so much about the terrible effects of domestic violence and sexual assault that so many of our community members have suffered from. Give a honk and wave when you pass them on the courthouse lawn. When one asks if you would be willing to make a donation to SAFE San Juans, please thoughtfully consider it; our agency is frequently overwhelmed by the needs, and we welcome the help.
Never underestimate the impact a small group of people can have in changing public attitudes and turning the tide of events. We see it happening right in front of us with the Stand Up Men. If you want more information about the Stand Up Men pay them a visit on Friday at noon. For information about SAFE San Juans call 360-378-8680 or visit one of our three offices. If you are experiencing a domestic violence or sexual assault crisis and need immediate help, please call our 24-hour crisis line at 360-378-2345.
Dave Dunaway, Executive Director
SAFE San Juans
dave@safesj.org
360-378-8680