Port to Purchase Shipyard Cove Marina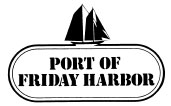 The Port of Friday Harbor is pleased to announce that the Port has entered into an agreement with Barnhill Construction Company to purchase Shipyard Cove Marina. The purchase price of $4,500,000 is based on appraised value and the agreement includes a feasibility period for the Port to conduct due diligence activities. Shipyard Cove Marina adjoins the Port's recently acquired Albert Jensen Shipyard and Marina.
The Port of Friday Harbor Commission believes that a coordinated redevelopment of a combined Shipyard Cove Marina and Albert Jensen Marina represents an historic opportunity for the Port and the community. The combination of these two facilities allows for the creation of an expanded and more functional marine business park. Opportunities available in a coordinated redevelopment include a deep-water travel lift, an improved barge landing, and additional permanent moorage. Ancillary benefits of the acquisition include lowering the cost of planned environmental cleanup activities at the Jensen facility, the opportunity to improve local truck traffic issues, and lowering the per unit cost of adding new permanent moorage space.
The Port is looking forward to working with the community on a redevelopment plan to create new amenities and economic opportunities that will benefit generations of Islanders.
There will be a Special Meeting of the Port's Board of Commissioners on September 18, 2019 at 4pm at the Friday Harbor Grange Hall. This meeting is intended to answer questions from the public about the Shipyard Cove acquisition and the community opportunities that the Port sees in this property.
The public as well as any potential stakeholders are encouraged to attend will have the opportunity to ask question and make comments. This will be the first of a series of public meetings as the Port develops a Master Plan for the Marine Business Park and marina expansion. The Commission is committed to ensuring citizen involvement in the creation of the best possible plan.