Chamber Featured Member of the Month – Petro San Juan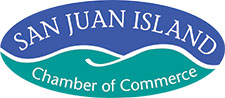 Our featured member of the month is Petro San Juan. When we reached out to their employee, Danielle Cochran, she quickly gathered this information and current picture for our article. (And a big thank you Jim Horn for the picture below from one of his and Bob's parties back in the late 90's)
Lin and Pam Pearson have been the owners of Petro San Juan for 20 years, married for 25 years and contributing members of our community for over 35 years. They are known for their kind hearts and generosity. Their willingness to give their time and money has helped many community members and establishments over the years.
They are contributing members of the American Legion, where Lin often steps in to host the weekly meat raffle. If you know Lin and Pam, then you know their passion for animals… especially dogs. For years Pam brought her gardening skills to the "Wags to Riches" event by donating flowers and making the floral arrangements. They donate bags of dog and cat food to our local shelter and when a pet they know passes, they will make a donation to the shelter in that pet's name.
Their greatest community service was coordinating and judging the 4th of July Parade which included choosing the grand marshal, deciding the theme, making the lineup for parade day, purchasing the ribbons and announcing the winners for 17 years.
The only thing bigger than their hearts is their desire and willingness to help whenever needed. Our community is definitely a better place because of Lin and Pam.