State Recruiting Members to Serve on the Recreation and Conservation Funding Board
Posted August 25, 2019 at 5:47 am by Tim Dustrude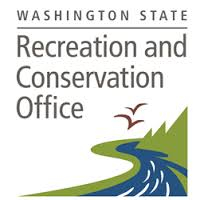 OLYMPIA–The Wash­ing­ton State Recre­ation and Con­ser­va­tion Office is recruit­ing for two new mem­bers for its Recre­ation and Con­ser­va­tion Fund­ing Board, which awards grants to improve parks, trails, boat­ing ameni­ties and access to shore­lines. It also awards grants to con­serve work­ing lands, such as farms and forests, and to pro­tect pris­tine wildlife and nat­ur­al areas.
Dur­ing the course of a two-year bud­get cycle, the board will dis­trib­ute more than $140 mil­lion in grant funding.
"This board sup­ports a huge invest­ment in Washington's qual­i­ty of life," said Gov­er­nor Jay Inslee, who will select the board's new mem­bers. "If you've hiked a back­coun­try trail, thrown a ball around at your neigh­bor­hood park, or sim­ply appre­ci­at­ed Washington's breath­tak­ing nat­ur­al beau­ty – you've expe­ri­enced first-hand this board's impact for every­one who lives in or vis­its our state."
Sup­port­ed by the state's Recre­ation and Con­ser­va­tion Office, the board over­sees near­ly a dozen state and fed­er­al grant pro­grams, award­ing grants to cities, coun­ties, trib­al gov­ern­ments, non­prof­its, state agen­cies and oth­ers. The board sets the poli­cies and cri­te­ria to ensure projects meet state, local and nation­al pri­or­i­ties and approves projects for funding.
"Tasked with giv­ing out grants to improve what makes Wash­ing­ton so great, this board is tru­ly one of the best vol­un­teer jobs in state gov­ern­ment," said Kaleen Cot­ting­ham, direc­tor of the Wash­ing­ton State Recre­ation and Con­ser­va­tion Office. "If you've been want­i­ng to make a big impact on our state's out­doors, this is an incred­i­ble oppor­tu­ni­ty to make a difference."
In addi­tion, the board adopts plans that estab­lish statewide pri­or­i­ties for out­door recre­ation and com­pletes stud­ies on a range of top­ics includ­ing pub­lic own­er­ship of lands and recre­ation trends.
To qual­i­fy, appli­cants must have a demon­strat­ed inter­est in, and a gen­er­al knowl­edge of, out­door recre­ation and con­ser­va­tion in Wash­ing­ton state. Appoint­ed mem­bers will serve three-year terms begin­ning in Jan­u­ary 2020.
Cit­i­zen mem­bers are reim­bursed for trav­el expens­es and receive a small stipend for attend­ing meetings.
To apply, sub­mit an elec­tron­ic appli­ca­tion via the Governor's Boards and Com­mis­sions Web site at: http://www.governor.wa.gov/boards-commissions/board-and-commissions/apply-serve-board-or-commission‑0.
It is rec­om­mend­ed that appli­cants also attach a resume and a let­ter of inter­est. Appli­ca­tions should be sub­mit­ted by Novem­ber 1, 2019.
Cre­at­ed in 1964, the Recre­ation and Con­ser­va­tion Office pro­vides statewide lead­er­ship and fund­ing to pro­tect and improve the best of Washington's nat­ur­al and out­door recre­ation resources.
You can support the San Juan Update by doing business with our loyal advertisers, and by making a one-time contribution or a recurring donation.