30th Annual Children's Festival Committee Members Needed
Posted October 7, 2019 at 5:46 am by Tim Dustrude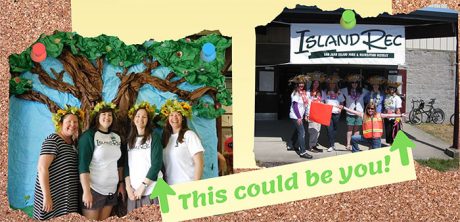 Plans are just begin­ning for the Annu­al San Juan Island Children's Fes­ti­val sched­uled for May 2, 2020. We are need­ing peo­ple will­ing to work as a team, com­mit­ted to cre­at­ing this fun filled fes­ti­val ded­i­cat­ed to cel­e­brat­ing chil­dren! The Children's Fes­ti­val attracts over 1,200 peo­ple and is in its 30th year as a hall­mark event for San Juan Island and Island Rec!
Apart from the fes­ti­val day, com­mit­tee mem­bers vol­un­teer an esti­mate of 6–8 hours per month begin­ning in Jan­u­ary. The com­mit­tee works close­ly with Island Rec staff to choose the theme of the fes­ti­val, secure enter­tain­ment, coor­di­nate par­tic­i­pa­tion of over 30 com­mu­ni­ty orga­ni­za­tions, recruit vol­un­teers and pro­mote the event. We encour­age mem­bers of our com­mu­ni­ty to be part of this long-stand­ing suc­cess­ful event. If cre­at­ing oppor­tu­ni­ties for chil­dren to dis­cov­er, explore, cre­ate and be amused speaks to you, please RSVP through the con­tact infor­ma­tion below.
Con­tact Lili at Island Rec at 360–378-4953 or Lili@islandrec.org to learn more about this opportunity.
You can support the San Juan Update by doing business with our loyal advertisers, and by making a one-time contribution or a recurring donation.