APS-FH Says Thanks!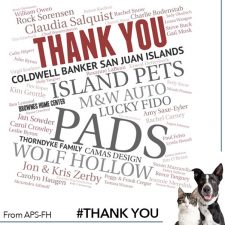 Animal Protection Society Of Friday Harbor Sends Sincere Gratitude for Adoption Celebration Success
APS-FH sends warm thanks to everyone who shared in their first adoption celebration at their new home and helped to make it a huge success.
The car parking, manned by the volunteers Paul Felso and Ron Leonard Saturday September 28th was full of potential adopters, P.A.L. (People Animals Love) members, pet care or service exhibitors, APS-FH volunteers and the Team from Coldwell Banker San Juan Islands, Inc; CBSJIS Designated Managing Broker Tim Gambrell, CBSJIS Ad Director Kelly E. Armstrong and CBSJIS brokers Kelly Snow, Leasa Wangoe, Debra Sullivan and Steve Buck along with a few new-to-the-island faces.
With the parking full the APS-FH Lucas Pohlad Adoption Center overflowed with merriment to celebrate APS-FH's first year in their new home and shelter pets starting new lives and meeting their new forever families.
APS-FH would like to send special thanks to Coldwell Banker San Juan Islands for co-hosting and presenting them with the opportunity to participate in the Adoptapet.com/CB Homes for Dogs Project Adoption Event, to Gail Mosk representing the Thorndyke Family for extra parking, to Brian Christensen Manager of Browne's Home Center for keeping everyone grounded with tent weights, to Erin Shackelford of Camas Design for the beautiful lobby florals, to Wendy Pinnow and M&W AUTO for providing shuttle vans, to Cathy Hilpert for painting faces, to photographer Tamara Weaver for capturing the event, to volunteers Leslie & John Byron and Jim O'Brian for the DELICIOUS hot lunch. And for sharing how their pet care or services improve the lives of island pets APS-FH thanks Suzanne Bryner, trainer and owner of Lucky Fido Dog Training, Judy Okulitch and Tim Kopet representing PADs for Parkinson's, Chanda Stone Wolf Hollow Director representing Wolf Hollow Wildlife Rehabilitation, Alyssa Crawford and Logan Johnson representing Island Pets (grooming) and the APS-FH kitten foster dynamos Natasha & Chad Warmemnhoven and Renee & Virgil Koehne.
The Animal Protection Society of Friday Harbor also sends special thanks for donating their time, talent and treasure to their board members; Carolyn Haugen (President), Susan Mazzarella (Vice President), Amy Saxe-Eyler (APS-FH Treasurer), Peggy Cregor (Secretary), Rock Sorensen, Charlie Bodenstab, Claudia Salquist, and Jon Zerby, along with APS-FH volunteers; Jan Sowder, Carol Crowley (August Volunteer of the Month), Kristal Detterbeck, Kim Grottle (May Volunteer of the Month), Rachel Carney, Roxanne LaBeau, Jeannie Meredith, William Owen, Alexandra Adinolf, Rachel Snow, Kris Zerby, Frank Cregor, Molly Tangney, Reece Tangney, Lindsey Holloway representing APS-FH PALs and Linda Howell the APS-FH Pet Food Pantry Volunteer Coordinator.
"Thank you for your commitment to making a difference in the lives of our shelter pets. Our mission 'PAWS-ATIVELY' cannot be accomplished without our loyal and hard-working community" – Cristin Felso, Director APS-FH
APS-FH Mission
Our mission is to provide compassionate care and brighter futures for homeless animals, with a commitment to PROVIDING a safe haven for homeless and lost animals, REUNITING lost pets with their owners, PLACING animals in our care into qualified and loving homes, REDUCING PET OVERPOPULATION through spay/neuter education and assistance, ADVISE AND ADVOCATE for the protection of animals, NETWORK with other shelters and pet rescue groups impacted by overcrowding or natural disasters to decrease euthanasia rates to save lives, ADVOCATE for animal welfare through education, outreach and assistance, PROMOTE a stronger sense of the animal/human bond AND ALWAYS adhere to our no-kill philosophy for adoptable animals.