Island Rec Adult Drop-in Programs
Posted October 1, 2019 at 9:13 am by Tim Dustrude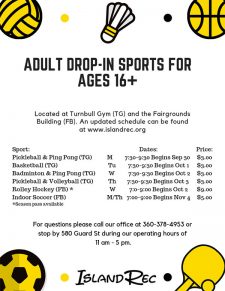 Island Rec's evening drop-in pro­grams begin this week at Turn­bull Gym. Now that it's get­ting cool­er out­side, join us for some indoor fitness.
Begin­ning 09/30/2019 at Turn­bull Gym:
Mon­day 7:30–9:30pm – Ping Pong & Pickleball
Tues­days – 7:30–9:30pm – Basketball
Wednes­days 7:30–9:30pm –Bad­minton & Ping Pong
Thurs­days – 7:30–9:30pm – Pick­le­ball &Volleyball
All par­tic­i­pants must be 16 & Up and bring clean court shoes into the gym to par­tic­i­pate. Six­teen- and sev­en­teen-year old's must have a par­ent signed waiv­er to par­tic­i­pate. $3 drop-in or pur­chase a 10-time pass for $25.
Begin­ning 11/4/2019 at the Fairgrounds:
Mon­days & Thurs­days – Indoor Soc­cer 7–9pm, Pur­chase a 3 month pass at the Island Rec office or on our web­site www.islandrec.org
Wednes­days – Roller Hock­ey (6–7pm ages 5–14) (7:00–9:00 ages 15+)
Sat­ur­days – Scoot­er & Trike (5:30–6:30pm) Open Skate (7–8:30pm)
Drop-in rates vary at the Fair Building.
For more infor­ma­tion or reg­is­tra­tion www.islandrec.org; call 360–378-4953 or drop by the office 580 Guard St. Mon­day – Fri­day 11am-5pm. Please note that the sched­ule for all drop-in pro­grams is sub­ject to change. Please vis­it our pro­gram cal­en­dar at http://www.islandrec.org/calendar/ to get up to date information.
You can support the San Juan Update by doing business with our loyal advertisers, and by making a one-time contribution or a recurring donation.