Island Rec Adult Drop-in Programs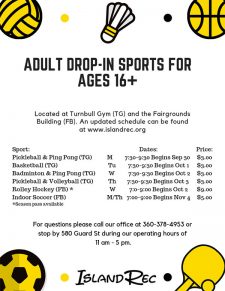 Island Rec's evening drop-in programs begin this week at Turnbull Gym. Now that it's getting cooler outside, join us for some indoor fitness.
Beginning 09/30/2019 at Turnbull Gym:
Monday 7:30-9:30pm – Ping Pong & Pickleball
Tuesdays – 7:30-9:30pm – Basketball
Wednesdays 7:30-9:30pm –Badminton & Ping Pong
Thursdays – 7:30-9:30pm – Pickleball &Volleyball
All participants must be 16 & Up and bring clean court shoes into the gym to participate. Sixteen- and seventeen-year old's must have a parent signed waiver to participate. $3 drop-in or purchase a 10-time pass for $25.
Beginning 11/4/2019 at the Fairgrounds:
Mondays & Thursdays – Indoor Soccer 7-9pm, Purchase a 3 month pass at the Island Rec office or on our website www.islandrec.org
Wednesdays – Roller Hockey (6-7pm ages 5-14) (7:00-9:00 ages 15+)
Saturdays – Scooter & Trike (5:30-6:30pm) Open Skate (7-8:30pm)
Drop-in rates vary at the Fair Building.
For more information or registration www.islandrec.org; call 360-378-4953 or drop by the office 580 Guard St. Monday – Friday 11am-5pm. Please note that the schedule for all drop-in programs is subject to change. Please visit our program calendar at http://www.islandrec.org/calendar/ to get up to date information.