Why do so Many Island Trees Look Unhealthy and Brown?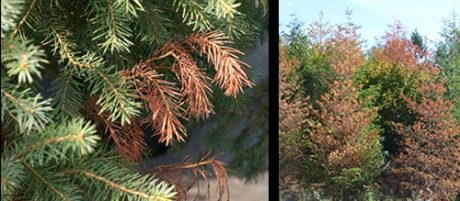 Have you noticed more and more trees turning brown or dying on your property or as you drive through the islands? Kevin Zobrist, Washington State University Extension professor, discusses what's happening to our trees and forests. Learn how trees prioritize their resources under the impacts of stressors like climate change and our common root diseases, and what browning needles really mean. Leave with a good understanding of how to manage stressors, tree and forest resiliency, and your role in understanding and managing tree health.
Kevin coordinates the Extension Forestry program in the Puget Sound area, working with people who own forested property. Kevin has two forestry degrees from the University of Washington, and is the author of "Native Trees of Western Washington." His research interests include outreach methodology in forestry education, forest ecology and native trees.
The Annual Gardening Workshop is a day-long event, with noted authorities speaking on a wide variety of topics of interest to PNW coastal gardeners. Multiple choices allow you to plan your day to attend sessions of interest to you.
This year topics include:
Keynote Address: Seasonal, local and sustainable flowers with Debra Prinzing
Managing deer and other mammals in your garden
Planning, planting and protecting a winter kitchen garden
Good, bad, beautiful and ugly insects in your garden
Care and pruning of caneberries
Color in the winter garden
Care and pruning of grapes and kiwi vines
Exploring new and old British gardens
Forest and tree health in San Juan county
Taking care of your landscape
Visit GardenWorkshop.org for complete descriptions of each session and our speaker's biographies.
Purchase tickets here. Tickets are $40 online, $45 at the door. Advance purchase strongly recommended, as spaces are limited and filling quickly!
Coffee and tea are complimentary; pastries from Café Demeter are available for purchase.
October 19th from 8:30 – 4:30 at Friday Harbor Middle School, 85 Blair Avenue.
Are you interested in becoming a Master Gardener volunteer?
Our next training session begins in January 2021, in Friday Harbor. For more information, please contact Caitlin Blethen at mg.sanjuancounty@wsu.edu or 360-370-7663. Information about the program and what volunteers do is located here.
The Annual Gardening Workshop is presented by the Master Gardener Foundation of San Juan County in Cooperation with the San Juan County Washington State University Extension. Reasonable accommodations will be made for persons with disabilities and special needs who contact the WSU San Juan County Extension office at 360-370-7663 or mg.sanjuancounty@wsu.edu at least two weeks prior to the event.