40th Anniversary Open House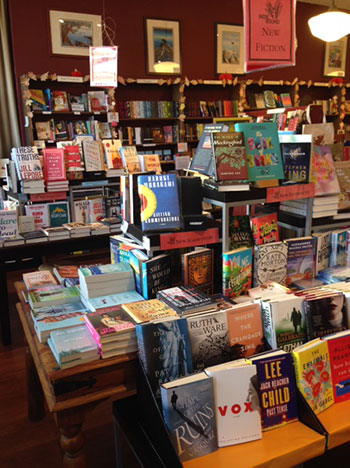 Make sure you get to Griffin Bay Bookstore's shindig—our big 40th Anniversary party this Saturday, November 9, 10:00 am—6:00 pm. Join the crowd of well-wishers and shoppers who eagerly await our annual Open House and Sale.
The bookstore will be decorated to the hilt with bunting made from repurposed books to celebrate 40 years of bookselling in Friday Harbor. There will be a special 40th anniversary cake from Bakery San Juan, free cider and coffee.
And, this year you'll have a chance to win a $40 Gift Certificate. Buy just one item so you can fill out a raffle ticket for the drawing at the end of the day. Five lucky winners will be picked, each receiving a $40 Gift Certificate.
The annual sale is not to be missed—it's the one time of the year when all books on the shelves are 20% off. Stock up with books for winter reading!
You'll find the bookstore brimful of the latest in fiction and non-fiction. The annual Open House and Sale is Laura Norris' way of thanking our island community for loyal support and ongoing patronage. Come in and shop to your heart's content.
If you want to start on holiday shopping and take advantage of the sale, look for the latest in fiction and non-fiction. You'll find all the bestsellers. New releases include: Bill Bryson's, The Body: A Guide for Occupants; Kristin Kimball's Good Husbandry and more. In fiction, look for The Water Dancer by Ta-Nehisi Coates, Inland by Téa Obreht, Gun Island by Amitav Ghosh. Works by Northwest authors Timothy Egan and David Guterson are on the shelves, and so are lots of new and colorful children's books. And take a gander at new cookbooks for the cooks in your life.
As usual you'll find the bookstore stocked with wide range of gift items. There's an ample supply of Advent calendars, stationery, boxed cards, holiday cards, thank you notes, and colorful journals. There are plenty of 2020 day planners and calendars to get you off on the right foot in January. New this year are a range of gifts inspired by books and authors: felted Christmas ornaments of literary figures like Mark Twain and Jane Austen; pins showing off well-known book covers or well-loved authors; and canvas book bags with the colorful spines of your favorite classics. You'll also find things for a cozy winter: Fair Trade candles, movies, games, and soothing soaps.
Griffin Bay Bookstore is part of IndieBound, an off shoot of the American Bookseller's Association, developed to promote the benefits of independent bookstores across America as well as the benefits of shopping or buying locally. When you shop locally and support your independent bookstore you discover what's new, what's great to read. And you nurture your own community and its well being, just one more reason to attend Griffin Bay Bookstore's Open House and Anniversary Sale on Saturday, November 9, 10:00—6:00 p.m.! It's a community tradition.