Boyd Pratt's Newest Book
Boyd Pratt launched his newest book, "Island Farming: History and Landscape of Agriculture in the San Juan Islands," at the Grange Hall to a large, enthusiastic crowd of farmers, Grange members, and others on Friday evening.
He highlighted three themes from the book – bygone farmers, fruit-growing, and sheep-raising – but there are a multitude of other themes in the book he could just as easily have chosen.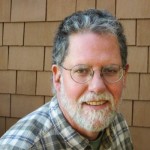 Drawing on his own extensive knowledge and an enormous amount of research, he has written a book that is a wonderful combination of facts, stories, maps, pictures, and almanac-like details. It includes a travel guide to all the barns in the county.
It is available at Griffin Bay Books and other bookstores, as well as directly from Boyd himself. It costs $19.95.
Posted on December 16, 2019 at 5:49 am by Tim Dustrude
Categories: History


Comments are closed.