New Program Series at the San Juan Island Library in 2020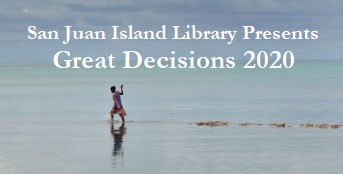 This new program series begins Monday, January 27 at 7:00 pm at the San Juan Island Library and it's free.
The Library is pleased to announce a new series based on the Foreign Policy Association's Great Decisions program. Great Decisions is America's largest discussion program on world affairs and highlights eight critical foreign policy challenges facing Americans each year.
In libraries across the country, Great Decisions discussion group participants discuss and debate each issue and complete a national opinion ballot to communicate their views to Congress and the White House. Supported by the Foreign Policy Association for over 50 years, Great Decisions involves citizens in the foreign policy making process.
The Foreign Policy Association is an independent nonprofit organization dedicated to broadening public involvement with the most important foreign policy issues facing the United States. Each year, thousands take part in the Great Decisions discussion groups around the country to increase their awareness and understanding of U.S. foreign policy concern.
The annual series features a DVD on each topic, followed by a moderated discussion among the participants. Participants are encouraged to review the relevant chapter of the Great Decisions briefing book, a limited number of which are available from the Library.
San Juan Islander Roger Morris will be our discussion moderator. He is the author of several critically acclaimed books on American politics, including Richard Milhous Nixon: The Rise of an American Politician, 1913-1952, and Partners in Power: The Clintons and Their America. Roger holds a Ph.D. in Government from Harvard, served in the United States Foreign Service, on the White House Staff, and on the Senior Staff of the National Security Council under Presidents Lyndon Johnson and Richard Nixon. He brings many years of experience in statecraft and the American political process to the role of moderator.
These are the Great Decisions topics and dates – Mark Your Calendars:

January 27: Climate Change and the Global Order
February 24: India and Pakistan
March 23: Red Sea Security
April 27: Modern Slavery and Human Trafficking
September 28: U.S. Relations with the Northern Triangle
October 26: China's Road into Latin America
November 23: The Philippines and the U.S.
December 28: Artificial Intelligence and Data
Civil, non-divisive discussions only.
Registration is not required. For more information please contact the Library at 360-378-2798 or check the website at https://www.sjlib.org/great-decisions-2020/