Warren Frederick Jones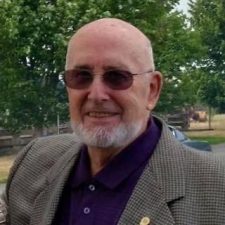 Warren Frederick Jones, of Friday Harbor, Washington died peacefully, surrounded by his family, following a brief illness, Tuesday, November 26, 2019 at Skagit Valley Hospital. He was born to John and Ida (Souza) Jones on January 28, 1937 in San Luis Obispo, California. In 1942, when he was 5 years old, he moved with his parents to San Juan Island where he grew up at Turn Point on the family farm.
He attended Friday Harbor Elementary and High School from 1942-1955, where he made many lifelong friends and enjoyed many reunions with the class of 1955. Warren attended Skagit Valley College, the returned to the island in 1956 to run the family farm, Wild Rose Ranch and Island Angus Farms. In 1956 he married Romona Dawn DeStaffany. Warren and Romona had 4 daughters, Kathy, Pat, Sherry and Tammy. Warren and Romona divorced in 1971.
He married Joyce R (Wilson) Johnson on December 31, 1971 and her children, Christina, Roland and Melissa became part of the family.
Like many islanders, Warren worked a variety of jobs over the years to support his family. In his younger years while farming, he worked as a commercial gillnetter on his boat the 'Sherry Lee'. He was a partner at J & J Ready-Mix and would often recollect on various jobs they had done around the island. He worked as a real estate broker for San Juan Properties at Roche Harbor from 1966-1975. Warren was the owner – broker at Sunland Realty from 1975-1985, where his daughters have fond memories of stopping by to visit on the way home from school.
After nearly 20 years selling real estate, he brought his wealth of knowledge to the San Juan County Assessor's office from 1985-90 as a property appraiser. He then joined the Town of Friday Harbor from 1991-2010, working as a zoning coordinator, permit coordination, land use regulations and creating a mapping system that shows footprints of every building in town.
Warren developed his deep devotion to service at a young age and became involved in several community groups that remained important to him throughout his life:
He became a member of San Juan Masonic Lodge 175 in 1959. He served as Master in 1966, 1983 and 1993. He was very proud to be a Mason and was honored to receive his 60 year membership pin from the Lodge. He was also recently honored with a 60 year pin as a member of Goldstream Lodge #161. His family remembers him participating in many, many outdoor degrees and salmon barbeques at Roche Harbor over the years.
In 1962 he was a charter member of San Juan Lions club, where he was awarded the Melvin Fellows Award. He served as president of the SJ Lions club in 1972-73.
Year after year he served many hours, volunteering his time for various fundraisers around the island.
For many years he loved ringing his grandmother Olive Greggs' school bell raising money to benefit the Salvation Army during the Christmas season.
Warren also served on the Friday Harbor Town Council, the San Juan County Cemetery Board and Shriners International.
Warren was predeceased by his parents, Ida May (Souza) Jones in 1958 and John Gregg Jones in 1966, Joyce's son Mark and granddaughter Trinidy Marie Cameron. He is survived by his wife Joyce R Jones, daughters Katherine Dawn (Todd) Shelton, Patricia Lynn (Brad) Gislason, Sherry Lee (James) Wilson, Tamara Marie (Jeffrey) Moores, , step daughters Christina Marie Johnson, step son Roland James (Joan) Johnson, Melissa R (Rick) Root, foster daughter Jacqueline Fowlie and her son Aaron, 9 grandchildren Nick Emil (Jennifer) and Alex Michael (Natasha) Gislason, Olivia Lee Wilson, Robert Warren Shelton. Clayton (Carly) and Dylan (Annie) Johnson, Amanda Rosaia, Christopher Earl Mark and Kathryn Trinity Root and 4 great grandchildren, Aaron James Tracey, Giddeon Marx Hyppolite, Maverick Josiah Hyppolite and Bennett Kai Johnson.
Warren's family will miss the stories he would entertain us with about growing up, working and living on San Juan Island. He lives on in our hearts as we remember his words of wisdom, sage advice, his wonderful smile, his bear hugs, and his love of football.
A Masonic Graveside Service will be held St. Francis Cemetery, 454 Madden Lane, Friday Harbor, on Sunday, December 15, 2019 at 12:15 PM. A reception will be held at the Masonic Lodge, 15 2nd St N, following the service.
Memorial donations may be made in Warren's name to San Juan Masonic Lodge #175 PO Box 757, Friday Harbor, WA 98250 or San Juan Island Lions Club PO Box 54, Friday Harbor, WA. 98250