The Space Lady Comes to the San Juan Islands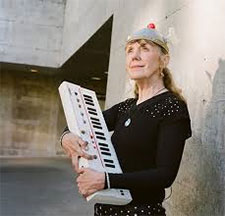 Last year, Susan Dietrich Schneider, internationally known as The Space Lady, played the dome at Alchemy Art Center on San Juan Island. Whether folks already knew of her 20-year musical career or were simply curious about someone with a name like The Space Lady, community response on the night of the show was overwhelming.
As more and more attendees arrived for what would surely be a unique performance, members of Alchemy Art Center had to create extra parking by mowing more areas around the driveway. In the end, all who arrived were accommodated and The Space Lady lived up to her reputation.
Susan's unconventional career began in the 1970s, when she and her first husband Joel decided to live off-grid in order to dodge the draft. They were both artists, and Susan sold her drawings, collages, poetry booklets, and various novelties on the street to eke out a small income.
In 1980, desperate to support their growing family, Susan adapted popular songs on an old beat up accordion for street performance. A few years later, she upgraded to the newly released Casiotone MT-40 and began singing through a mic and delay pedal, wearing her now iconic winged helmet. The Space Lady was born, and Susan became an iconic figure of the San Francisco streets, performing there for nearly two decades.
In 2000, Susan quit music abruptly to move back to her birth state of Colorado and take care of her aging parents– but the growth of the internet gave her new fame through videos taken of her street performances. Now Susan was becoming not just a local legend, but a global icon as well. She was convinced to re-enter the world of performance, and in 2014 Susan was recording new music and touring the world, playing to international audiences who resonated with her gentle soprano voice, ethereal arrangements, and earnest delivery.
At the Alchemy Art Center show last July, Susan lived up to her legacy. Her performance was truly magical in the dome-shaped space, and her banter was charming and engaging. Her versions of "Strawberry Fields", "Ghost Riders in the Sky", and "I Had Too Much to Dream Last Night" brought an otherworldly quality to the beloved songs. On an original song, she lamented the state of humanity and, with a crying theremin, passionately animated a prayer for Mother Earth. On her guitar song, "Oh, Brave New World" the whole room sang along with the chorus with many in tears by the end.
In January, The Space Lady returns for two more shows, one on San Juan Island and one on Orcas. If you have the chance, see this show- you will be happy you did! John Bellows with Glenn Hendrick open.
Saturday January 11, 7pm
Odd Fellows Hall – 112 Haven Road
Orcas Island
Sunday, January 12, 7pm
Alchemy Art Center – 1255 Wold Road
San Juan Island