Winter Storm Coming
Posted January 13, 2020 at 5:45 am by Tim Dustrude
This just in from OPALCO…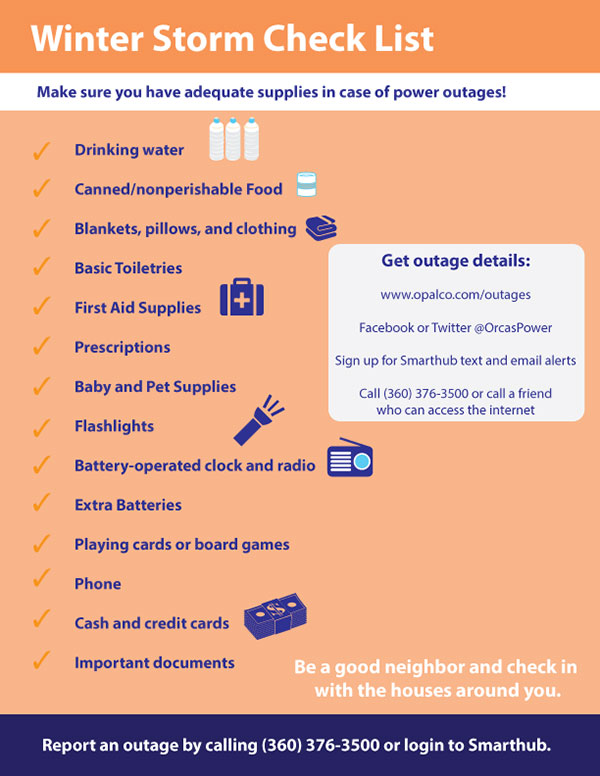 Are you ready for the win­ter storm blow­ing in?
We are look­ing at some some seri­ous cold com­ing our way this week. Please be pre­pared and look out for your neighbors!
Make sure you have your phone charged up, fill up your gas tank in your car, and if you have an elec­tric well pump turn off pump break­er and plan ahead for your water needs.
Because the most detailed infor­ma­tion, pho­tos and updates on out­ages are post­ed on Face­book, Twit­ter and on OPALCO's web­site, we encour­age peo­ple who don't have a smart phone to find an "out­age bud­dy" who does, so they can share infor­ma­tion and check up on each other.
The best way to report an out­age is to call (360) 376‑3500, press 1 or login to your Smarthub account. Telling your friends at OPALCO or report­ing on Face­book might work but won't be as quick as log­ging it into our system.
An excel­lent resource for emer­gency pre­pared­ness is the San Juan Coun­ty Depart­ment of Emer­gency Man­age­ment. Check out their resources for being pre­pared.
And review our check­list for win­ter storms (above right).
You can support the San Juan Update by doing business with our loyal advertisers, and by making a one-time contribution or a recurring donation.