APS-FH Surgical Suite – First Surgeries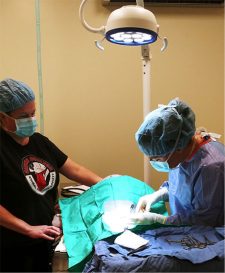 The Animal Protection Society of Friday Harbor (APS-FH) held its first surgeries in the shelter's newly completed Surgical Suite on Tuesday, February 5. Two successful neuters were performed back-to-back by APS-FH Veterinarian Dr. Merriss Waters with assistance by APS-FH Lead Animal Care Technician Dyan Shober. The two young dogs, "Monkey" and "Mr. Magoo," are recovering well.
In the past, shelter animals would have to wait a month or longer before receiving spay/neuter surgeries due to the very busy schedules of our local veterinarians. The new Surgical Suite will allow APS-FH to provide our shelter animals with routine vaccinations as well as spay/neuter surgeries onsite, which will save money and decrease the shelter animal's length-of-stay. Both of these factors will allow APS-FH to save more precious animal lives going forward.
APS-FH would like to extend our deep gratitude to Islands Veterinary Clinic as well as Harbor Veterinary Services for accommodating all the shelter's medical, emergency, vaccination and spay/neuter needs over the years. They have provided compassionate and timely care to our shelter animals.
Huge thanks to Dr. Merriss Waters for her expert consulting to set up and equip the Surgical Suite and now for joining the staff as our shelter veterinarian. Recognition is due to the APS-FH staff for their deep care for animals, their determination and focused-work that made this day a reality. Appreciation goes to the APS-FH Board of Directors for holding the vision and moving it forward. And our most sincere gratitude for the generosity of several private donors in addition to grants from the Honeywell Foundation, Bradley Foundation, and the San Juan Island Community Foundation. It was because of their support that brought us to this momentous occasion.
To learn more about how the APS-FH surgical suite will serve both the shelter and the SJI community, please join us at the Mardi-Paws "Spay"Ghetti Community Dinner on February 25, 5:30 – 7:30 pm, at the Mullis Senior Center. $15/adults and $5/children. Italian Dinner, dessert, drinks, raffle and shelter news will be served. Let's celebrate together! We hope to see you there.
Dr. Merriss Waters holds a master's degree in Shelter Medicine from the University of Florida. She and her husband Andrew have two daughters and own and operate Saltwater Farms in Friday Harbor.
APS-FH Mission
Our mission is to provide compassionate care and brighter futures for homeless animals, with a commitment to PROVIDING a safe haven for homeless and lost animals, REUNITING lost pets with their owners, PLACING animals in our care into qualified and loving homes, REDUCING PET OVERPOPULATION through spay/neuter education and assistance, ADVISE AND ADVOCATE for the protection of animals, NETWORK with other shelters and pet rescue groups impacted by overcrowding or natural disasters to decrease euthanasia rates to save lives, ADVOCATE for animal welfare through education, outreach and assistance, PROMOTE stronger a stronger sense of the animal/human bond AND ALWAYS adhere to our no-kill philosophy for adoptable animals.
Connect with us on Facebook, Twitter, Pinterest and Instagram or visit apsfh.com for more information.
Posted on February 11, 2020 at 5:47 am by Tim Dustrude
Categories: Animals


Comments are closed.