Hospital District Board Meetings
Posted February 29, 2020 at 8:24 am by Tim Dustrude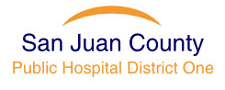 San Juan Coun­ty Pub­lic Hos­pi­tal Dis­trict No. 1 will now be hold­ing its Reg­u­lar Board Meet­ings at 5:30 p.m., but will con­tin­ue to meet on the fourth Wednes­day of the month at the Frank Wil­son Memo­r­i­al EMS Build­ing (1079 Spring Street).
Addi­tion­al­ly, the Board has added an addi­tion­al audi­ence par­tic­i­pa­tion sec­tion to the Agen­da, which will now be held both at the start of the meet­ing and at the end.
The Board has called a Spe­cial Meet­ing for March 4th, 2020, at 5:30 p.m., to be held in the Dis­trict busi­ness offices at 849 Spring Street Unit B‑5. The agen­da, linked below, is pri­mar­i­ly to dis­cuss the 2019 Year-end results for San Juan Island EMS, Inte­gra­tion of EMS and Fire, and begin long-term planning.
You can support the San Juan Update by doing business with our loyal advertisers, and by making a one-time contribution or a recurring donation.