Island Senior: For a Healthy Heart, Eat Your Oats!
Posted February 1, 2020 at 8:20 am by Peggy Sue McRae
Island Senior is a reg­u­lar col­umn on the San Juan Update writ­ten by Peg­gy Sue McRae…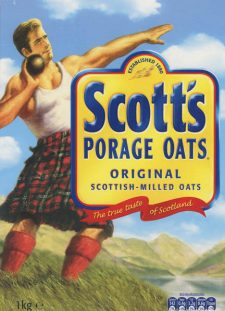 A Scots­man was eat­ing his oats when an Eng­lish­man scoffed, "In Eng­land we feed oats to our hors­es." "Aye," said the Scot, "That is why Eng­land rais­es the best hors­es… and Scot­land the best men." So said my dad, Jim McRae, as he encour­aged my sis­ters and I to eat our morn­ing oatmeal.
With apolo­gies to the Eng­lish he made a good point. Oats are now rec­og­nized among "super­foods" as espe­cial­ly ben­e­fi­cial for heart health. Oats are an impor­tant source of whole grain fiber that accord­ing to the Amer­i­can Heart Asso­ci­a­tion has been shown to low­er the risk of heart disease.
What makes oats so healthy is that they con­tain a type of sol­u­ble fiber called beta-glu­can that has been shown to slow diges­tion and increase sati­ety. From The Har­vard School of Pub­lic Health, "Beta-glu­can can bind with cho­les­terol-rich bile acids in the intes­tine and trans­port them through the diges­tive tract and even­tu­al­ly out of the body." *
Oats are also a nat­u­ral­ly gluten free (with some excep­tions) whole grain with a high lev­el of anti-oxi­dants includ­ing Avenan­thramides, a type of antiox­i­dant that exists almost exclu­sive­ly in oats and can low­er blood pres­sure, improve blood flow, and reduce inflam­ma­tion* as described in, Med­ical News Today. Like any oth­er so called, "super­food," oats are not a mag­ic bul­let but they can be a vital part of an all around healthy diet.
The less they are processed the more nutri­ents they retain. You need to watch the sug­ar con­tent on instant oat­meal pack­ets. Oats come as steel cut, old-fash­ioned rolled oats, and instant or quick oats. I keep it super easy by using quick oats. I just pour hot water over them in a cup. Throw in some dried fruit or a dab of jam and a pinch of salt and in five min­utes break­fast is served. The pos­si­bil­i­ties how­ev­er are vast. Check out the Mullis Center's Face­book Page for recent­ly post­ed recipes.
Link to: Mullis Com­mu­ni­ty Senior Center
Link to: *Har­vard School of Pub­lic Health
Link to: *Med­ical News Today
You can support the San Juan Update by doing business with our loyal advertisers, and by making a one-time contribution or a recurring donation.