Logic and Accuracy Test
Posted February 9, 2020 at 8:43 am by Tim Dustrude
Pres­i­den­tial Pri­ma­ry Vote count­ing equip­ment test­ing Feb­ru­ary 24 at 11:00 a.m.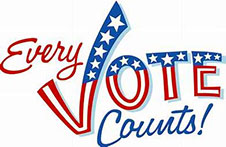 A "Log­ic and Accu­ra­cy" test of bal­lot tab­u­lat­ing equip­ment to be used in San Juan Coun­ty for the March 10, 2020, Pres­i­den­tial Pri­ma­ry is sched­uled for Feb­ru­ary 24 at 11:00 a.m. The test works by tal­ly­ing the results of a pre­pared set of bal­lots to see if the results match the votes cast. The test will take place in the Elec­tions Office locat­ed at 55 Sec­ond Street, Suite A, in Fri­day Harbor.
A rep­re­sen­ta­tive of the Sec­re­tary of State's Elec­tions Divi­sion will be present for the test. The test is per­formed before every local, state or fed­er­al elec­tion to ensure that tab­u­la­tion hard­ware and soft­ware equip­ment are com­pli­ant with Wash­ing­ton State rules and will accu­rate­ly count the votes.
All inter­est­ed mem­bers of the pub­lic are invit­ed to observe. For ques­tions about the test, please con­tact the Elec­tions Office at (360) 378‑3357.
You can support the San Juan Update by doing business with our loyal advertisers, and by making a one-time contribution or a recurring donation.