San Juan Public Schools Foundation Annual Knowledge Bowl is on March 2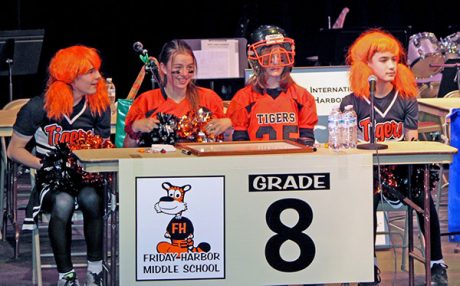 It's the time of year to celebrate knowledge with our entire community! The 2020 Knowledge Bowl will be held on March 2 at 6:30 pm at the San Juan Community Theatre.
A cross between Jeopardy and the old college quiz bowls, teams compete to answer questions on geography, history, pop culture, local fare, and more. The event is sponsored by the San Juan Public Schools Foundation.
This year there are eight competing teams, which include Friday Harbor 8th graders, combined teams of 9th and 10th, and 11th and 12th grades from Friday Harbor High School, a team from Spring Street International School, and teams from the Soroptimists, Rotary Club, Lions, and Kiwanis.
The program consists of two rounds of questions. "The audience loves testing their own knowledge against the teams. The evening is filled with laughter and ah-ha moments," said Karen Meenan, a Director of the San Juan Public Schools Foundation.
Jose' Domenech will serve as Master of Ceremonies. He is taking over for Brent Snow, who hosted the event for many years. "We are incredibly thankful to Brent, who volunteered his time and brought incredible energy and humor to the Knowledge Bowl," said Katie Fleming, a Director of the San Juan Public Schools Foundation, "now we look forward to seeing Jose' step out of his role as Finance Director with the school district and show his talents on the stage."
The High School Jazz Band will also provide musical entertainment. The High School PTA is sponsoring a bake sale and refreshments during intermission. There will be a fundraising raffle including a getaway to Roche Harbor, a massage from Lavendera, passes for the 2020 Friday Harbor Film Festival, and much more!
"Come root for your favorite team! This is a community event for all ages," Meenan said. Admission is $5 or whatever you can pay. All proceeds go directly to the San Juan Public Schools Foundation to support our teachers and students. Doors open at 6:15.