Griffin Bay Bookstore Remains Open For Business Online, By Email, Or By Phone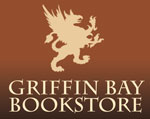 In the wake of newly announced statewide regulations designed to slow the spread of the coronavirus, we are temporarily closing Griffin Bay Bookstore and Café to in-store shopping, events, and meetings beginning Tuesday, March 17 and continuing until further notice.
The store is closed but we are open for orders on our website—www.griffinbaybook.com—and by email or by phone.
We encourage you to support us by ordering books, films, and music CDs from us via telephone, email, or our website. We will post more details for placing orders, payment, pick-up and/or delivery soon.
Check our website, Facebook, Instagram for our latest for updates.
You may also e-mail: info@griffinbaybook.com or leave a message on our phone, 360-378-5511. We will check both regularly.
Our first concern if the health and well-being of our customers and our community. By staying at home we all do our part to stem the tide of the coronavirus outbreak. Books and films thus take on more importance.
We look forward to opening the store again as soon as possible and we ask for your understanding and continuing patronage as we do our part to help stem the tide of the coronavirus outbreak.
If you have symptoms of COVID-19 or other respiratory illness, please call your healthcare provider and help keep our community healthy by remaining at home.
We are deeply grateful to all our customers; we maintain our commitment to serving you and our island community during this difficult time. Stay well and keep on reading!