2020: A Fair Odyssey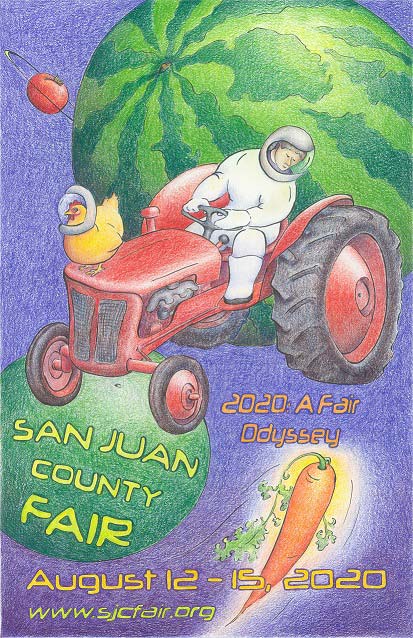 Planning for the San Juan County Fair occurs year round. As planning continues for the 2020 San Juan County Fair, each day presents new situations, issues to explore, and opportunities for creative problem solving.
In case you haven't heard, the San Juan County Fair Board selected a futuristic theme for this year – "2020: A Fair Odyssey", and lately, each day has felt like a new journey, an odyssey of sorts.
While it is not certain what the future holds, there is one thing you can count on, the San Juan County Fair Board and Staff are working on creative ways to meet the Fair's core values in 2020:
Provide a wholesome community and family focused fair by incorporating healthy competition, education, entertainment, and activities appropriate for all fairgoers.
Promote agriculture, environmental sustainability and rural living.
Operate in a safe and fiscally conscious manner.
Invest in our clientele, our personnel, and our facilities.
Provide the County and WSU 4H program participants a venue to fulfill their projects.
Provide a venue that encourages Civic, Town, and County organizations to promote and fundraise for themselves.
How will these core values be met?
Not long ago, video conferencing and wireless networks seemed like space-age technologies, like something from a sci-fi movie. As we navigate the present world, we are finding new ways to connect and stay connected to each other.
Science, technology and globalization has rapidly transformed the ways we communicate, work, farm, eat, take care of ourselves, learn, and so much more. With these changes there is hope of limitless possibilities.
Now is a good time to think about what the Fair means to you. Have you participated in the Fair before, and if so, what are you planning to enter this year?
Perhaps you have recently acquired a new skill, or taken up a new hobby that you would like to share. In order to continue providing a "wholesome community and family focused fair" we are reaching out to our Islands community (San Juan County) to help us promote local agriculture, environmental sustainability, and rural living.
We are looking for local organizations, businesses, educators, entertainers, and passionate individuals to contact us with ideas for this year's Agricultural Tent. The Agricultural Tent is host to informational presentations ranging from cooking and equipment demonstrations, historical talks, and panel discussions.
What are your thoughts on the future of farming and sustainability? Please email us your ideas for presentations or workshops at info@sjcfair.org by May 8th, 2020.