San Juan Island Fire And Rescue Report To The Community
Posted April 30, 2020 at 10:48 am by Tim Dustrude
Update on our COVID-19 response and post pan­dem­ic response and ser­vice lessons learned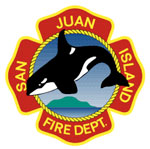 By Bob Jar­man, Chair of Fire Dis­trict #3
Tim­ing is every­thing. More than one year ago, San Juan Island Fire and Res­cue (SJIF&R) and San Juan Island EMS began work­ing through rec­om­men­da­tions from the cit­i­zens to join emer­gency ser­vices togeth­er into one organization.
We have been work­ing dili­gent­ly to imple­ment the unan­i­mous agree­ment between San Juan Coun­ty Pub­lic Hos­pi­tal Dis­trict #1 and Fire Dis­trict #3 elect­ed com­mis­sion­ers. While devel­op­ing a com­bined all haz­ard emer­gency ser­vices for our islands, we sud­den­ly found our­selves in the mid­dle of an unprece­dent­ed, glob­al health pandemic.
All of San Juan Island's pub­lic safe­ty emer­gency ser­vice providers imme­di­ate­ly eval­u­at­ed how to pro­vide increased emer­gency ser­vices to our islanders, while min­i­miz­ing risk to our com­mu­ni­ty mem­bers, respon­ders and volunteers.
Tim­ing is every­thing. SJIF&R lead­er­ship rec­og­nized the need to take actions to pro­tect the com­mu­ni­ty, the mem­ber­ship, and the greater emer­gency respon­der com­mu­ni­ty. Imme­di­ate action was tak­en to coor­di­nate emer­gency ser­vice oper­a­tions between all of the County's pub­lic safe­ty providers (Fire & EMS, and Sher­iff); con­cur­rent­ly, a direct link to San Juan County's emer­gency oper­a­tions. In doing so, the lead­er­ship of these orga­ni­za­tions cre­at­ed a response plan ensur­ing all haz­ard emer­gency response for all the San Juan Islands while ensur­ing depth and mutu­al aid between agencies.
The work in imple­ment­ing the joint all-haz­ard emer­gency response with SJIF&R and EMS, paired with SJIF&R's imple­men­ta­tion of the already obtained first response med­ical license from the State, gave us a huge leg up on respond­ing to this pub­lic health cri­sis and, simul­ta­ne­ous­ly, meet­ing the needs of our community.
Tim­ing is every­thing. With­in 10-hours, Chief Collins had com­mu­ni­cat­ed with the Fire Com­mis­sion­ers, declared a State of Emer­gency for the Dis­trict, and altered their emer­gency response deploy­ment plan. The emer­gency response mod­el changed from all mem­ber response for every emer­gency page to a ful­ly staffed Engine Com­pa­ny, out of HQ Sta­tion 31, with four crew mem­bers, includ­ing at least two Emer­gency Med­ical Tech­ni­cians, and a Com­mand Staff mem­ber (Chief Collins and/or Assis­tant Chief Monin) avail­able 24-hours/7‑­days a week; all with­in the exist­ing adopt­ed budget.
There have been three crews with four mem­bers work­ing rotat­ing 24-hour shifts for imme­di­ate response. This has sig­nif­i­cant­ly decreased response times and has max­i­mized the health and safe­ty of our entire mem­ber­ship. The rest of our vol­un­teer fire­fight­ers remain on call for struc­tur­al fires, res­cues and any emer­gen­cies exceed­ing a sin­gle crew. In addi­tion, there is a ded­i­cat­ed marine response crew to staff Fire Boat One, the only fire and EMS marine response resource in San Juan Coun­ty, 24-hours a day.
As the pan­dem­ic con­tin­ues and we begin plan­ning our resump­tion of post-COVID 19 emer­gency response, we have learned some valu­able lessons in how we can bet­ter serve our islands' com­mu­ni­ties. We remain ded­i­cat­ed to serv­ing our com­mu­ni­ties with the sup­port, com­mit­ment, and par­tic­i­pa­tion of our mem­ber­ship. The focus and com­mit­ment of all our mem­bers is to pro­vide the high­est lev­el of com­pre­hen­sive emer­gency care we can for our entire com­mu­ni­ty through­out the islands we serve and love. Rest assured we are ready and able to respond to your needs.
Be Safe; Be Healthy. Tim­ing is everything.
# # #
The San Juan Island Fire & Res­cue was estab­lished on Octo­ber 6, 1958. The fire depart­ment cov­ers about 55 square miles, includes all of San Juan Island, as well as Brown and Pearl Islands. For more infor­ma­tion, please vis­it http://www.sjifire.org/
You can support the San Juan Update by doing business with our loyal advertisers, and by making a one-time contribution or a recurring donation.