Take a Walk at the Sculpture Park!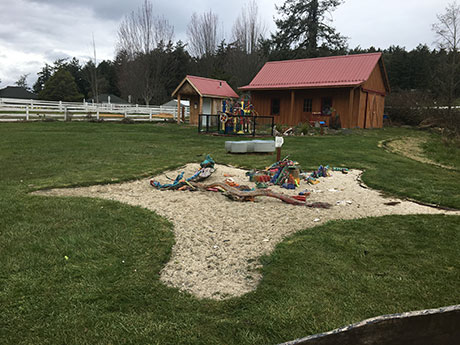 We're all getting cabin fever these days, and going outside to explore our beautiful island can bring a smile to your face, and perhaps help bolster your immune system at the same time.
Our sculpture park on Roche Harbor Road is a perfect place to take a walk. There are enough paths in the 20-acre site to enable you to maintain social distancing, and happily dogs are welcome at the park, and are allowed to do their sniffing and get their exercise off-leash.
All along the park's meandering paths through fields and trees are well over 100 sculptures, many of them crafted by local islanders. And there are poems posted along the paths as well, enhancing the experience of exploring. Since the park first opened years ago, it has morphed from plain, grassy fields to a well-landscaped area that includes several ponds, lots of benches, several bridges over small streams, rocks and driftwood, a large sand box shaped like a star fish that calls out to children to come and create their own sculptures in the sand, and a new bathroom (that unfortunately is currently closed because of our health crisis). And best of all, the park's numerous daffodils are now in full bloom!
So get yourself off that couch and take a break from watching Netflix, and enjoy a walk in one of the island's most beautiful public spaces! Just be sure to respectfully keep your distance from other visitors.