National Tourism Week: Honoring the Spirit of Travel in the San Juan Islands
Posted May 2, 2020 at 5:47 am by Tim Dustrude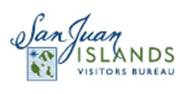 Fri­day Har­bor, WA… Nation­al Trav­el and Tourism Week, May 3 — 9, is the annu­al salute to the pos­i­tive effects of trav­el in the U.S. Now, more than ever, is a time to reflect on what vis­i­tors bring to the vital­i­ty and resilience of the San Juan Islands.
Trav­el is in our DNA, and the spir­it of trav­el isn't only found in far-off places. When island res­i­dents embrace the spir­it of trav­el by sup­port­ing local vis­i­tor-ori­ent­ed busi­ness­es and help­ing their neigh­bors, we are also play­ing a key role in rebuild­ing our com­mu­ni­ties. Com­mu­ni­ties around the world ben­e­fit from the spir­it of trav­el, which per­me­ates through small busi­ness­es, unique land­marks, and all those who wel­come res­i­dents and vis­i­tors alike with a smile and hospitality.
It would be hard to imag­ine San Juan Island with­out Lime Kiln Light­house, or Orcas Island with­out Moran State Park, or Lopez Island with­out the Nation­al Mon­u­ment. When the time is right, the trav­el and tourism indus­try will be inte­gral to our islands' and nation's recovery—for the econ­o­my and jobs. But it is the spir­it of trav­el that will heal our country's morale.
The San Juan Islands Vis­i­tors Bureau and the Islands' tourism indus­try rec­og­nize that the eco­nom­ic vital­i­ty of tourism is only sus­tain­able if our nat­ur­al beau­ty, rur­al char­ac­ter, and watch­able wildlife are pre­served. A 2018 tourism impact study by our local land man­agers sup­port­ed the fact that vis­i­tors come here pri­mar­i­ly to take part in low-impact out­door activ­i­ties. Vis­i­tors who val­ue out­door ethics such as Leave No Trace will con­tin­ue to be a tar­get niche when mar­ket­ing resumes.
With tourism occu­py­ing such a sig­nif­i­cant per­cent­age of the San Juan Islands econ­o­my (in 2018, vis­i­tors spent over $251 mil­lion in our Coun­ty), and cur­rent­ly on a 'time out' of sorts, this is a gold­en oppor­tu­ni­ty to cre­ate a more resilient method of man­ag­ing tourism. There's no time like the present to eval­u­ate our cur­rent stan­dards. A Tourism Man­age­ment Plan has been on the County's dock­et since last fall. We encour­age you to get involved in the plan­ning process so that tourism mov­ing for­ward rep­re­sents the wish­es of our whole community.
# # #
The San Juan Islands Vis­i­tors Bureau is the offi­cial des­ti­na­tion mar­ket­ing and man­age­ment orga­ni­za­tion for San Juan Coun­ty and Town of Fri­day Har­bor. It rep­re­sents over 300 island busi­ness­es and non­prof­its rep­re­sent­ing local his­to­ry, arts, out­door recre­ation, agri-tourism, and vis­i­tor edu­ca­tion. Most­ly fund­ed by lodg­ing tax paid by vis­i­tors, it also receives mem­ber­ship dues and web adver­tis­ing fees.
You can support the San Juan Update by doing business with our loyal advertisers, and by making a one-time contribution or a recurring donation.