We're Keeping the Ghost Light On!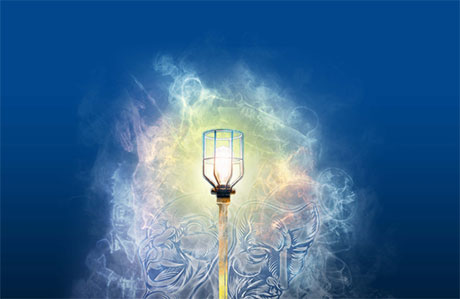 A note from Island Stage Left…
Normally at this time of year we would be asking you for money. But what's normal now?
For the first time in Island Stage Left's twenty two year history, we must cancel our summer "Shakespeare Under the Stars", which was to have been Shakespeare's romantic comedy, "Much Ado About Nothing."
We worked hard last winter auditioning and assembling the cast and crew. As of May 1, our cast was complete, our posters designed, our music chosen, our script edited, our design and production concepts developing – when it was my sad duty to call all sixteen actors and crew members and inform them that there would be no employment this year. We have every hope of mounting the show a year from now, and they are all invited back for 2021 if we're able to continue then. We are certainly well prepared for it!
Those of you who know me are aware that I'm allergic to asking for money. I avoid it except when cornered. So for me it is something of a relief not to have to write the annual fundraising letter – though people keep pointing out that regular bills have not stopped arriving just because we have no income for the foreseeable future, so when we have a clearer idea of next season's plans, you can expect to hear from us!
We don't know how long the current situation will continue, though we know that theatres will be among the last venues allowed to re-open to live audiences. That is a sobering thought for all of us who spend our lives, and earn our living, in theater. We mourn the present silence of our stages, quiet now in a way they have never been – except, perhaps, in Shakespeare's day when for a time theatres were closed to prevent the spread of the bubonic plague. ("King Lear," "Macbeth" and "Antony and Cleopatra" were all written during this time period).
Live theatre is just that – it's live. It's a communion, a congregation of artists and audience. Every performance is different, partly because every audience is different. It's a shared experience and a magical one in which we listen to each other, watch, empathize and respond to each other. We share and learn in these performances. We stretch our understanding of people and situations outside our personal experience, and yet we recognize ourselves there, too.
Videos of theatre are fine as video— but they are not the same thing at all. They are not live. People are not present. The magic, the alchemy, is in the connection between actors and their audience.
This is why stage acting is such a special craft. A true stage actor, for me, is someone whose natural gift is connection and empathy, whose skills are physical dynamism, transmission of emotional truth, and (much forgotten these days) the ability to convey thought and feeling with his or her voice, an instrument that must be clear, pleasant and dynamic, able to fill either a small black box or a huge arena.
I think people sometimes confuse stage actors with "Show Biz Personalities" – ie, lightweights. The real ones are nothing of the kind. They're dedicated professionals, incredibly hard-working, usually quite poor, more disciplined than you can even imagine. And they're able to illuminate the world around us so that we see it afresh, shining and bright in all its miraculous possibilities.
When a theatre is closed we say that it is "dark," but it never is – not quite. For safety, there always remains one light on the stage, called the ghost light. Theatres across the globe are now "dark" as actors and agents and technicians and assistant prop masters and dancers and choreographers (and on and on) are huddled at home, but in the empty theatres a ghost light stands alone in the dark on stage.
We invite you to keep a little light burning in your hearts for Island Stage Left and for all theatres across the world. Remember the theatre's ability to be a light in the darkness. Our time will come again. We'll be back. We'll see you before long and in the meantime we're working on other ideas to keep you entertained!
Director Richard Twyman said recently, "Your greatest fear when you run a theatre company is that projects are cancelled, future programming falls apart and you will struggle to pay people: for all of us this has quickly become reality. But what I'm looking forward to most is when we, collectively, emerge from this, having lived through those fears."
Storytelling is as old as humankind and as essential now as it ever was. What a celebration we shall have when this is finally over and everyone is invited to come together once again, to rejoice, to mourn, to reflect and to have a chance to renew. "All the world's a stage and all the people in it merely players."
To the players in this current crisis, the nurses, doctors, scientists, post office workers, grocery clerks, delivery drivers – and on and on, into areas and professions to which we used to give little thought:
"How far that little candle throws his beams. So shines a good deed in a weary world."
With love, health and hope for all,
Helen and Dan