Chamber Chat
Scott Sluis, Vice President and Senior Loan Officer at Islanders Bank and Board President of the San Juan Island Chamber of Commerce brings you this latest edition of Chamber Chat:
"It's Time to be Friendly and Nice"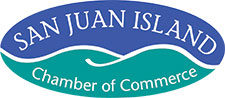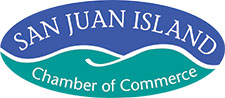 Hello Chamber Members and fellow islanders, it's been a while since we've been able to connect in person and I thought as we move in to phase 2 of the pandemic plan I would like to take a minute to write a few words and thoughts during these unprecedented times.
What I know to be true is that as an island we are very reliant on tourism, whether you like that or not, and it has created a very large hole in our economy and in our small businesses revenues. I also know that islanders are full of emotions and feelings; they are mad, scared, fed up, I get it, me too but I ask you to put those in check please.
I also know that as humans in a free country (I'm hearing that line a lot lately) we have a choice to go out with a mask on or stay home – so choose what is best for YOU not for others. Masks help us as a county get approval to move forward to normalcy and it is a very simple rule to follow – heck I don't want to wear them either but guess what? I do, why? Because it really isn't that hard of a thing to do and if you think you are being stripped of your "rights", remember we had this fight around seat belts, and what about the person who doesn't want to wear clothes? Well it's his or her "right" not to, but come on now. Okay enough of that topic.
The real issue right now is the unfortunate few that are berating our visitors or folks that appear to be visitors. First of all, some are not visitors but it shouldn't matter, we should treat everyone kindly, there is enough hate going on in the world – let's not join in. Be aware that there are companies that are hiring still and so people are relocating here and have quarantined themselves and then have needed to go about their lives and are being accosted and that is not the islander or human thing to do.
ASK QUESTIONS FIRST!! "Hi, I see you are from XXX, what brings you to the island?" And wait for the answer, don't assume people are coming here to infect us all. The amount of damage that type of treatment of others will cause will cost a lot of money in advertising and messaging to reverse that and then we will be begging people to come back. Let's not be labeled the unfriendly island – after all more people rely on the tourists than don't, so please do not be selfish, think of others and their families and their needs like simply to put food on the table and a roof over their heads.
I know we are nicer than what we are hearing, I know there are a lot of isolated incidents but in any case I implore you all to defend those being accosted and remember we will be in phase 3 in no time and more people will be here so "It's Time to be Friendly and Nice".
Thank you and I really hope to see you all out in the community soon IN PERSON.