Chamber Chat
Posted June 3, 2020 at 11:43 am by Tim Dustrude
Scott Sluis, Vice Pres­i­dent and Senior Loan Offi­cer at Islanders Bank and Board Pres­i­dent of the San Juan Island Cham­ber of Com­merce brings you this lat­est edi­tion of Cham­ber Chat:
"It's Time to be Friend­ly and Nice"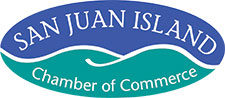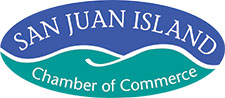 Hel­lo Cham­ber Mem­bers and fel­low islanders, it's been a while since we've been able to con­nect in per­son and I thought as we move in to phase 2 of the pan­dem­ic plan I would like to take a minute to write a few words and thoughts dur­ing these unprece­dent­ed times.
What I know to be true is that as an island we are very reliant on tourism, whether you like that or not, and it has cre­at­ed a very large hole in our econ­o­my and in our small busi­ness­es rev­enues. I also know that islanders are full of emo­tions and feel­ings; they are mad, scared, fed up, I get it, me too but I ask you to put those in check please.
I also know that as humans in a free coun­try (I'm hear­ing that line a lot late­ly) we have a choice to go out with a mask on or stay home — so choose what is best for YOU not for oth­ers. Masks help us as a coun­ty get approval to move for­ward to nor­mal­cy and it is a very sim­ple rule to fol­low – heck I don't want to wear them either but guess what? I do, why? Because it real­ly isn't that hard of a thing to do and if you think you are being stripped of your "rights", remem­ber we had this fight around seat belts, and what about the per­son who doesn't want to wear clothes? Well it's his or her "right" not to, but come on now. Okay enough of that topic.
The real issue right now is the unfor­tu­nate few that are berat­ing our vis­i­tors or folks that appear to be vis­i­tors. First of all, some are not vis­i­tors but it shouldn't mat­ter, we should treat every­one kind­ly, there is enough hate going on in the world — let's not join in. Be aware that there are com­pa­nies that are hir­ing still and so peo­ple are relo­cat­ing here and have quar­an­tined them­selves and then have need­ed to go about their lives and are being accost­ed and that is not the islander or human thing to do.
ASK QUESTIONS FIRST!! "Hi, I see you are from XXX, what brings you to the island?" And wait for the answer, don't assume peo­ple are com­ing here to infect us all. The amount of dam­age that type of treat­ment of oth­ers will cause will cost a lot of mon­ey in adver­tis­ing and mes­sag­ing to reverse that and then we will be beg­ging peo­ple to come back. Let's not be labeled the unfriend­ly island – after all more peo­ple rely on the tourists than don't, so please do not be self­ish, think of oth­ers and their fam­i­lies and their needs like sim­ply to put food on the table and a roof over their heads.
I know we are nicer than what we are hear­ing, I know there are a lot of iso­lat­ed inci­dents but in any case I implore you all to defend those being accost­ed and remem­ber we will be in phase 3 in no time and more peo­ple will be here so "It's Time to be Friend­ly and Nice".
Thank you and I real­ly hope to see you all out in the com­mu­ni­ty soon IN PERSON.
You can support the San Juan Update by doing business with our loyal advertisers, and by making a one-time contribution or a recurring donation.