Griffin Bay Bookstore Is Open Again
Posted June 3, 2020 at 11:30 am by Tim Dustrude
Shop Tues­day through Sat­ur­day, 10:00 am to 4:00 pm
Order­ing & Curb­side Pick­up Still Avail­able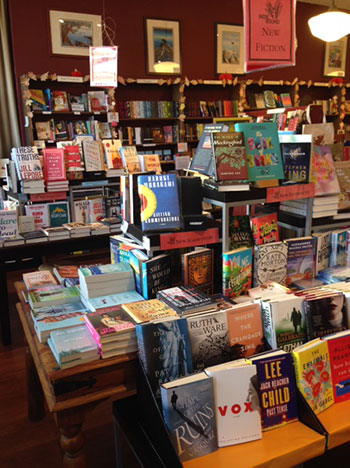 Lau­ra Nor­ris and Grif­fin Bay Book­store staff are excit­ed to wel­come the com­mu­ni­ty back to the book­store. Thanks to an out­pour­ing of sup­port, con­tin­u­al mes­sages of encour­age­ment, and steady cus­tomer orders, thanks to our community's spir­it of good­will and recog­ni­tion of the impor­tance of sup­port­ing local busi­ness­es, Grif­fin Bay Book­store is open again. We thank all of you for your loy­al­ty. We couldn't have weath­ered the last few months with­out you.
The book­store will now be open Tues­day through Sat­ur­day, 10:00 am to 4:00 pm. How­ev­er, cus­tomers may also con­tin­ue to place orders, may arrange for curb­side pick-up and/or deliveries.
When you return to shop in the book­store, you'll find it ful­ly-stocked, but dif­fer­ent. We've made a num­ber of changes in the store's lay­out and have closed the café.
In order to ensure the pro­tec­tion and safe­ty of staff and cus­tomers, as well as to com­ply with Phase 2 require­ments, and San Juan County's face-cov­er­ing man­date for all island busi­ness­es, every­one enter­ing the book­store will be asked to fol­low our new pro­to­cols, to be part of a team effort—a col­lab­o­ra­tion between book­store staff and cus­tomers. As a shop­per, you have a role to play in mak­ing sure every­one is safe and respected.
Safe­ty Pro­to­cols & Store Etiquette
You'll be greet­ed at the door by staff mem­ber Alli­son who will help you get ori­ent­ed to our pro­to­cols. She'll be keep­ing track of the num­ber of cus­tomers in the store. She may ask you to wait out­side if there are 10 peo­ple inside the book­store. You should make sure to keep 6 feet apart on the sidewalk.
Once you enter the book­store you'll see a large black­board post­ing the fol­low­ing pro­to­cols and etiquette:
Wear a face mask. (This is mandatory.)
Stay 6 feet apart.
10-per­son limit.
Take turns when look­ing in the small spaces.
Be respect­ful.
Since you'll sure­ly be touch­ing books and oth­er things, you'll be asked to first use hand san­i­tiz­er placed at our greeter's table. It's local­ly made by San Juan Island Dis­tillery. You'll find it in sev­er­al places in the store. If you wish to wear nitrile gloves, please make sure you have a brand-new pair to put on when you come to shop. FYI: All staff will be wear­ing masks and gloves, and will make sure hard sur­faces and card swipers are san­i­tized regularly.
Flow for Foot Traffic
Right away you'll notice that tables and shelves have been re-arranged for an eas­i­er flow. Mark­ers or foot­prints are on the floor to help you keep six feet away from oth­ers and from staff. When you check out, you'll see two sta­tions stand­ing well away from staff mem­bers Natal­ie and Ryanne. You'll be swip­ing your own card on a sep­a­rate device.
Adults Accom­pa­ny­ing Children
We are delight­ed to see chil­dren again, delight­ed to hear their enthu­si­as­tic voic­es. Grand­par­ents and par­ents please take note: All chil­dren must be accom­pa­nied by an adult. In order to lim­it the num­ber of peo­ple in the children's sec­tion, we request that each par­ent or adult bring just two chil­dren into the book­store at any one time. You may have to take turns if you have a gag­gle of kids with you.
What's Changed?
We humans have our favorite places, and we don't like to see them change. We like the com­fort of our beloved rou­tines. Those of you who have been reg­u­lar patrons, who have fre­quent­ed the café, browsed often and loved your par­tic­u­lar book­store rou­tine, will encounter nec­es­sary changes. Here are the things you won't find now: mag­a­zines, chairs, tables, the couch and cozy chairs, cof­fee, tea, pas­tries. And you won't be able to linger over a cup­pa and a book.
You may ask us to stamp your Fre­quent Buy­er Card, but we can't do that right now. Han­dling them—stamping—is not a per­mit­ted activ­i­ty in Phase 2 so we are ask­ing cus­tomers to save their receipts. When we're in Phase 3, you can then update your cards and get cred­it for your pur­chas­es so be sure to hang onto your receipts!
What Is the Same?
Books. Lots of books, new releas­es, best­sellers, clas­sics, poetry—every genre you've come to expect in Grif­fin Bay Bookstore—books for chil­dren, mid­dle read­ers, young adults. Games, puz­zles, jour­nals, sta­tionery, cards (We know you've been miss­ing them.), socks, and oth­er gift items are all still there for you.
We opened Sat­ur­day, May 30, for a tri­al run and couldn't have been more pleased to see famil­iar faces, peo­ple we've missed. Our new lay­out and rou­tines worked, cus­tomers were hap­py to look around and shop; they observed our pro­to­cols and eti­quette. Our first day was smooth, reward­ing, and fueled our efforts to be a book­store again. Lau­ra and staff thank you for your heart­felt encour­age­ment, sup­port, and loy­al­ty. We are so hap­py to wel­come you back.
Web­site and Phone Orders Are Still Available
Call the book­store, 360–378-5511 to reach staff and place an order.
Call any­time to place your order on our mes­sage machine. A real per­son will call you back—a staff mem­ber who will con­firm your order, answer your ques­tions, give you pick up details, and process your pay­ment. You can count on some­one return­ing your call. If you call dur­ing open hours, you may encounter a busy sig­nal, but don't give up—just try call­ing the book­store when it is con­ve­nient for you and leave your mes­sage and order on our recorder. E‑mail, though, is always a good choice, too: info@griffinbaybook.com.
You'll find detailed order­ing instruc­tions on our web­site. Fol­low the prompts and your order will be processed quickly.
E‑Mail is Effi­cient Too
If you pre­fer e‑mail, send one with your order­ing requests as well as your phone num­ber, but please do not include your cred­it card infor­ma­tion! Don't for­get to give us your phone num­ber so we can call you back. Our email is: info@griffinbaybook.com Lau­ra or Natal­ie will respond to your requests quickly.
You can support the San Juan Update by doing business with our loyal advertisers, and by making a one-time contribution or a recurring donation.