Griffin Bay Bookstore Is Open Again
Shop Tuesday through Saturday, 10:00 am to 4:00 pm
Ordering & Curbside Pickup Still Available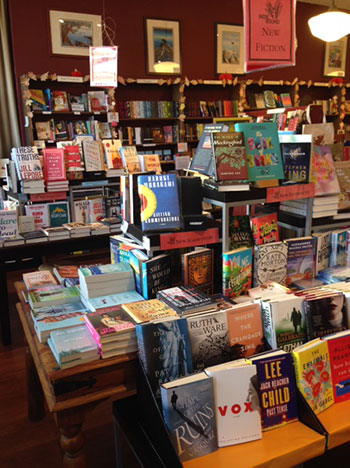 Laura Norris and Griffin Bay Bookstore staff are excited to welcome the community back to the bookstore. Thanks to an outpouring of support, continual messages of encouragement, and steady customer orders, thanks to our community's spirit of goodwill and recognition of the importance of supporting local businesses, Griffin Bay Bookstore is open again. We thank all of you for your loyalty. We couldn't have weathered the last few months without you.
The bookstore will now be open Tuesday through Saturday, 10:00 am to 4:00 pm. However, customers may also continue to place orders, may arrange for curbside pick-up and/or deliveries.
When you return to shop in the bookstore, you'll find it fully-stocked, but different. We've made a number of changes in the store's layout and have closed the café.
In order to ensure the protection and safety of staff and customers, as well as to comply with Phase 2 requirements, and San Juan County's face-covering mandate for all island businesses, everyone entering the bookstore will be asked to follow our new protocols, to be part of a team effort—a collaboration between bookstore staff and customers. As a shopper, you have a role to play in making sure everyone is safe and respected.
Safety Protocols & Store Etiquette
You'll be greeted at the door by staff member Allison who will help you get oriented to our protocols. She'll be keeping track of the number of customers in the store. She may ask you to wait outside if there are 10 people inside the bookstore. You should make sure to keep 6 feet apart on the sidewalk.
Once you enter the bookstore you'll see a large blackboard posting the following protocols and etiquette:
Wear a face mask. (This is mandatory.)
Stay 6 feet apart.
10-person limit.
Take turns when looking in the small spaces.
Be respectful.
Since you'll surely be touching books and other things, you'll be asked to first use hand sanitizer placed at our greeter's table. It's locally made by San Juan Island Distillery. You'll find it in several places in the store. If you wish to wear nitrile gloves, please make sure you have a brand-new pair to put on when you come to shop. FYI: All staff will be wearing masks and gloves, and will make sure hard surfaces and card swipers are sanitized regularly.
Flow for Foot Traffic
Right away you'll notice that tables and shelves have been re-arranged for an easier flow. Markers or footprints are on the floor to help you keep six feet away from others and from staff. When you check out, you'll see two stations standing well away from staff members Natalie and Ryanne. You'll be swiping your own card on a separate device.
Adults Accompanying Children
We are delighted to see children again, delighted to hear their enthusiastic voices. Grandparents and parents please take note: All children must be accompanied by an adult. In order to limit the number of people in the children's section, we request that each parent or adult bring just two children into the bookstore at any one time. You may have to take turns if you have a gaggle of kids with you.
What's Changed?
We humans have our favorite places, and we don't like to see them change. We like the comfort of our beloved routines. Those of you who have been regular patrons, who have frequented the café, browsed often and loved your particular bookstore routine, will encounter necessary changes. Here are the things you won't find now: magazines, chairs, tables, the couch and cozy chairs, coffee, tea, pastries. And you won't be able to linger over a cuppa and a book.
You may ask us to stamp your Frequent Buyer Card, but we can't do that right now. Handling them—stamping—is not a permitted activity in Phase 2 so we are asking customers to save their receipts. When we're in Phase 3, you can then update your cards and get credit for your purchases so be sure to hang onto your receipts!
What Is the Same?
Books. Lots of books, new releases, bestsellers, classics, poetry—every genre you've come to expect in Griffin Bay Bookstore—books for children, middle readers, young adults. Games, puzzles, journals, stationery, cards (We know you've been missing them.), socks, and other gift items are all still there for you.
We opened Saturday, May 30, for a trial run and couldn't have been more pleased to see familiar faces, people we've missed. Our new layout and routines worked, customers were happy to look around and shop; they observed our protocols and etiquette. Our first day was smooth, rewarding, and fueled our efforts to be a bookstore again. Laura and staff thank you for your heartfelt encouragement, support, and loyalty. We are so happy to welcome you back.
Website and Phone Orders Are Still Available
Call the bookstore, 360-378-5511 to reach staff and place an order.
Call anytime to place your order on our message machine. A real person will call you back—a staff member who will confirm your order, answer your questions, give you pick up details, and process your payment. You can count on someone returning your call. If you call during open hours, you may encounter a busy signal, but don't give up—just try calling the bookstore when it is convenient for you and leave your message and order on our recorder. E-mail, though, is always a good choice, too: info@griffinbaybook.com.
You'll find detailed ordering instructions on our website. Follow the prompts and your order will be processed quickly.
E-Mail is Efficient Too
If you prefer e-mail, send one with your ordering requests as well as your phone number, but please do not include your credit card information! Don't forget to give us your phone number so we can call you back. Our email is: info@griffinbaybook.com Laura or Natalie will respond to your requests quickly.