Letter from Ron Whalen
Posted June 17, 2020 at 7:33 am by Tim Dustrude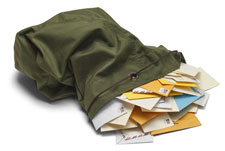 In the SJ Update Mail­bag this morn­ing we have this let­ter from Ron Whalen…
I request post­ing of the following;
June 7th Aman­da Azous post­ed a let­ter titled Fact Check of Whalen Peti­tion. There­in Aman­da alleges I request sign­ing a peti­tion to elim­i­nate the Land Bank (LB). She alleges I have spread false­hoods and attempt­ed to dupe the com­mu­ni­ty with the lan­guage of the peti­tion. She says with a lit­tle bit of research and read­ing I'd under­stand the facts like she does. Aman­da ends her let­ter with the hope I can get my facts straight, I stop try­ing to dupe the com­mu­ni­ty with false­hoods and decep­tive initiatives.
Soooo….Lets go over Amanda's alle­ga­tions. Lets see who is spread­ing false­hoods. Lets see who needs to do a lit­tle read­ing and research.
Aman­da states I request sig­na­tures to a peti­tion to elim­i­nate the Land Bank.Not true. The ini­tia­tive states Reduce Dura­tion of Con­ser­va­tion Area Real Estate Excise Tax (REET). The words end­ing and elim­i­nate are no where tobe found in either the peti­tion or the ini­tia­tive. Pas­sage of the bal­lot mea­sure would not end the Land Bank. That's because the LB has mul­ti­ple source­sof fund­ing. The ini­tia­tive con­cerns just the fund­ing from the REET.
Aman­da states I have out­ra­geous­ly attempt­ed to dupe our com­mu­ni­ty into think­ing that a yes or no answer on the peti­tion meant some­thing oth­er than top­ut the peti­tion on the fall bal­lot.Not true. Aman­da needs to heed her own advise and do some read­ing and research before mak­ing alle­ga­tions. The yes or no sec­tion of thep­e­ti­tion is required. It has noth­ing to do with some plan for decep­tion. Any­one doubt­ing this should con­fer with the coun­ty pros­e­cut­ing attor­ney. I'll say­it as nice­ly as I can Aman­da. You don't know what you're talk­ing about! This accu­sa­tion of try­ing to dupe the com­mu­ni­ty is eas­i­ly dis­pelled. Theim­por­tant take­away from Amanda's hyper alle­ga­tion is what is says about her cred­i­bil­i­ty. She'll write any­thing she believes might shore up her per­spec­tives. This is worth remem­ber­ing as you read Amanda's dia­tribe of what she says are facts.
Aman­da wrote, Unfor­tu­nate­ly, there is ongo­ing lit­i­ga­tion with two neigh­bors dis­put­ing the County's right to use road ease­ments to access Land Bankowned pre­serves. In both cas­es, the Land Bank pur­chased the sub­ject prop­er­ty pri­or to the neigh­bor and the court has ruled in both cas­es that such acces­sis allowed.Reply I can tell you the par­ties involved in lit­i­ga­tion with the LB have quit dif­fer­ent per­spec­tives than Aman­da. Once again Aman­da­has lit­tle knowl­edge of the sub­ject she writes about. She sim­ply a copies and pastes the argu­ment put out by the Land Bank.
Aman­da states to ful­fill their man­date the Land Bank has pur­chased lands that pro­tect agri­cul­tur­al uses.Reply After 5 years of effort the LB final­ly gave up on a grant on the Zyl­stra Lake acqui­si­tion. That grant includ­ed pro­vi­sions that would have pro­hib­it agri­cul­ture. How does that equate with pro­tect­ing of agri­cul­ture? But it wasn't pro­tec­tion of agri­cul­ture that final­ly lead the LB to give up on the grant.They gave up because the orig­i­nal grant for a mil­lion dol­lars got reduced to $150,000. The rea­son it got reduced is because LB admin­is­tra­tion hadn't done due dili­gence of review­ing the pro­vi­sions of the grant. All the grant was ever about was an avenue to get more mon­ey. Which illus­trates the LB's MO (modus operan­di): A B C D;1. Get the mon­ey (how­ev­er, wher­ev­er you can…never mind the details)
2. Spend the money
3. Ask for more
4. Repeat A, B, & C

Pri­or to the LB acqui­si­tion the Zyl­stra Lake prop­er­ty was over 500 acres of farm­land. The first thing the LB did after buy­ing it is sub-dived it into 4parcels. All under the ban­ner of preser­va­tion of open space and help­ing to pro­tect farmland.
Aman­da states the LB Acquires lands to pro­tect water­sheds (such as land pro­tect­ing Fri­day Harbor's water sup­ply).Reply Fri­day Har­bors water sup­ply is Trout Lake. There's pub­lic access restric­tion around Trout Lake to pro­tect that water sup­ply. One of the LB argu­ments made for the Zyl­stra Lake acqui­si­tion was to pre­serve and pro­tect a pos­si­ble impor­tant water sup­ply. But then the LB acts to make pub­lic access to that impor­tant water sup­ply. That effort con­tin­ues. How does that jive with the argu­ment for the pro­tec­tion of a water sup­ply? The LB's ini­tial big sell­ing point for the Zyl­stra Lake acqui­si­tion was it's poten­tial use for swim­ming, until they dis­cov­ered Blue Algae in the lake. Sud­den­ly no more talk of swim­ming. Then there was the grant to help restore salmon runs. How does blue algae, pub­lic swim­ming and recre­ation, pro­tect­ing water resource, and restor­ing salmon runs all get thrown in the same pot and work? It doesn't! It exem­pli­fies how the LB goes about pre­serv­ing and pro­tect­ing the San Juan's. Float grand ideas….. Pro­mo­tion of tourism, Seed banks, trails, salmon runs, pub­lic swim­ming, boat­ing, trails, farm­ers mar­kets, pro­tec­tion of water resources, preser­va­tion of his­tor­i­cal and cul­tur­al sites….What­ev­er!! Pro­mote all of it under the ban­ner of con­ser­va­tion. Deal with any details or con­flicts of inter­ests lat­er if they come up. Need exam­ples? How about the 5 year effort for the recre­ation grant on Zyl­stra Lake that went squat. How about the ongo­ing lit­i­ga­tion over easements.
Aman­da wrote..All these acqui­si­tions and endeav­ors are in com­plete align­ment with the Land Bank Man­date approved by vot­ers each time it has come up for renew­al.Reply On the Land Bank web site under FAQ's is posed the ques­tion How do sup­port tak­ing land off the tax rolls? It's answered;

Pub­lic land is a huge ben­e­fit for the coun­ty in that it:

1. Pre­serves the island's char­ac­ter, and gives us places to go.
2. Plays a key role in keep­ing us com­pet­i­tive in the real estate market.
3. Helps main­tain our prop­er­ty values.
4. Is the under­ly­ing dri­ver of our tourism/service businesses.
5. Does not cre­ate a need for addi­tion­al tax­es as does devel­op­ment (EMS/hospital/schools/roads/library/fire district).

Tax dol­lars are being used to pro­mote tourism? Since when did the vot­ers approve a man­date for the Land Bank to pro­mote tourism?

Aman­da wrote..the Real Estate Excise Tax (REET) that funds San Juan County's Con­ser­va­tion Land Bank is paid once by the pur­chas­er.

Reply The per­cep­tion is the buy­er pays so it's at no expense to the sell­er. Any­one that's ever bought prop­er­ty knows in the nego­ti­a­tion of price and costs, every­thing is on the table. To just say the excise tax is des­ig­nat­ed the respon­si­bil­i­ty of the buy­er side­steps the real­i­ty that all costs are part of the nego­ti­a­tion process.
Aman­da end­ed not­ing spread­ing false­hoods wasn't very respect­ful. I agree. Spread­ing an alle­ga­tion that I attempt­ed to dupe the com­mu­ni­ty with the lan­guage of the peti­tion was a falsehood.
Ron Whalen
You can support the San Juan Update by doing business with our loyal advertisers, and by making a one-time contribution or a recurring donation.