The Old Military Road
Posted June 25, 2020 at 11:40 am by Tim Dustrude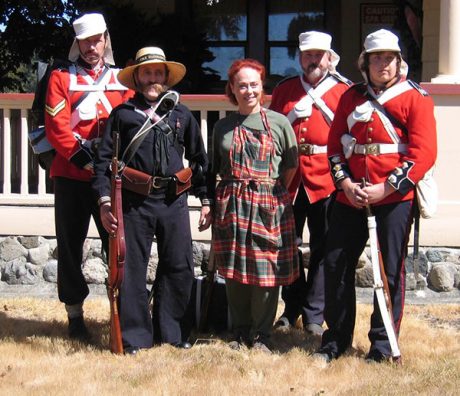 This arti­cle was writ­ten by Mike Vouri, local author and for­mer NPS Historian…
The heat was already sti­fling at 11 a.m. in late July 2004 when I encoun­tered four Cana­di­an reen­ac­tor col­leagues tak­ing a breather in the shade at the cor­ner of Lit­tle and Dou­glas roads.
Clad in the scar­let and blue wool uni­forms of the mid-19th cen­tu­ry Roy­al Marines, they were run­ning sweat and still had more than nine miles to go on grid­dle-hot pave­ment before they reached Eng­lish Camp. Their object was to high­light the fes­tiv­i­ties of our annu­al Encamp­ment event by rough­ly dupli­cat­ing the route that ran about 13 miles between the British and Amer­i­can gar­risons dur­ing the joint mil­i­tary occu­pa­tion of the island.
It was on this "mil­i­tary road" that sol­diers and marines in the 1860s would have marched en masse for sim­i­lar cel­e­bra­tions, and most impor­tant­ly, on which mes­sen­gers would have car­ried vital dis­patch­es by wag­on or horse­back. The road also pro­vid­ed a trunk line, as it were, that tied one end of the island with the oth­er and accom­mo­dat­ed Euro­pean set­tle­ment. This is a key ele­ment of island his­to­ry and, to our Cana­di­an friends, a sto­ry wor­thy of preser­va­tion, even if they were slap­ping leather on coun­ty roads rather than the orig­i­nal path.
As with the South Beach Trail on the Amer­i­can Camp prairie, the Mil­i­tary Road fol­lowed the lines of least resis­tance as it diag­o­nal­ly spanned the island, cut­ting through for­est, cross­ing prairies and push­ing through the hills, from the Cat­tle Point penin­su­la to West­cott Creek (now Gar­ri­son Bay). How­ev­er, the road was not born in a vac­u­um; that is, the respec­tive offi­cers did not sim­ply take a straight edge and draw a line between the points. Instead, they select­ed a cen­tral path from which a web of foot and stock trails—some undoubt­ed­ly blazed by indige­nous peoples—led to a net­work of graz­ing lands occu­pied by the Hudson's Bay Company's Belle Vue Sheep Farm.
The farm was found­ed in Decem­ber 1853 to affirm British pos­ses­sion of the San Juans, which had been in dis­pute since the sign­ing of Treaty of Ore­gon in June of 1846. After land­ing 1,369 head of sheep at Cat­tle Point, Chief Trad­er Charles Griffin—with an able assist from Chief Fac­tor and Van­cou­ver Island Gov­er­nor James Douglas—spent the win­ter build­ing the Home prairie facil­i­ty at what is now Amer­i­can Camp. By April 1854, with an eye on expand­ing the flocks and turn­ing a prof­it, Dou­glas, Grif­fin and their employ­ees led crews of Cowichan and Skag­it Indi­ans in clear­ing sheep runs to the adjoin­ing prairies.
There­after, as the sea­sons unfold­ed, they sliced through for­est and thick­et, bridged creeks and laid cor­duroy (log) roads over swampy areas until, as Dou­glas wrote in a Decem­ber 1855 dispatch:
"Upwards of 2300 head of hors­es, cat­tle and sheep, are now rang­ing over that Island; a large extent of land is under cul­ti­va­tion, and roads have been cut through the for­est near­ly from end to end of the Island.…Thus has been accom­plished, at a great expense, an enter­prise of which no pri­vate per­sons would will­ing­ly incur the risk." (This was in jus­ti­fi­ca­tion of his unau­tho­rized cor­po­rate takeover of the island.)
Grif­fin was raised in Mon­tre­al, there­fore in his offi­cial journals—ably tran­scribed and inter­pret­ed for the Nation­al Park Ser­vice by San Juan Island his­to­ri­an Boyd Pratt—the wood­land north of today's Amer­i­can Camp Road is the Grande Bois (Great For­est); a sea­son­al creek, run­ning from The Oaks to Grif­fin Bay, is called Riv­iere Cas­tor (Beaver Riv­er); and a pass through the hills divid­ing San Juan Val­ley from Cat­tle Point Road is Port L'Enfer (The Hell Gate), lat­er Angli­cized to Port­land Fair.
Even­tu­al­ly as many as 10 sheep stations—each with a hut and cor­ral— dot­ted the island from stem to stern, bear­ing names such as First Prairie (Frazier's farm), Win­ter Sta­tion (the grav­el pit south of Fri­day Har­bor, once known as Bald Hill), Blake's Sta­tion (Lit­tle Moun­tain in San Juan Val­ley) and Lime­stone Sta­tion (the slopes of today's Lime­stone Point State Park). Roy­al Navy sur­vey­or, Cap­tain George Richards, named Friday's Bay (now Fri­day Har­bor) for the shep­herd at Chandler's Sta­tion, which was locat­ed on a hill above today's Uni­ver­si­ty of Wash­ing­ton Fri­day Har­bor Laboratories.
At six-foot-five, and eas­i­ly more than 250 pounds (18 stone), James Dou­glas was a big man, and, hold­ing the two top jobs besides in the British colony, was used to hav­ing his way. But no mat­ter how much he bul­lied his adver­saries (for­eign­ers and coun­try­men alike) he could not stop Amer­i­cans from inhab­it­ing San Juan Island, which near­ly led to war. Con­se­quent­ly, in the wake of the Pig War cri­sis of 1859, Dou­glas had to sit back and watch as mil­i­tary forces adapt­ed his sheep trails into a clas­sic fron­tier "mil­i­tary road."
Mil­i­tary roads are as old as the first armies march­ing between Zig­gu­rats in ancient Mesopotamia and as late as Dwight Eisenhower's inter­state high­way sys­tem. That's right, the next time you take that lit­tle jog on I‑5 on your way to Cost­co, remem­ber that road net­work was designed not only to stim­u­late com­merce, but to speed troops, com­mu­ni­ca­tions and materiel rapid­ly and effi­cient­ly between far-flung points. In addi­tion to not­ing the effec­tive­ness Germany's auto­bahns dur­ing World War II, Ike undoubt­ed­ly stud­ied the Romans at West Point. All 50,000 miles of their roads were cut by and for the legions as I learned while hik­ing one of them last sum­mer below Hadrian's Wall in north­ern England.
Built at first to haul sup­plies by wag­on to advanced army posts, Amer­i­can mil­i­tary roads were often "the only means of com­mu­ni­ca­tion between out­ly­ing towns" as the fron­tier marched to the Pacif­ic, wrote West Point engi­neer­ing instruc­tor, Pro­fes­sor P.S. Michie. I near­ly missed this point while perus­ing his 1893–94 report to the 53rd Con­gress, as he opened his trea­tise by lit­er­al­ly back­ing into his sub­ject: "With regard to the sub­ject of mil­i­tary roads and bridges from an Amer­i­can standpoint…I am at a loss to find any­thing of inter­est to say, whether new or old…(as) we have nev­er had any mil­i­tary roads in this country…"
For­tu­nate­ly, I read on.
Wash­ing­ton Ter­ri­to­ry was prepped for set­tle­ment begin­ning in 1853 when Lieu­tenant George McClel­lan, West Point class of 1846, arrived to sur­vey and build an immi­grant road from Wal­la Wal­la to Ft. Steila­coom. But in a pre­view of his lat­er per­for­mance as a Civ­il War gen­er­al, he talked a bet­ter game than he played and slinked out of Puget Sound with noth­ing gained from the $20,000 he was issued for the work. His class­mate, Lieu­tenant George Der­by, did much bet­ter four years lat­er com­plet­ing a wag­on road from Fort Van­cou­ver to The Dalles.
Grad­u­at­ing near the top the class, Der­by and McClel­lan had earned the prized assign­ment to the Com­pa­ny of Engi­neers, based at the acad­e­my. Anoth­er class­mate in the ter­ri­to­ry, Cap­tain George E. Pick­ett, grad­u­at­ed dead last. This may be why a con­tract engi­neer was engaged in August 1856 to help him build a mil­i­tary road from his new­ly estab­lished Fort Belling­ham to the Vil­lage of What­com, three and half miles away. Rough­ly antic­i­pat­ing Marine Dri­ve, which runs along Belling­ham Bay, the road end­ed in a bridge over What­com Creek. A replace­ment built down­stream and named for Pick­ett in 1918 was stripped of the name last fall by the Belling­ham City Coun­cil because Pick­ett fought for the Confederacy.
Pick­ett first came to San Juan Island in July 1859 in time to help ignite the Pig War cri­sis, but was then ordered back to Fort Belling­ham (at the urg­ing of Dou­glas) in Decem­ber and did not return until the fol­low­ing April. His sec­ond land­ing, com­bined with the Roy­al Marines' arrival on West­cott Creek the month before, meant that two sea­soned "com­mu­ni­ty builders" were in com­mand on the island. Marine Cap­tain George Bazalgette's detach­ment had been part of the con­tin­gent that helped the Roy­al Engi­neers build New West­min­ster, B.C.
Why the marine camp was sit­ed so far away from Pickett's camp remains sub­ject to inter­pre­ta­tion, as time and dis­tance con­tributed to the mis­com­mu­ni­ca­tion that char­ac­ter­ized the Pig War cri­sis. Roy­al Navy Cap­tain James Pre­vost of H.M.S. Satel­lite, who was assigned this task, evi­dent­ly was sold on the site by his third lieu­tenant, Richard Roche (for all you new­com­ers, pro­nounced ROACH as in clip or pest, not a Parisian per­fume), who extolled the shel­tered bay and abun­dance of fresh water. Pre­vost also liked Friday's Bay, but odd­ly thought it was too far away from the Amer­i­cans, which was a source of amuse­ment for Lieu­tenant Richard Mayne of H.M.S. Plumper:
"…(the marines) are to live in camp on the north end of the Island, near Wescote (sic) creek…sticking them at the oppo­site end of the Island as if they were to eat each other."
Actu­al­ly, the lads and Yanks pre­ferred mut­ton and veni­son to fuel their labors, which the gar­risons com­menced almost imme­di­ate­ly, work­ing in both direc­tions over the well-trod sheep runs. The let­ter books of both camps are sketchy on the con­struc­tion details, though one can imag­ine them clear­ing glacial errat­ics, log­ging old-growth Dou­glas firs and stack­ing rocks to sup­port the right-of way along hill­sides. Pick­ett req­ui­si­tioned trusty army mules instead of hors­es to han­dle this mixed terrain.
What we know of the route comes from maps drawn of both camps, the Amer­i­cans' first iter­a­tion com­plet­ed in 1860 by Lieu­tenant Thomas Casey, an engi­neer­ing offi­cer from Fort Steila­coom (who would go on to fin­ish the Wash­ing­ton Mon­u­ment and over­see the con­struc­tion of the Library of Con­gress). The camp roads were fur­ther clar­i­fied in a copy of the map lat­er ren­dered by Lieu­tenant James Forsyth, Pickett's sec­ond in com­mand. Eng­lish Camp's road net­work was not chart­ed until U.S. Army Major Nathaniel Mich­ler sur­veyed the area in 1874 fol­low­ing the end of the joint occupation.
But our best peri­od view of the route was born of the very con­tro­ver­sy it was designed to resolve after two Amer­i­cans in Novem­ber 1860 were caught by the marines doing a test exca­va­tion of lime­stone at Roche Har­bor. The marines insist­ed that the future quar­ry site was part of Eng­lish Camp, which prompt­ed the two gov­ern­ments to order Pick­ett and Bazal­gette to redraw their camp bound­aries. The marine com­man­der deliv­ered his ver­sion of the map in May 1861 (a month before Pick­ett resigned his com­mis­sion), which includ­ed a sketch of the com­plete Mil­i­tary Road. As crude as it may be, the map reveals a track that, in addi­tion to show­ing gen­er­ous­ly extend­ed reser­va­tions, has the road cut­ting across San Juan Val­ley and climb­ing over the cen­tral hills to West Val­ley and Gar­ri­son Bay.
Our next view did not come until after the bound­ary dis­pute was set­tled in the Unit­ed States' favor when a sur­vey was con­duct­ed by the U.S. Gov­ern­ment Land Office in 1874–76. When the island was for­mal­ly divid­ed into town­ships and the land auc­tioned off the Mil­i­tary Road was sud­den­ly cross­ing pri­vate prop­er­ty, where traces may be found today.
Those wish­ing to relive the days of yore with­out tres­pass­ing can walk an approx­i­mate track that begins behind the Amer­i­can Camp vis­i­tor cen­ter and push­es up the Fraz­er Home­stead trail between the park bound­ary and Rosler Road. At Eng­lish Camp you can view a 50-yard stretch behind the Sand­with orchard at the south end of the park that Mich­ler labeled "Road to San Juan City." Or bush­whack your way through a spur, far­ther east, that ter­mi­nates on a rocky shelf in the Mitchell Hill trail net­work. This path he described as an "Unfin­ished Gov­ern­ment Road." No one real­ly knows why or for what pur­pose this route was attempted.
How­ev­er, what we do know is that, because of the road, peace was main­tained through­out the joint mil­i­tary occu­pa­tion despite lime con­tro­ver­sies, whisky sell­ers, smug­glers, claim jumpers and innu­mer­able oth­er inci­dents that could have incit­ed inter­na­tion­al tensions.
And this was a fit­ting thing for our Cana­di­an friends to cel­e­brate, despite their exhaustion.
To learn more about the joint occu­pa­tion and plans to devel­op an Old Mil­i­tary Road Trail, visit:
You can support the San Juan Update by doing business with our loyal advertisers, and by making a one-time contribution or a recurring donation.