The Virus That Changed the Tree of Life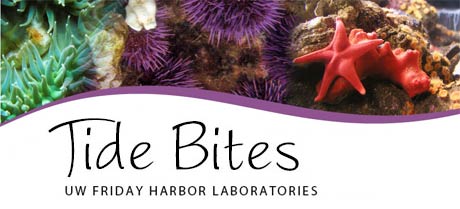 This edition of Tide Bites was written by Victoria Foe…
I came to FHL in 2000 to study cell division, to take advantage of the sea urchins, sea stars and sand dollars whose huge, glassy-clear, permeable and easy-to-manipulate eggs make them ideal subjects for that work. Local species have eggs that ripen at different times, providing an almost year-round source of perfect research material. For experiments on marine cells, FHL's flowing seawater tables are the "lab benches" that land-locked cell scientists can only dream of.
Then in 2013, the Seaver Institute gave me the opportunity to tackle a question that had haunted me since graduate school: does DNA replication activate new gene expression? If so, this would provide an elegant mechanism compelling embryonic development to unfold in lock-step with cell division.
Answering this required looking directly at DNA and RNA via electron microscope, and thousands of hours searching tangles of DNA for those rare instances when DNA and RNA synthesis had collided. I will write a future Tide Bite about what I discovered. But this Bite is drawn from a related review I'm just now completing. In this time of the COVID-19 pandemic it is also a reminder that it is great catastrophes that can bring about great transformations.