Update on Recent San Juan County Cases
Posted June 24, 2020 at 9:13 am by Tim Dustrude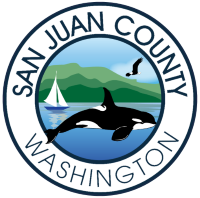 June 24, 2020: Over the past week, San Juan Coun­ty report­ed three new COVID-19 cas­es. Two were on San Juan Island and one on Lopez Island.
The Coun­ty Health & Com­mu­ni­ty Ser­vice Department's sur­veil­lance team has per­formed ini­tial inves­ti­ga­tion, con­tact trac­ing, and test­ing for each of these cases.
It is impor­tant to know that mon­i­tor­ing of these cas­es is ongo­ing and the sit­u­a­tion may evolve or change. That said, we want to pro­vide a brief update on the cur­rent sta­tus of each case:
Case 16: an employ­ee of Roche Har­bor Resort on San Juan Island. In coop­er­a­tion with Roche Har­bor man­age­ment, Coun­ty staff iden­ti­fied and test­ed close con­tacts of the patient. All of those tests came back neg­a­tive. One close con­tact who test­ed neg­a­tive dis­played symp­toms con­sis­tent with the ill­ness. Both that patient, the ini­tial patient, and oth­er close con­tacts have been request­ed to quar­an­tine for two weeks out of an abun­dance of cau­tion. All will be retest­ed to con­firm their neg­a­tive sta­tus. The orig­i­nal trans­mis­sion to patient appears to have occurred on the mainland.
Case 17: a res­i­dent of Vil­lage at the Har­bour, a senior liv­ing com­mu­ni­ty in Fri­day Har­bor. The Coun­ty Health team coor­di­nat­ed the test­ing of 61 indi­vid­u­als, includ­ing all staff and res­i­dents of the facil­i­ty and a small num­ber of oth­er close con­tacts. All tests came back neg­a­tive, includ­ing a retest of the ini­tial pos­i­tive indi­vid­ual. At this time it is not clear if the orig­i­nal pos­i­tive was a rare false pos­i­tive or if there was some oth­er com­pli­ca­tion with the lab analy­sis. Regard­less, ongo­ing test­ing will help ensure that there is in fact no cur­rent infec­tion in the facility.
Case 18: a res­i­dent of Lopez Island. The close con­tacts in San Juan Coun­ty were test­ed, and all results came back neg­a­tive. They and the ini­tial patient will be quar­an­ti­ning for two weeks out of an abun­dance of cau­tion. The orig­i­nal trans­mis­sion is unknown, but is sus­pect­ed to have occurred from off-island, and is active­ly being investigated.
While these results are encour­ag­ing and sug­gest that these cas­es did not result in broad­er com­mu­ni­ty spread, now is not the moment to relax. The dis­ease is out there, and in many loca­tions is spread­ing, includ­ing areas in West­ern Wash­ing­ton. The basic tools to pro­tect our­selves remain vital: hand­wash­ing so fre­quent­ly it feels abnor­mal, thought­ful social dis­tanc­ing when­ev­er pos­si­ble, and dili­gent cov­er­ing of our faces when­ev­er it is not. It is these steps that will help keep our com­mu­ni­ty safe, our econ­o­my open, and our most vul­ner­a­ble cit­i­zens protected.
We want to high­light the incred­i­ble work of the Coun­ty sur­veil­lance team and the busi­ness­es, indi­vid­u­als, and orga­ni­za­tions that so will­ing­ly coop­er­at­ed with and sup­port­ed their efforts. Pub­lic Health inves­ti­ga­tions are com­plex, labor inten­sive, and time-sen­si­tive. Islanders from across the Coun­ty form this team, and are work­ing hard to help pro­tect our com­mu­ni­ties. Their efforts are not unnoticed.
A few oth­er key points:
RUMOR CONTROL: Over the course of the last week, there have been numer­ous rumors float­ing around the islands. Rarely did the rumors match the facts. We want to strong­ly encour­age the com­mu­ni­ty to avoid spec­u­la­tion and high­light that the shar­ing of sec­ond or third hand info or things learned from social media is rarely a use­ful endeavor.
NUMBERS REPORTING: Recent­ly the Coun­ty has been noti­fied of sev­er­al pos­i­tive test results from the main­land for peo­ple with San Juan Coun­ty address­es, but who have not been in San Juan Coun­ty for some time. These sit­u­a­tions can make for num­bers report­ing that fluc­tu­ates or does not match the actu­al pub­lic health response in the islands. The num­bers report­ed on the San Juan Coun­ty web­site will only reflect cas­es active­ly inves­ti­gat­ed by the Coun­ty sur­veil­lance team. Please keep this in mind as we move forward.
FINALLY, MONITOR YOUR OWN HEALTH: San Juan Coun­ty health offi­cials remind every­one that if you have symp­toms of COVID (includ­ing a fever or chills, cough, short­ness of breath, new loss of taste or smell, nau­sea, sore throat, or diar­rhea), please con­tact your med­ical provider imme­di­ate­ly to dis­cuss being test­ed, regard­less of the sever­i­ty of your symptoms.
As always, sin­cere thanks to the islands for your ongo­ing patience, effort, decen­cy, and sac­ri­fice. Noth­ing about this is easy, but islanders are doing their best to find our way through with our sense of com­mu­ni­ty and human­i­ty intact. Thank you.
You can support the San Juan Update by doing business with our loyal advertisers, and by making a one-time contribution or a recurring donation.