Update to PHD Meeting Notice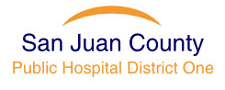 San Juan County Public Hospital District No. 1, has previously given public notice of a special meeting, to be held on Wednesday June 10, 2020 at 4:30 p.m. to be held remotely under COVID-19 emergency rules. Attached is an agenda, and additional information.
Call-In Number for the Public (509) 824-1884
Conference ID: enter 731 543 224#
The internet is strained due to high volume, and like the county and other agencies we have encountered technical difficulties in taking audience participation. Due to issues at our May Regular Board Meeting, we will take comment at this special meeting. If you would like to make sure your statement is heard, email it to butler@sjcphd1.org and ask that it be read. We appreciate your patience through this.
Agendas are available, and audio recordings will also be available, (typically withing 2 business days) at this link: https://sjcphd.org/meeting/2020mtgs
Board members will discuss/act on upcoming meetings and scheduling, work on strategic planning, meet with a potential consultant, discuss the integration of EMS and Fire, and more. Please refer to the Agenda for more information. Agenda may change up to 24-hours in advance, please refer to the website for the most accurate version.