HOT TOPIC #26: July 15, 2020 COVID-19 updates from San Juan County around subjects on the minds of islanders
Posted July 15, 2020 at 9:29 am by Tim Dustrude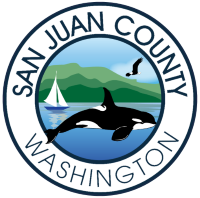 Dig­ging Deep­er into Con­tact Tracing
A more detailed look at how pub­lic health staff work to lim­it the spread of COVID in our com­mu­ni­ty. This is by no means our most con­cise Hot Top­ic, but does con­tain use­ful info for those look­ing to under­stand a bit more about the pub­lic health response.

As of July 14th, there have been 22 report­ed pos­i­tive COVID-19 test results from peo­ple resid­ing in and/or who have been test­ed in San Juan Coun­ty. For each of these, the San Juan Coun­ty Health Depart­ment has per­formed exten­sive inves­ti­ga­tion and con­tact tracing.
Please note that some­times there have been peo­ple with a list­ed address in San Juan Coun­ty who test pos­i­tive but who have not recent­ly been in the islands and have no risk of local trans­mis­sion. These cas­es may be includ­ed in the offi­cial WA State Depart­ment of Health (DOH) num­bers as a San Juan Coun­ty case, but not in the num­bers report­ed by San Juan Coun­ty. This dis­crep­an­cy can be con­fus­ing, and when­ev­er pos­si­ble, local pub­lic health staff work to ensure the loca­tion of each case is report­ed accu­rate­ly. In most cas­es DOH adjusts these cas­es so they are assigned to the prop­er Coun­ty, though this may take some time to occur.
Some inves­ti­ga­tions are rel­a­tive­ly sim­ple and only one or two close fam­i­ly mem­bers are iden­ti­fied as being at risk for trans­mis­sion. In more com­plex cas­es, dozens of con­tacts may be identified.
Each one of those indi­vid­u­als is then spo­ken to in order to deter­mine whether they were at risk of being exposed. For those who are found to have been exposed, pub­lic health nurs­es work with that per­son to quar­an­tine them and deter­mine whether fol­low up test­ing is rec­om­mend­ed (often it is). Addi­tion­al­ly, they remain in com­mu­ni­ca­tion dai­ly for 14 days after the expo­sure to assess whether the per­son has devel­oped symp­toms, to ensure they have access to a med­ical provider for fol­low up, and con­firm that any addi­tion­al needs are met in order to suc­cess­ful­ly quarantine.
This is labo­ri­ous, impor­tant work and it is crit­i­cal to min­i­miz­ing the poten­tial for com­mu­ni­ty spread in the islands. It is also a clear exam­ple of why being thought­ful about engag­ing in close con­tact with those from out­side our house­holds is so important.
In addi­tion, Coun­ty pub­lic health staff have been noti­fied of 10 indi­vid­u­als who have test­ed pos­i­tive for COIVD who trav­eled to the islands to work, vis­it friends or fam­i­ly, or vaca­tion. These cas­es are not report­ed as San Juan Coun­ty cas­es (they are report­ed for their home juris­dic­tion, where a simul­ta­ne­ous inves­ti­ga­tion is under­tak­en as well). As a result of these cas­es, close con­tacts to those indi­vid­u­als have been con­tact­ed and assessed. None of these cas­es have result­ed in addi­tion­al con­firmed pos­i­tive cas­es in the islands.
There are some sit­u­a­tions where a close con­tact is asked to quar­an­tine but is not test­ed, usu­al­ly because they are close house­hold con­tacts who have no choice but to be exposed to the patient through­out the max­i­mum quar­an­tine peri­od. They are mon­i­tored for symp­toms through dai­ly check-ins.
For pub­lic health staff, the def­i­n­i­tion of a close con­tact is being less than six feet apart for fif­teen min­utes or more. These sit­u­a­tions aren't always easy to quan­ti­fy, and excep­tions cer­tain­ly occur- but that def­i­n­i­tion is the accept­ed standard.
In almost all cas­es, those found to be high­est risk for trans­mis­sion are close house­hold con­tacts. These are fam­i­ly mem­bers, or those who have inter­act­ed with the patient in their home for extend­ed peri­ods. Oth­er high-risk sit­u­a­tions are those who work close­ly togeth­er, either indoors or in a vehi­cle. In gen­er­al, there is lit­tle risk for those who have sim­ply passed a COVID pos­i­tive per­son on the street or who had casu­al con­tact with them in a store, mar­ket, or oth­er short-term setting.
While our under­stand­ing of how and when COVID is spread is con­stant­ly evolv­ing, there are a few things that are very clear:
Being indoors is much riski­er than being outdoors.
Cov­er­ing our faces is crit­i­cal­ly impor­tant in pre­vent­ing spread. In many cas­es whether the patient was cov­er­ing their face is the dif­fer­ence between a large num­ber of peo­ple being infect­ed or not. Remem­ber, cov­er­ing our faces pro­tects oth­ers in case we are unknow­ing­ly sick, rather than pro­tect­ing us from oth­ers. Many peo­ple who have COVID don't have symp­toms when they are infectious.
We need to think care­ful­ly about how we choose to spend time with oth­ers, and also what deci­sions are being made by those we inter­act with. We can be very care­ful, but if our fam­i­ly mem­bers or oth­ers we are in close con­tact are less thought­ful, then their increased risk becomes our increased risk.
Both in Wash­ing­ton and nation­al­ly, increas­ing num­bers of pos­i­tive cas­es are result­ing from gath­er­ings of indi­vid­u­als. In many cas­es, those gath­er­ing are com­posed of younger indi­vid­u­als who may not be tak­ing prop­er pre­cau­tions to min­i­mize the risk of dis­ease trans­mis­sion. Please remem­ber that inter­act­ing with more than 5 peo­ple per week is still pro­hib­it­ed in Phase 2, the cur­rent sta­tus of San Juan County.
There is no sin­gle most like­ly source of trans­mis­sion. It could be a vis­i­tor to the island on vaca­tion or work­ing here. It could be a fam­i­ly mem­ber or friend vis­it­ing an islander. It could be an islander who has trav­eled to the main­land. Of these, the last two have caused the major­i­ty of cas­es to date in San Juan County.
Case inves­ti­ga­tion and con­tact trac­ing is the best tool we have to lim­it spread once it occurs, and this dif­fi­cult work is done by a small but ded­i­cat­ed team of islanders work­ing hard on our behalf. They deserve our sup­port and appre­ci­a­tion to a degree that is near­ly impos­si­ble to convey.
And most impor­tant­ly we all need to under­stand that cas­es are increas­ing in many loca­tions in our across the state and nation and there is no way to know who might be infect­ed. We need to be care­ful and main­tain pre­cau­tions. Cov­er­ing our faces, insist­ing on face cov­er­ings from those we inter­act with, keep­ing close to home, lim­it­ing expo­sure to oth­ers, and wash­ing our hands fre­quent­ly all mat­ter. High risk indi­vid­u­als need to be espe­cial­ly careful.
This is an evolv­ing sit­u­a­tion, and noth­ing about it is easy nor sim­ple. Our aim with this arti­cle is to con­vey the com­plex­i­ty and chal­lenges faced by our local pub­lic health team, and to high­light their com­mit­ment and suc­cess to date in help­ing to min­i­mize com­mu­ni­ty spread in the islands.
Thank you for your ongo­ing sup­port, patience, and will­ing­ness to make sac­ri­fices for our fam­i­lies, our friends, our neigh­bors and our islands.
You can support the San Juan Update by doing business with our loyal advertisers, and by making a one-time contribution or a recurring donation.