Letters
Posted July 10, 2020 at 8:40 am by Tim Dustrude
Today in the SJ Update Mail­bag we have this let­ter from Gay Graham…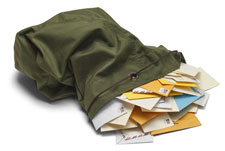 To the Editor:
Covid-19 has caused us to make any num­ber of changes in the paths that we used to take. One of these can be for­get­ting to renew or not hav­ing the oppor­tu­ni­ty to sup­port those orga­ni­za­tions and caus­es that need our assis­tance. An orga­ni­za­tion that con­tin­ues to need our sup­port is the Women's Fund.
Year­ly mem­ber­ship to the Women's Fund of the San Juan Island Com­mu­ni­ty Foun­da­tion is gen­er­al­ly renewed at the annu­al June lun­cheon. As with many won­der­ful fundrais­ers, it was can­celed. This, how­ev­er, does not can­cel the ongo­ing needs the Women's Fund addresses.
Briefly, the Women's Fund was found­ed in 2003 and to-date has through its annu­al mem­ber­ship dues of $100 (along with oth­er con­tri­bu­tions) grant­ed $236,975 to var­i­ous orga­ni­za­tions many of which you are famil­iar: Wolf Hol­low, Fam­i­ly Umbrel­la Group, UWFH Labs, Joyce L. Sobel Fam­i­ly Resource Cen­ter, Island Stage Left, San Juan Coun­ty Eco­nom­ic Coun­cil, Hos­pice, SJI Library, Whale Muse­um, FHES PTA, San Juan Com­mu­ni­ty Home Trust, Food Bank, Band Fam­i­ly & Friends, and PADS for Parkinson's.
Two years ago, the Women's Fund hon­ored its first recip­i­ent of the Joyce L. Sobel Achieve­ment Award, Dr. Car­olyn Hau­gen. The 2019 Fund mem­bers' hon­oree was Dr. Mar­iluz Vil­la. Two very deserv­ing women of our island community.
None of this is doable with­out you. There are easy ways to renew. I has­ten to add new mem­bers are always wel­come! Renewals and new mem­ber­ships may be made by send­ing a check of $100 to the San Juan Com­mu­ni­ty Foun­da­tion with Women's Fund not­ed on the memo line, PO Box 1352; by call­ing the office at 360–378-1001; or via the web­site, www.sjicf.org.
Many thanks! We look for­ward to see­ing you all soon!
Gay Gra­ham,
Women's Fund Steer­ing Com­mit­tee member
You can support the San Juan Update by doing business with our loyal advertisers, and by making a one-time contribution or a recurring donation.