Scaling Up Production in San Juan County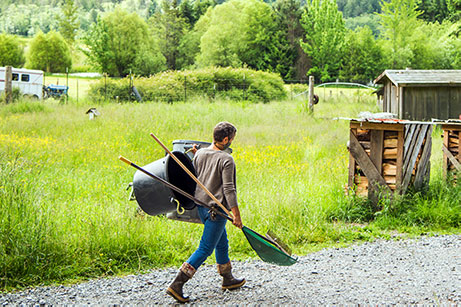 Micro-loans available for local farmers
In response to the COVID-19 pandemic, the FARM Fund is partnering with the San Juan Island Community Foundation (SJICF) and the Orcas Food Co-op to meet essential food needs of San Juan County residents.
The San Juan Islands Agricultural Guild's FARM Fund will offer $15,000 in zero percent interest loans to San Juan County farmers who want to scale up production for fall, winter, and spring seasons ($10,000 from SJICF and $5,000 from Orcas Food Co-op).
The FARM Fund is committed to pursuing innovative ways to bring nutritious food to all islanders' tables while also promoting the economic growth and viability of San Juan County farmers. Repayment of the loan will be in-kind food donated or sold at greatly reduced rates to food banks, senior and youth food programs, and other food access programs in San Juan County over two years (August 2020 to July 2022) at 100% of the value of the loan.
Loan applications can be from $500 to $2,500, and will be considered in a competitive process with no application fee. Funding may support completing a project, purchasing new equipment, building new infrastructure, or cover operating costs like compost and hiring additional farm labor. At least 2/3rds of the funds will be awarded to producers who can serve San Juan Island food access programs. Applicants must have a minimum of two years commercial growing experience. Farms who have received a FARM Fund award in 2020 are not eligible for this funding round.
Loan applications are available at https://sjiagguild.com and are due by July 31st to San Juan Islands Agricultural Guild, info@transitionlopezisland.org. Notification of awards will be by August 14th. For more information please contact Ande Finley at (360) 468-5199 or info@transitionlopezisland.org.