Scaling Up Production in San Juan County
Posted July 16, 2020 at 5:52 am by Tim Dustrude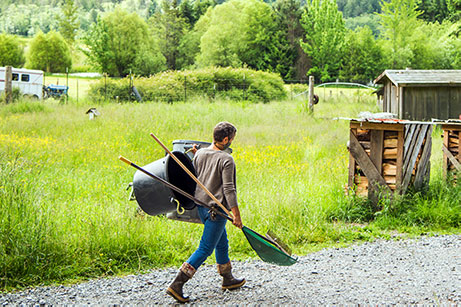 Micro-loans avail­able for local farmers
In response to the COVID-19 pan­dem­ic, the FARM Fund is part­ner­ing with the San Juan Island Com­mu­ni­ty Foun­da­tion (SJICF) and the Orcas Food Co-op to meet essen­tial food needs of San Juan Coun­ty residents.
The San Juan Islands Agri­cul­tur­al Guild's FARM Fund will offer $15,000 in zero per­cent inter­est loans to San Juan Coun­ty farm­ers who want to scale up pro­duc­tion for fall, win­ter, and spring sea­sons ($10,000 from SJICF and $5,000 from Orcas Food Co-op).
The FARM Fund is com­mit­ted to pur­su­ing inno­v­a­tive ways to bring nutri­tious food to all islanders' tables while also pro­mot­ing the eco­nom­ic growth and via­bil­i­ty of San Juan Coun­ty farm­ers. Repay­ment of the loan will be in-kind food donat­ed or sold at great­ly reduced rates to food banks, senior and youth food pro­grams, and oth­er food access pro­grams in San Juan Coun­ty over two years (August 2020 to July 2022) at 100% of the val­ue of the loan.
Loan appli­ca­tions can be from $500 to $2,500, and will be con­sid­ered in a com­pet­i­tive process with no appli­ca­tion fee. Fund­ing may sup­port com­plet­ing a project, pur­chas­ing new equip­ment, build­ing new infra­struc­ture, or cov­er oper­at­ing costs like com­post and hir­ing addi­tion­al farm labor. At least 2/3rds of the funds will be award­ed to pro­duc­ers who can serve San Juan Island food access pro­grams. Appli­cants must have a min­i­mum of two years com­mer­cial grow­ing expe­ri­ence. Farms who have received a FARM Fund award in 2020 are not eli­gi­ble for this fund­ing round.
Loan appli­ca­tions are avail­able at https://sjiagguild.com and are due by July 31st to San Juan Islands Agri­cul­tur­al Guild, info@transitionlopezisland.org. Noti­fi­ca­tion of awards will be by August 14th. For more infor­ma­tion please con­tact Ande Fin­ley at (360) 468‑5199 or info@transitionlopezisland.org.
You can support the San Juan Update by doing business with our loyal advertisers, and by making a one-time contribution or a recurring donation.