Islanders For The San Juan Islands National Monument Meet Via Zoom August 27
Posted August 25, 2020 at 7:00 pm by Peggy Sue McRae
Join the MAC Meet­ing on August 27, 9:00am ‑5:00pm, Pacif­ic Time (see Zoom link below)…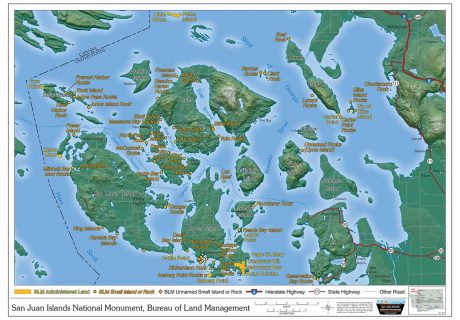 Click on pho­to to enlarge…
The MAC (Mon­u­ment Advi­so­ry Com­mit­tee) will be hear­ing from sub­ject mat­ter experts and the pub­lic to inform their delib­er­a­tions as they dis­cuss and present their input to the BLM. The full meet­ing agen­da (PDF) can be down­loaded here.
The MAC has not heard from the pub­lic since before the Pro­posed Resource Man­age­ment Plan (RMP) was pub­lished last Novem­ber and the BLM has not shared a sum­ma­ry of the input they've received on that pro­pos­al. Any protest you sub­mit­ted has not been shared with the MAC nor have com­ments you made on tar­get shoot­ing. The MAC will not see your input unless you share it with them for this meet­ing. If you have any addi­tion­al infor­ma­tion, opin­ions, or pro­pos­als that are rel­e­vant to the MAC's dis­cus­sion of the Pro­posed RMP, this is your oppor­tu­ni­ty to share them with the MAC.
Please par­tic­i­pate in the Pub­lic Com­ment peri­od which starts at 12:45pm. Indi­vid­ual ver­bal com­ments will be lim­it­ed to 3 min­utes each and become part of the pub­lic record. To be added to the pub­lic com­ment queue, use Zoom's chat to pri­vate­ly con­tact Mar­cia deChadenedes to be includ­ed in the list. If you are join­ing by phone and would like to com­ment, email Mar­cia (mdechade@blm.gov) to get on the list (include the phone num­ber you'll be call­ing from so you can be unmuted).
Writ­ten com­ments may be sub­mit­ted. If you can­not join in the 12:45–1:30 time­frame or have writ­ten mate­r­i­al you'd like the MAC to see, you may email com­ments and attach­ments to Mar­cia (mdechade@blm.gov) pri­or to or dur­ing the meet­ing stat­ing it is for sub­mis­sion as pub­lic com­ment to the MAC. Mate­r­i­al will be dis­trib­uted to MAC mem­bers as it arrives. The first three min­utes of your text will be read aloud dur­ing the meet­ing for the pub­lic to hear, so you may want to have an exec­u­tive sum­ma­ry at the begin­ning of any lengthy contributions.
Here are some use­ful resources to con­sid­er as you pre­pare for the meeting:
For more in-depth back­ground, you may refer to the (very large PDF) com­plete Pro­posed Resource Man­age­ment Plan as released last Novem­ber and the Sum­ma­ry of Issues pro­duced last win­ter by Islanders for the San Juan Islands Nation­al Mon­u­ment in response to that proposal.
Islanders for the San Juan Islands Nation­al Mon­u­ment is a group of local cit­i­zens who care deeply for the lands of the San Juan Islands Nation­al Mon­u­ment and work to ensure their care.
Our Mon­u­ment pro­tects pre­cious sites in the San Juan Islands. These sites, man­aged by the Bureau of Land Man­age­ment (BLM), include recre­ation areas beloved by locals and vis­i­tors, cul­tur­al sites used by local tribes for thou­sands of years, his­toric light­hous­es, dis­ap­pear­ing habi­tat, and much more.
More infor­ma­tion about the Mon­u­ment can be found on BLM's offi­cial web­site for the mon­u­ment.
You can support the San Juan Update by doing business with our loyal advertisers, and by making a one-time contribution or a recurring donation.