Islanders For The San Juan Islands National Monument Meet Via Zoom August 27
Join the MAC Meeting on August 27, 9:00am -5:00pm, Pacific Time (see Zoom link below)…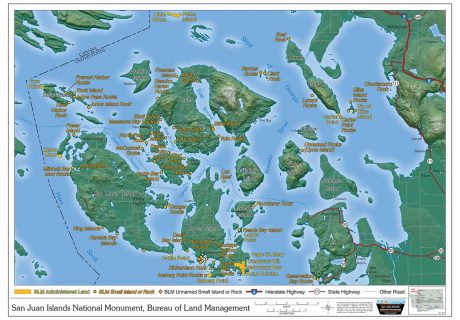 Click on photo to enlarge…
The MAC (Monument Advisory Committee) will be hearing from subject matter experts and the public to inform their deliberations as they discuss and present their input to the BLM. The full meeting agenda (PDF) can be downloaded here.
The MAC has not heard from the public since before the Proposed Resource Management Plan (RMP) was published last November and the BLM has not shared a summary of the input they've received on that proposal. Any protest you submitted has not been shared with the MAC nor have comments you made on target shooting. The MAC will not see your input unless you share it with them for this meeting. If you have any additional information, opinions, or proposals that are relevant to the MAC's discussion of the Proposed RMP, this is your opportunity to share them with the MAC.
Please participate in the Public Comment period which starts at 12:45pm. Individual verbal comments will be limited to 3 minutes each and become part of the public record. To be added to the public comment queue, use Zoom's chat to privately contact Marcia deChadenedes to be included in the list. If you are joining by phone and would like to comment, email Marcia (mdechade@blm.gov) to get on the list (include the phone number you'll be calling from so you can be unmuted).
Written comments may be submitted. If you cannot join in the 12:45-1:30 timeframe or have written material you'd like the MAC to see, you may email comments and attachments to Marcia (mdechade@blm.gov) prior to or during the meeting stating it is for submission as public comment to the MAC. Material will be distributed to MAC members as it arrives. The first three minutes of your text will be read aloud during the meeting for the public to hear, so you may want to have an executive summary at the beginning of any lengthy contributions.
Here are some useful resources to consider as you prepare for the meeting:
For more in-depth background, you may refer to the (very large PDF) complete Proposed Resource Management Plan as released last November and the Summary of Issues produced last winter by Islanders for the San Juan Islands National Monument in response to that proposal.
Islanders for the San Juan Islands National Monument is a group of local citizens who care deeply for the lands of the San Juan Islands National Monument and work to ensure their care.
Our Monument protects precious sites in the San Juan Islands. These sites, managed by the Bureau of Land Management (BLM), include recreation areas beloved by locals and visitors, cultural sites used by local tribes for thousands of years, historic lighthouses, disappearing habitat, and much more.
More information about the Monument can be found on BLM's official website for the monument.