FHL Tide Bites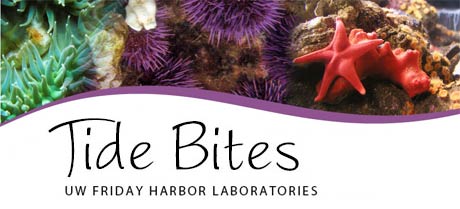 Resource Allocation to Growth and Structure: The Energetic Cost of Mussel Byssal Thread Attachment, by Molly Roberts
Dr. Molly Roberts completed her PhD with Dr. Emily Carrington in 2019 in the Biology Department at UW. Her research involved both experimental work at FHL and fieldwork at Penn Cove Shellfish in Coupeville, WA. Prior to her time in graduate school she was a technician in the FHL Ocean Acidification Environmental Laboratory. She is now working with Dr. Sarah Gilman to predict barnacle growth at a field site at Friday Harbor using an energetics framework.
Specialized biological structures such as teeth, bone, and spider webs are key for organisms' survival. Animals use the energy they acquire from food to maintain their body tissue, to grow new tissue, and to build specialized structural materials like those above. It's a constant challenge for organisms to allocate, or distribute, this energy to a range of different biological processes and growth of materials in such a way that maximizes their survival.
One way that resource allocation can be conceptualized is through a framework called Scope for Growth. Similar to how we all must balance our financial budgets by calculating our income, cost of rent and net savings, biologists use Scope for Growth to calculate the intake of energy from food, metabolic costs and resulting surplus energy available for the growth of new tissues. What is less well-understood is how much of their 'energy budget' animals allocate to building specialized structural materials.