Letters
Posted September 28, 2020 at 9:45 am by Tim Dustrude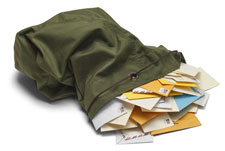 In the SJ Update mail bag this morn­ing we have this let­ter from Justin Paulsen…
If 2020 has high­light­ed noth­ing else with­in our coun­try it is that polit­i­cal divi­sion has seeped into every func­tion of our soci­ety. As our cur­rent gen­er­a­tion nav­i­gates social, health and eco­nom­ic waters which have nev­er before been explored, one fac­tor con­tin­u­al­ly crops up, which although com­plete­ly irrel­e­vant to the issues, seems to exert undue influ­ence: Partisanship.
Par­ti­san polit­i­cal influ­ence has dri­ven dis­cus­sions of solu­tions and com­pro­mise off the table, instead cre­at­ing divi­sion that paints suc­cess as only attain­able at the demise of the oppos­ing view­point. We live in a time where polit­i­cal polar­iza­tion is a tool that is used to divide, enflame and turn us against our neigh­bors. "If you're not with us, then you are against us." As we have seen all too often, this men­tal­i­ty not only sti­fles progress, but active­ly cre­ates bar­ri­ers that pre­vent pos­i­tive, cre­ative compromise.
It is in the shad­ow of this per­va­sive nation­al back­drop that we should take solace in our local polit­i­cal struc­ture. We are lucky in San Juan Coun­ty to have non-par­ti­san local gov­er­nance that is not behold­en to the finan­cial and ide­o­log­i­cal influ­ence that par­ti­san pol­i­tics inputs into deci­sion mak­ing. The wis­dom of those who draft­ed our Coun­ty Char­ter envi­sioned the need for impar­tial rep­re­sen­ta­tion, dri­ven by com­mu­ni­ty con­cern, not polit­i­cal affiliation.
Unlike many of our neigh­bor­ing coun­ties, our char­ter inten­tion­al­ly places our leg­is­la­tors in a posi­tion free from par­ti­san affil­i­a­tion. Through this design, our local leg­is­la­tors are free to exe­cute their work with­out con­sid­er­a­tion of or influ­ence from par­ty. Per­haps more impor­tant­ly, the voic­es of our coun­ty res­i­dents are to be equal­ly heard by our rep­re­sen­ta­tives regard­less of per­son­al, polit­i­cal beliefs. Inevitably there will be issues for which we hold oppos­ing view­points but elim­i­na­tion of a par­ti­san fil­ter removes one, unnec­es­sary obstruc­tion in achiev­ing a suit­able compromise.
As we head into what is per­haps the most tumul­tuous nation­al elec­tion in recent his­to­ry, it is impor­tant to step back and remem­ber that our local elec­tion is not about polit­i­cal divi­sion. Our com­mu­ni­ty is not defined by its polit­i­cal affil­i­a­tion, but instead by our com­mon focus on pro­vid­ing for the good of one anoth­er, the envi­ron­ment and our economy.
While our dis­cus­sions of local pol­i­cy and leg­is­la­tion are sure to stir emo­tion and cause dis­agree­ment, as cit­i­zens and vot­ers, we must con­tin­ue to demand that our local lead­ers main­tain the dis­tance from par­ty affil­i­a­tion that our char­ter envi­sions. As was recent­ly point­ed out to me, there is nei­ther a "d" or an "r" in "San Juan Coun­ty". Let's keep it that way.
Thank you,
Justin Paulsen
You can support the San Juan Update by doing business with our loyal advertisers, and by making a one-time contribution or a recurring donation.