More Wildfire Smoke Impacts Expected through the Weekend
Posted September 10, 2020 at 6:17 pm by Tim Dustrude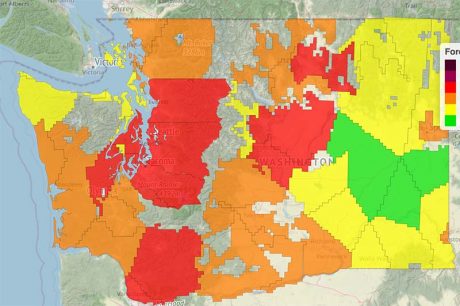 A mass of smoke is cur­rent­ly sit­ting over South­west­ern Wash­ing­ton. This smoke, from wild­fires in Wash­ing­ton, Ore­gon and Cal­i­for­nia is expect­ed to move north start­ing tomor­row and like­ly impact much of West­ern Wash­ing­ton through the week­end as it is pushed by souther­ly winds.
The Depart­ment of Ecol­o­gy smoke fore­cast for tomor­row pre­dicts that air qual­i­ty will be 'unhealthy for sen­si­tive groups' in some areas and 'unhealthy for every­one' in oth­er areas. Con­di­tions on Sat­ur­day are expect­ed to be worse.
Be pre­pared to pro­tect you and your family's health from out­door smoke by:
Stay inside with doors and win­dows closed when it's smoky. Use tow­els to block air flow if smoke is com­ing in through gaps in win­dow or door frames. But don't over­heat! Open doors and win­dows if you must to cool down. Watch for times when smoke may clear and open win­dows and doors to clear out smoke that has got­ten inside.
Reduce indoor pol­lu­tion you can con­trol. Reduce or elim­i­nate any type of smok­ing, no vac­u­um­ing, no can­dles, no incense, no aerosol sprays.
Take it easy. Smoky air is not good for vig­or­ous activ­i­ties. Put off chop­ping wood, mow­ing the lawn, or going for a run.
Set air to recir­cu­late on your HVAC or win­dow air con­di­tion­er if you have one.
Reduce smoke in your vehi­cle if you're out in your car by clos­ing the win­dows and vents and run­ning the air con­di­tion­er on recirculate.
For more infor­ma­tion about health impacts from wild­fire smoke see the Depart­ment of Health COVID-19 and Wild­fire Smoke page.
Addi­tion­al infor­ma­tion is also avail­able on the Wash­ing­ton Smoke Blog.
You can support the San Juan Update by doing business with our loyal advertisers, and by making a one-time contribution or a recurring donation.