Trail Times: Old Military Road Trail — An Illustrated Guide
Posted September 4, 2020 at 12:21 pm by Peggy Sue McRae
Robin Don­nel­ly for the Old Mil­i­tary Road Trail Committee…

What a great time to be explor­ing our trails. Covid seems to have made us all more aware of the heal­ing pow­er of nature and our for­tu­nate abil­i­ty to be part of it. As sum­mer is wan­ing, fall col­ors are tak­ing over for the vibran­cy of spring and ear­ly sum­mer. But hik­ing at any sea­son just means a dif­fer­ent part of nature's dis­play we can enjoy.
Here's an apt poem by Richard Hov­ey writ­ten in 1898, but equal­ly true today, espe­cial­ly per­haps as we glimpse a red-tailed hawk or bald eagle among these hills.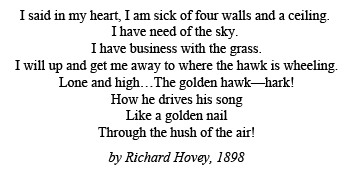 This rough­ly one-mile hike begins in Eng­lish Camp and ends at the bound­ary of Mitchell Hill. You will be trav­el­ing close to the orig­i­nal Old Mil­i­tary Road which con­nect­ed Eng­lish Camp to Amer­i­can Camp dur­ing the bound­ary dis­pute known as the Pig War, 1859 to 1872. Known first as the Cowichan Road, named after some Van­cou­ver Island native road crew, it first con­nect­ed many of the Hud­son Bay sheep farms, then was enlarged to become the vital com­mu­ni­ca­tion link between the two dis­put­ing nations and impor­tant bi-way to island settlement.
It is the vision of the Old Mil­i­tary Road Trail (OMRT) Com­mit­tee to con­nect once again these two Camps, now Nation­al Parks, using trails already exist­ing and cre­at­ing new trails through pub­lic lands and grant­ed easements.
Click on Map to Enlarge…
One can use the map to con­tin­ue on the many Mitchell Hill hikes or up to Young Hill so a loop can be made. One can also begin the hike by park­ing along West Val­ley Road.
Begin your hike at the Eng­lish Camp Park­ing lot and check out the infor­ma­tive Eng­lish Camp sign.
Above the restrooms you'll see the entrance to the Young Hill trail.
A gen­tle grade and shady trail leads up to West Val­ley Road. Safe­ly con­tin­ue across the road to the entrance to the trail. You'll find a help­ful kiosk and a dense­ly packed for­est of Dou­glas fir trees. The under­sto­ry veg­e­ta­tion is very lim­it­ed as these youngish trees block out light and space. Repeat­ed log­ging cre­ates many of these more mono­cul­ture forests. The orig­i­nal diverse habi­tat of mature firs and cedars mixed with Gar­ry Oak were cer­tain­ly attrac­tive assets for the build­ing of Eng­lish Camp.
Just short of 200 yards up the trail is our turn off on the Mitchell Hill Con­nec­tor Trail but hike just a bit fur­ther up the main trail to the turnoff to the Eng­lish Camp Ceme­tery. Note that the British sol­diers buried here died from some trag­ic acci­dents and not from the dis­pute; the only blood shed in the "Pig War" was the Pig!
At the ceme­tery take time out to read the plaque about the Gar­ry Oak Revival and enjoy the oaks beyond. Gar­ry Oaks were named in 1822 after Nicholas Gar­ry, for­mer gov­er­nor of the Hudson's Bay Com­pa­ny. These gnarled beau­ties are the only oaks native to Wash­ing­ton, though their range extends from South­ern Cana­da to North­ern California.
Hike back down to the Mitchell Hill turnoff and con­tin­ue south. These oak­en forests were once sus­tained with con­trolled burns by the native Sal­ish to improve their hunt­ing grounds. Gar­ry Oaks also have edi­ble acorns if steamed, roast­ed or boiled for a long time, but they were not the favored food of the Sal­ish if the less bit­ter Camas bulbs were available.
You will also be pass­ing evi­dence of the Nation­al Parks own pre­scribed burns as they attempt to renew the Gar­ry Oak Prairie. As long as the inner lay­er of bark, the cam­bri­um, is not destroyed, many trees, like red­woods with a foot deep of bark, can sur­vive. Dou­glas Fir, with a thin­ner bark, are more susceptible.
Amid dry grass­es the brack­en ferns are start­ing to brown and snow­ber­ry is fes­tooned with its' poi­so­nous white berries, called "corpse berry"by native tribes. Along the trail also look for Ore­gon Grape. Natives rel­ished the berries and ate them raw, cooked or mashed then boiled to mix with oth­er less sour fruit like salal or huck­le berries. When cooked and dried the cakes made a nutri­tious treat dur­ing cel­bra­tions or drea­ry winters.
Check out the peak­a­boo views of the Olympics. Between you and West Val­ley Road was the Old Mil­i­tary Road, mak­ing one wish we could still hear the hoof­beats as the men of both sides rode to com­mu­ni­cate impor­tant mis­sives with one anoth­er or enjoy more fun events like rac­ing their hors­es on the plains at Amer­i­can Camp.
Just up the trail a struc­ture might arouse your curios­i­ty. This strange look­ing con­trap­tion is the result of the Nation­al Park, Kwiaht and high school stu­dents join­ing togeth­er to mon­i­tor ani­mal life in this area. Please do not dis­turb the site.
In less than two years at var­i­ous sites they have con­firmed North­ern Fly­ing Squir­rels, North­west­ern Sala­man­ders, rare snakes and record­ed sev­er­al thou­sand bats (of eight species).
Kwiaht is the cen­ter for the his­tor­i­cal ecol­o­gy of the Sal­ish Sea.They wish to pre­serve the liv­ing lega­cy of island wildlife and plants for future gen­er­a­tions. For more infor­ma­tion con­tact kwiaht.org (http://kwaiaht.org)
All along the trail, espe­cial­ly in old­er firs check out the mul­ti­tude of almost rec­tan­gu­lar shaped wood­peck­er holes. These are made by Pilat­ed Wood­peck­ers, Woody Wood­peck­er looka­likes, as they search for food. The holes then pro­vide homes for a wide vari­ety of bird and ani­mal life.
You can support the San Juan Update by doing business with our loyal advertisers, and by making a one-time contribution or a recurring donation.