Outdoor Kid Pods Forming at Alchemy Art Center
Alchemy's Kid Pods are perfect for children and young people who want to learn, explore, and be creative- outdoors and in person!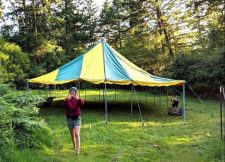 Alchemy is signing up groups of 4-5 kids on a rolling basis for personalized outdoor creative programming that includes ceramics, printmaking, drawing, t-shirt decoration, games, nature exploration, and more.
Classes take place once per week for 4 weeks, and are three hours each. Class dates and times are coordinated with each group's schedule, and start dates are rolling as pods form. Pods will be hosted outdoors through November, under the canopy tent by the garden. This program can accommodate kids ages 3-18, but please gather kids within 3 years of the same age so that projects will be stimulating for everyone.
The cost of one 4-week session is $200 per child. Thanks to support from the San Juan Island Community Foundation and ArtsWa, Alchemy has scholarships available! Learn more at www.alchemyartcenter.com, or email alchemyartcenter@gmail.com for more information and to apply for funding.
Alchemy Art Center, founded by Maria Michaelson and Eben Shay in 2017, is a non-profit arts organization dedicated to creating a thriving arts community on San Juan Island.
For more information about Alchemy, visit our website at www.alchemyartcenter.com.