Stella's Kitchen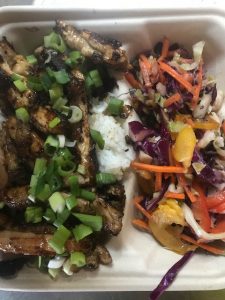 Stella's Kitchen is a small, one-cook venue serving delicious, nutritious meals for lunch and dinner.
From spicy Korean noodles and Bulgogi to Curry and Dumplings, meals are varied each day and made from scratch, each with an emphasis on using fresh, organic ingredients.
Currently located at Friday Harbor's Brickworks (service via the back door toward the ferry landing), Stella cooks from noon until seven pm on Wednesday – Friday.
Meals are all served to-go in paper boxes, and orders can be placed over the phone (360-378-3225), or in person at the door.
Come by soon for a tasty, wholesome meal!