Shop By Appointment At Griffin Bay Bookstore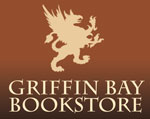 By Laura Norris, Owner, Griffin Bay Bookstore
To all of our loyal friends and customers, a huge thank you for making it possible for the bookstore to survive these difficult times.
It is our main objective at Griffin Bay Bookstore to bring joy to our friends and customers, to provide a respite and escape from everyday humdrum, to enlighten, and to remind us all of the meaning of life.
I am, of course, referring to the mighty power of the book: it's tactile and magical possibilities that carry us away, educate and unite, and encourage us to remember the infinite wonder of life that gives us all hope.
It is our privilege to provide the venue for such explorations and we invite all into our store to safely share in this vital experience even while we are distancing from one another. Your invaluable support continues to make this possible. Thank you to our island community, our friends and neighbors, for your continued encouragement in this endeavor.
Our first and foremost priority at Griffin Bay Bookstore is to keep everyone safe. We have already reduced capacity in the store from 10 to seven people. This is below the 25 percent capacity threshold that Washington State has just mandated.
We are now open to appointment shopping from 9-10 a.m., Tuesday through Saturday. Please call the bookstore to schedule your appointment for a half-hour of shopping and browsing with just two others.
In addition, we offer virtual shopping. We are stocked and ready for the holidays, and our gift items are not listed on our website. We can offer you a complete shopping experience virtually – just contact us at 360-378-5511 or info@griffinbaybook.com to schedule this. Finally, we will be happy to provide curbside or doorstep delivery if you prefer. Just let us know.
Hand in hand with the importance of our health is the impact this pandemic will have on the well-being of our community, both in the near future and in the long-term. For this reason, I have decided to join an American Booksellers Association campaign designed to raise awareness about the urgent need to support our local mainstreet economy.
This campaign is intended to remind people of the importance of supporting our friends and neighbors, and thereby our critical infrastructure and community-minded nonprofits, especially during the holiday season and most especially during this pandemic and current Washington State restrictions. It is time to help support and sustain each other and to shop locally. It is not a time to help the richest man in the world get richer; it is a time to help our little island community remain intact.
You will see the campaign posters for "Don't Box Out Mainstreet" go up soon on our windows as a reminder to please look on island first for all of your needs. It is truly amazing what can be found hidden in the depths of the shops here, and the level of service you will find is unsurpassed.
Chances are that if you can't find what you're looking for, it can be ordered for you. Most merchants can help you remotely, and the choices of contact have never been greater. Do not be shy. We are here to help and I can speak from experience! We at Griffin Bay Bookstore relish the opportunity.
Just as we each have the power to contain this virus by our individual behaviors, we can each make choices that will sustain our island community and ensure its healthy survival. I encourage you to explore all that our town has to offer – during the holidays and into the future.
We wish you all a safe and healthy holiday season!
For more information, visit https://www.griffinbaybook.com.