Support Library Through Online Auction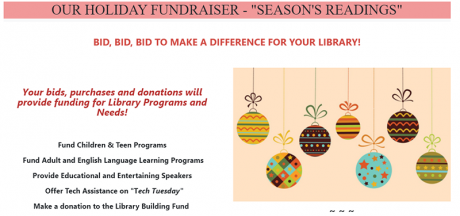 By Friends of the Libray
It's that time of year!
However, Friends of the San Juan Island Library will be hosting an online auction in place of their annual holiday fundraiser.
The online auction "Seasons' Readings" will be available from Dec. 5-12.
There is a wide variety of items and experiences waiting for your bid. Art, jewelry, clothing, accessories, firewood, gravel, dirt, health and wellness, holiday items, outdoor pieces, animal activities and musical offerings are some of the auction items.
Also, you can help the Friends of the Library by donating funds to support the costs of children and adult programing and the library's building fund project.
This is what you have to do. Pre-register and view the auction catalog and then you will be ready to bid on Dec. 5. Or the Friends of the San Juan Island Library will donate to the three requests for funding the special programs.
The Friends of the Library and the San Juan Island Library both appreciate your participation in this special event. This is a safe and fun way to shop and also support our library.
If you enjoy activities, books, DVDs and programs, please help us out. Preregister and bid, bid, bid!
Access our auction web page at charityauction.bid/folsjlib or www.auctria.com/auction/folsjlib. For questions, email fol@sjlib.org.