Freezer Burned: Tales of Interior Alaska
Posted January 2, 2021 at 5:30 am by Hayley Day
"Freez­er Burned: Tales of Inte­ri­or Alas­ka" is a reg­u­lar col­umn on the San Juan Update writ­ten by Steve Ulvi.
Cold Weather and Fuzzy Thinking
When­ev­er I look into the rearview mir­ror of my life gone by in Alas­ka; feel­ing nos­tal­gic, need­ing a laugh and real­i­ty check, I call up Archie.
But like pick­led her­ring piled on toast for break­fast, it is not some­thing I want to do regularly.
If laugh­ter is the best med­i­cine then hear­ing Archie's take on things is a swig of cod liv­er oil. His earthy humor is not con­strained to jokes with punch lines but spon­ta­neous riffs on the human condition.
He does not suf­fer fools nor stu­pid state­ments (my apolo­gies to adher­ents of "How to Make Friends and Influ­ence Peo­ple," but our times are a ver­i­ta­ble bliz­zard of stu­pid pub­lic statements).
But he does so in a way that has earned him many unlike­ly allies. He ought to be paid a stipend to attend con­tentious pub­lic meet­ings (remem­ber those?) to deslime bureau­crat­ic blath­er and serve as a ground­ing rod of local truth. All with friend­ly humor.
He has dirt under his fin­ger­nails, his head in the sky. He attrib­ut­es his "trust but ver­i­fy" atti­tude about things to the part of his mis­spent youth in Viet­nam, assigned to intel­li­gence units and state­side reporters.
He always says that "if you have a moral com­pass and a back­bone, it isn't real­ly pos­si­ble to swal­low big­ger and big­ger lies. Like eat­ing a goat's eye­ball, the more you chew the big­ger it gets!"
He left a pre­med­i­tat­ed voice mes­sage about my retire­ment to the Crown Jew­els of Wash­ing­ton state, "where you have per­fect­ed the absur­di­ty of employ­ing hun­dreds of locals in an eco­nom­ic cir­cu­lar fir­ing squad of pes­ter­ing, study­ing, view­ing, and pro­tect­ing the mag­nif­i­cent declin­ing Orcas." Anoth­er ele­ment of his prac­ticed snark is to remind me of my youth in Cal­i­for­nia; a dreamy, sin­gu­lar­ly self-con­scious place, con­sti­pat­ed with traf­fic, whose proud state flag hon­ors a mag­nif­i­cent crea­ture pur­pose­ly exter­mi­nat­ed to make yet more room for sheep and cows. Ed Abbey famous­ly referred to these dull-wit­ted crea­tures as "land mag­gots" foul­ing pub­lic lands.
If we can't sit around a blaz­ing camp­fire, we pre­fer yakking by phone. Years back, after a cou­ple of weeks on Face­plant he quick­ly fled rather than to tol­er­ate one more insipid or snarky com­ment from the obscu­ri­ty of dis­tance. We all ought to remem­ber how those sad, frus­trat­ed, caged mon­keys at zoos wait­ed patient­ly until you approached the bars, then glee­ful­ly flung their own clumped feces at you with great accu­ra­cy. The same imme­di­ate branch of pri­mate evo­lu­tion as humans.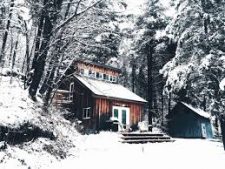 He picked up last Sun­day morn­ing (just before not going to church), at his slump­ing cab­in on a cut-off slough, in good spir­its and well-caf­feinat­ed. "Archie here!" He had just clumped home, moon boots untied and trap­per hat askew I am sure, from the vil­lage post office clutch­ing junk mail fire starter and yet anoth­er fruit cake from his sis­ter in Texas. Being sci­en­tif­i­cal­ly inclined, Archie has con­duct­ed many an exper­i­ment with these baked rings of uniden­ti­fied can­died sub­stances and proved that they will nev­er go bad (how would you know, I ask?).
Before he goes low, I go low­er. "Hey there Archie. How's your love life these days"? Preg­nant pause. "Well, that is below the belt, Champ! But since you ask, I found out that I still had bonus points at that inter­na­tion­al dat­ing ser­vice that made pos­si­ble my short-lived cohab­i­ta­tion with 'Big Kat­ri­na'. You remem­ber that gal! Just when we were mak­ing sweet music she was deport­ed back to Kaza­khstan to face crim­i­nal charges".
"Get this; besides a back­ground check, that dat­ing ser­vice now requires a recent time stamped pho­to of me as well as my res­i­dence! No hope there, so I paid for a show­er and a hair­cut, pat­ted down with 'Odor Eater' foot pow­der, and turned up my charm under the bright lights of Sat­ur­day night bin­go. But the half dozen sin­gle women rough­ly my age laughed out loud at the mere hint of a rela­tion­ship. To rub salt in the vis­i­ble wounds of old age, our local bar­ber, 'Oscar the Slash­er', couldn't decide where to stop trim­ming my back hair that he said was bil­low­ing out of my t‑shirt col­lar like a mul­let exten­sion that had tak­en root".
"Whoa Archie, I want to for­get that image! Mov­ing on, "so, I heard that after a wet sum­mer up there, freeze-up has been stop and go for many weeks, once again. Not like that in the '70s, although the cli­mat­ic weird­ness was already start­ed. I was read­ing about the last dog team mail car­ri­ers in the 1930s up there. I couldn't believe that their con­tracts start­ed on Novem­ber 1st between Eagle and Cir­cle City! Nowa­days they would have to car­ry a big row­boat on the over-loaded sled, like arc­tic explor­ers with an ice crushed ship on the shift­ing polar ice pack"!
"You got that right, big changes. But I think that we have a clear­er sense of our local his­to­ry here, very ground­ed. The illu­mi­nat­ing con­cept of 'Slid­ing Base­line Syn­drome', born right there in your fouled, great­ly dimin­ished waters, says it all. It is real­ly destruc­tive social amne­sia that leads to shirk­ing eco­log­i­cal respon­si­bil­i­ty by each gen­er­a­tion. How many of your exur­ban neigh­bors down there on La La Island fool­ish­ly think they live in a "pris­tine" land­scape? Most of 'em reg­u­lar­ly jet­ted all over the world before this virus, and dri­ve fash­ion­able SUVs and fan­cy trucks the whole 6 miles to the post office and store?
I think you all suf­fer from seri­ous delu­sion as to just how vul­ner­a­ble you are as our cli­mate dooms­day clock ticks down. I am glad to be here at the very end of the road where we go with­out a lot, but nature pro­vides. We work togeth­er to be sure no one suf­fers. More egal­i­tar­i­an. We under­stand that uncer­tain­ty is the rule. Wait and see what hap­pens when push comes to seri­ous shove down there on the watery mar­gins of your explod­ing Puge­topo­lis in just a few short years."
"Ha-ha Archie, I think that is true but what is going to hap­pen to you when fuel for local pow­er gen­er­a­tion triples there? Alas­ka fool­ish­ly went all-in on oil. With your bril­liant Town Coun­cil chang­ing long-stand­ing street names from Jef­fer­son or Adams to Trump! And your "Don't Tread on Me" infin­i­tes­i­mal tax­es are gonna help how?"
Since it was Win­ter Sol­stice, I want­ed to move on to the long, cold sub­arc­tic win­ters that defined our ear­ly lives. Archie didn't bat an eye, "Now deep cold is the excep­tion rather than the age-old rule and every­thing is in flux. Not just the dras­tic dis­ap­pear­ing tide­wa­ter glac­i­ers and polar ice pack, but here in the Inte­ri­or. I now gar­den out­doors a full month longer than in the 1970s. Peo­ple are grow­ing fruit trees. More thaws and rain in win­ter. Deer and cougars are slow­ly mov­ing up from Cana­da. Bark bee­tles are killing spruce on the low­er Yukon, per­mafrost thaw­ing every­where, fish runs declining".
Get­ting back to cold weath­er I said "you know that native folks out on the land hard­ly ever got frost­bite due to their supe­ri­or cir­cu­la­tion, good gear and smarts enough to avoid dis­as­ter. Hard-dri­ven white folks, look­ing for a buck, too stub­born to ease up, lost body parts all the time. Remem­ber, that old-timer that told us that if any­body was white-toed or waxy fin­gered back in the day, they had him soak the extrem­i­ty in kerosene that had been stored out­side then rubbed it vig­or­ous­ly! Why not just put a burned hand in flames and sand­pa­per it to heal it"!
"Sure, that was "Stumpy" Rawl­ins. He had oth­er sour­dough pop­py-cock about the mud­dy out­wash of plac­er min­ing being real­ly ben­e­fi­cial for grayling and oth­er fish pop­u­la­tions in the creek! But remem­ber all that town gab by stand-around-wannabees about work­ing your­self or your dog team out­doors at 50 below would freeze lungs? We must have cut trail, checked traps and labored in seri­ous cold hun­dreds of times, some­times for hours days on end, and no such damage".
"Yep, how about all that malarky about get­ting a bit wet out in the cold, being all but cer­tain death? Like an over­wrought cau­tion­ary tale from the imag­i­na­tion of good old citi­fied Jack Lon­don" scoffed Archie. "Falling in, or repeat­ed soak­ing, or on a death march like ship-crushed polar explor­ers, is ter­ri­bly dan­ger­ous and requires seri­ous skills and efforts to get warm and dry. You and I wore native style moose hide moc­casins, got wet many times try­ing to get a sled out of seri­ous slush over­flow to the knees, but if you wick some of it out wad­ing in dry snow and keep flex­ing your toes and work­ing you can eas­i­ly make some more miles to a tent or cab­in." I added, "oh yea, to stop, find dry wood, build a big fire to dry out, all the while cool­ing down, floun­der­ing in sev­er­al feet of snow, would have been a fool's gam­bit, espe­cial­ly when out alone".
"Archie, I know you have been in good ol' Fair­banks in a cold snap and expe­ri­enced the ugly mias­ma of exhaust ice-fog." "Yep, I was stuck there once or twice when no one was fly­ing in the minus 60s when you could bare­ly see the street lights, the air stunk and ravens stayed fluffed and perched. Once it warmed a bit you could see that the road­sides were lit­tered with bro­ken fan belts and oth­er rub­ber and plas­tic vehi­cle parts. Some vet­er­an taxi dri­vers and small tow guys made a small for­tune in those cold snaps and spent April in Hawaii".
"I know you haven't for­got­ten my igno­rant belief, ear­ly on, that a bot­tle of whiskey would not freeze. Course, we nev­er had whiskey around, and if we did it didn't last long enough to exper­i­ment with, but you proved that 80 proof froze hard overnight at only minus 20F or so. You also explained how wood frogs froze as hard as a brick in the mud but start­ed up fine again in spring. Speak­ing of exper­i­ments, after stick­ing my tongue on the inside of the freez­er box as a kid, leav­ing a tex­tured pat­tern of taste buds, I didn't need to learn that up north. But chan­nel­ing Jack Lon­don tales, I did light a fire with a very last stick match once, camped at 35 below."
"You'd have been uncom­fort­able, but not in grave dan­ger. Ever noticed how many authors and undis­cern­ing fools claim that in extreme cold a steam­ing pee stream will freeze before hit­ting the ground. You and I have relieved our­selves count­less times down to minus 70F and nev­er saw that. In fact, I once climbed a lad­der onto my cab­in roof at minus 55, tossed up a cup of boil­ing hot water that instant­ly turned to vapor, and pissed off the roof still able to write my name in the snow far below. Well, my ini­tials anyways."
One of our favorite top­ics about the real­i­ties of active out­door lives in the cold is the fuzzy notions about ambi­ent air tem­per­a­tures and a wind chill fac­tor. Cer­tain­ly, if you some­how find your­self near­ly naked (say bare­ly escap­ing a cab­in fire) at minus 30 you're in dire straits and a wind will do you in faster for sure. Wet as well and you're toast. Wind, whether it is blast­ing from the hills or just that cre­at­ed by trot­ting along at 15 mph with dogs, will find every lit­tle chink in the armor of your lay­ered gear as the hours wear on, exposed on the big riv­er or a moun­tain pass. "I will nev­er for­get the hours of warm­ing my pri­vates from near frost­nip after mush­ing up the riv­er at minus 50 with a 40-mph head­wind. In the dark as well, only very good dogs will keep their heads down and bore into the awful blast".
"To top it off when we start­ed up the bank into trees at our place, my head­lamp shined on a flap­ping great horned owl with a foot frozen in a marten trap. Poor bug­ger. I had to throw my par­ka over him and the trap and take them to my unheat­ed shop. (I got the trap off, but the foot was frozen, tried feed­ing him but he would only "man­tle and hiss", after a cou­ple days flew right through a soft plas­tic win­dow). By the time I chained the dogs, gave them fish, unloaded our stuff (includ­ing a prized case of eggs in a down sleep­ing bag), and stepped into the warm cab­in, my nether region burned in pain while my beard was frozen into an ice-encrust­ed face mask. Both took hours to warm up".
"You remem­ber when we learned to go beyond bank­ing snow up the cab­in walls to splash water on the upper walls to form ice for addi­tion­al insu­la­tion at extreme temps? Some­times the ice but­tons on met­al nails or spikes into the walls would grow to an inch inside the cab­in, due to a tem­per­a­ture dif­fer­en­tial of 135F. Any­thing on the floor would freeze hard and you bet­ter have a good wood­pile. Close. Cab­ins, espe­cial­ly built of green logs took for­ev­er to heat up, even with a decent wood­stove. A tent and Yukon Stove were much bet­ter than those "ice palaces."
Archie came up for air and I jumped in. "Cut­ting and haul­ing frozen hard, green birch to keep up at 50 below is not much fun. (Not to men­tion the death­ly cre­osote drip­ping down the stove pipe that ignites into a chuff­ing stack fire that kills trail­er dwellers every win­ter). Even the dogs curled tight, nose under fluffed tail, some spruce boughs under 'em if they were lucky, and only moved their eyes if we approached 'em. Once we got propane for lights it would not gasi­fy below ‑40F, but toss­ing boil­ing water on the tank, then drap­ing it with a rat­ty old blan­ket, got her going".
"Well, Champ, I got­ta go, our 4 hours of day­light are burn­ing. Some friends are burn­ing a big pile of brush and wood pal­lets tonight to cel­e­brate the return of light. Sparks will waft up to join the celes­tial dome and auro­ra over­head. We will pour drinks around the cir­cle of hap­py, bun­dled hea­thens, but won't suck on the bot­tles to be safe. Hey, if you know any fun-lovin' gals with mon­ey around there, who han­ker for tru­ly rus­tic liv­ing, please give 'em my num­ber. Hap­py New Year and Stay healthy!"
Click.
You can support the San Juan Update by doing business with our loyal advertisers, and by making a one-time contribution or a recurring donation.