Freezer Burned: Tales of Interior Alaska
Posted January 17, 2021 at 5:30 am by Hayley Day
"Freez­er Burned: Tales of Inte­ri­or Alas­ka" is a reg­u­lar col­umn on the San Juan Update writ­ten by Steve Ulvi.
The Consequences of Us and Them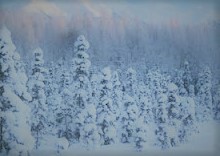 The old man emerged slow­ly from a cocoon of feath­ered warmth. The radi­ant heat­ing of the cab­in had waned after mid­night as the stove fire laid low.
In the black­ness, he searched light-fin­gered, found and struck a wood­en match to light the bunk-side kerosene lamp.
The sound of his exha­la­tions, slight­ly fog­ging in the soft yel­low light, came from his move­ments in pulling on worn pants and shirt, slid­ing into thick moc­casins. With monk­ish prac­tice, he leaned to kin­dle a new fire. The lick­ing flames quick­ly grew to a blaze and the met­al box to chuff life-like. His sim­ple morn­ing ablu­tions, long a rou­tine, fol­lowed with­out thought.
Nat­ur­al light arrives late, by human time any­way; war­i­ly, ten­ta­tive­ly as the year turns anew in Inte­ri­or Alas­ka. Step­ping out­side in the dim first light, set­ting his steam­ing cof­fee by as he relieved him­self, his shoul­ders relaxed feel­ing that it had indeed warmed to minus 12F. He tossed some corn­bread rinds for 'his' nat­ter­ing gray jay fam­i­ly. He knew that after a few days of deep cold, marten would be mov­ing in the rel­a­tive warmth above the lam­i­nat­ed val­ley air. It would be a promis­ing day to check dozens of pole sets along Napoleon Creek ridge. He wel­comed the light gauze cloy­ing the forest­ed ridge­lines, a warm­ing breeze por­tend­ing much-need­ed snow, an era­sure of old pat­terns and a reveal of ani­mal movements.
Sev­er­al days before, as the bone-white moon hung low, cir­cu­lar pocks eas­i­ly vis­i­ble, he had been sur­prised by whin­ing snow machines wend­ing up the thick­ly iced, almost snow­less Forty Mile Riv­er. He was busy haul­ing water using a carved wood­en yoke, padded at the neck, dan­gling two plas­tic buck­ets on hooks. Years back the buck­ets would have sloshed, brim full. Walk­ing back out to the riv­er bank, he scru­ti­nized the trav­el­ers, iden­ti­cal in appear­ance in that gov­ern­ment way, abrupt­ly turn­ing toward him weav­ing and bang­ing humped ice lead­ing to his perch. He smiled, notic­ing a plump gray dip­per, some­times called ouzel, search­ing food under the wavelets rif­fling beneath him.
As the pair palmed the kill-switch­es to qui­et the thrum­ming engines and bluish exhaust, he clear­ly saw that they were bulk­i­ly clad Alas­ka State Troop­ers. They removed their trap­per hats, stood casu­al­ly apart, calm­ly tak­ing in every cue.
Morn­ing! I'm Sergeant John Nowl­in out­ta Tok. We're fol­low­ing up on anoth­er com­plaint from the young guys up at Napoleon Creek. I was hop­ing that things were cooled down after our inter­ven­tion there last month. You prob­a­bly heard the chopper?
Sure, I saw it fly by across the riv­er. Kin­da hard to miss! I did won­der what the hell was goin' on.
By chance, have you observed or talked with any of those guys argu­ing about those gold claims late­ly? Espe­cial­ly Karl Becker?
Nah. Most folks around here, in Chick­en too, know that I don't think high­ly of cut and run nugget min­ers. I mean to steer clear of 'em. Those guys know not to stop by here. Every sum­mer now suc­tion dredgers arrive from Out­side with brand new gear stu­pid with gold fever. I leave notes and no tres­pass­ing signs but they vio­late my stuff here every year. Com­plaints and threats bring you guys and those damned fed­er­al rangers to the riv­er to snoop around and both­er us all.
Well, alright, I under­stand that. But we have a duty to pre­serve pub­lic safe­ty-includ­ing yours-when ten­sions and the pos­si­bil­i­ty of vio­lence arise. So, are you aware of any­thing we should know about today?
Could be. One of my ridge lines looks over the old cab­ins and creek mouth. Made my first sets a few weeks back with the first snow, heard some shoutin' and com­mo­tion down by the cab­ins there one day but couldn't see much. Was a blue and white 4- wheel dri­ve rig stopped on the ice. Ain't a pound of com­mon sense among em'. No respect for the sim­ple grace of livin' out here. Next thing you know, those guys will be set­ting traps in my area. Slow­ly shak­ing his head, he sucked the last of his smoke, flick­ing the butt. He sug­gest­ed their use of the old bull­doz­er trails he used cross­ing the next two wil­lowed bends that would bypass a lot of open black water.
That Kraut Karl is a hard-ass and a bul­ly. His part­ner Dan owns a rig just like that un. Don't trust him one bit. And ya, I have my trap­ping license at the cab­in, if you wan­na check it.
The sea­soned troop­ers smiled and nod­ded as they con­ferred, eyes on the old man, then mount­ed the big machines and accel­er­at­ed away quick­ly, well-sep­a­rat­ed. The old man noticed their dark rifle scab­bards on each machine. Their uneven thrum of progress upriv­er fad­ed, and was quick­ly absorbed by the immense qui­et. Hours lat­er, after dark, he heard their return and saw the long cones of head­lights jounc­ing along the dis­tant bank daz­zling the trees and frost­ed brush. The lead machine was bright­ly lit, then not, by the trail­ing one as they passed by. Shim­mer­ing cur­tains of celes­tial lights, pale green but emerg­ing from an uncom­mon rouge smear to the north, streamed overhead.
In the frigid, con­densed days to fol­low, the old man bent to reg­u­lar chores while ground fog obscured the riv­er; pulling in tobog­gans of dry wood, skin­ning and turn­ing marten and lynx pelts on stretch­er boards and check­ing near­by rab­bit snares set along a sin­u­ous oxbow slough. He har­bored hope that cari­bou might wan­der near in the light of day and watched ravens for signs. But he was con­tent with corn­bread, beans and fry meat. He liked sim­plic­i­ty and only ate to live. Lynx hindquar­ters were a bonus as his trea­sured case of Spam was about gone.
In the wel­come warmer air, he loaded his small tobog­gan, fussed with the tarp, strap­ping his trail snow­shoes on top. He gripped a short-bar­reled .22–410 sin­gle shot, over and under rifle and a trail axe in his gloved hands. His search­ing head­lamp beam led the way, illu­mi­nat­ing the tiny snowflakes that swirled around him. Ear­li­er while sip­ping strong cof­fee and eat­ing he had tuned in a fad­ing KJNP weath­er fore­cast that aligned nice­ly with what he was see­ing around him, near­ly 200 miles away from North Pole.
Dur­ing the pre­ced­ing nights under clear skies he had been able to lis­ten to Trapline Chat­ter, an evening pro­gram that con­nect­ed far-flung bush dwellers with mes­sages from oth­ers. King Jesus North Pole trans­mit­ting over 50,000 watts of Chris­t­ian reli­gious pro­gram­ming, had a vast and wel­come reach. A high pres­sure atmos­pher­ic "skip" also allowed radio waves from afar; Cana­di­an Broad­cast­ing Cor­po­ra­tion from White­horse, Yukon Ter­ri­to­ry and some­times even KGO talk radio, that he char­ac­ter­ized as most­ly lib­er­al crap, ema­nat­ing from San Francisco.
The old man could nev­er for­get ship­ping out from Mare Island in San Fran­cis­co Bay with his unit of mid-west­ern boys, many from his own Wis­con­sin, in a huge blacked-out con­voy, death­ly sea­sick, churn­ing to some­where in the South Pacif­ic the­atre. Then dis­em­bark­ing into the hell hole of Japan­ese held New Guinea in 1942. He proud­ly remem­bered 'The Ghost Moun­tain Boys' ordered to march over a hun­dred miles over a range to attack while starv­ing, foot-rot­ted and dec­i­mat­ed by malar­ia, beyond need­ed resup­ply. Scarred, but sur­viv­ing the ordeal, he vowed that he would nev­er live around 'Japs' or trav­el any­where near steamy, infest­ed jun­gles. Remote inte­ri­or Alas­ka was inten­tion­al­ly a very long way from both.
Strid­ing back along the flat, tobog­gan fol­low­ing, he fresh­ened lynx sets with drops of beaver cas­tor from a drop­per bot­tle. Pulling a dead jay from his only marten pole set on the flat, he reset and rebait­ed the # 1 trap to lat­er hang the car­cass of the hap­less bird, wings spread to catch slight air move­ments, to swing above the next lynx cub­by, hid­ing # 4 jump trap. As he slogged on, he saw dart­ing rab­bits in the dim light, but was slow to shoul­der and swing his rifle.
As the trail began to switch­back and climb the toe of the spruce clad ridge, an unpleas­ant steep sec­tion, he paused to cut away some limbs and refresh tree blazes. A squir­rel scold­ed aggres­sive­ly from a small limb, with yel­lowed chis­el teeth and bulging eyes. He looked for fresh signs of the young por­cu­pine that trudged pigeon-toed between his favored spruce on that slope. Easy enough to find, should fat or pro­tein run low lat­er on.
He breathed deeply, climb­ing slow­ly and delib­er­ate­ly in the man­ner of an active old man. Remov­ing his hat, unzip­ping his light par­ka, he rel­ished not hav­ing to strap on snow­shoes as yet. He bypassed sev­er­al marten that hung at chest height by one clamped paw, head bowed in frozen death, to be col­lect­ed on the way back down. He had long ago learned the hard way that caching the valu­able fur ani­mals in snow, even for just a few hours, could invite rodents to chew and dimin­ish the pelt value.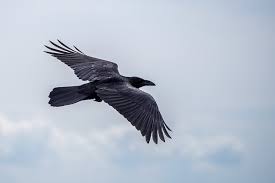 As he reached the long hog­back of the ridge in the dusk of mid-day, the spit­ting snow and low clouds thinned to enlarge his per­spec­tive. In a few weeks he would cel­e­brate the sun, impos­si­bly bright, just above the rum­pled south­ern hori­zon from just this place. Ravens chor­tled and bar­rel-rolled just over­head in the unpre­dictable way of the black trick­sters, on their way into the broad val­ley with just a few hours in which to dis­cov­er food.
He could now see the rus­tic cab­ins clus­tered a mile away, eas­i­ly vis­i­ble through the bare, black­ened sticks of a decade's old burn. The com­ments of the Troop­ers re-played in his mind, unset­tling him. He had his binoc­u­lars and decid­ed to take his lunch then, enjoy­ing a small fire for snowmelt tea. He scanned the qui­et cab­ins set back from the low riv­er bank, then noticed the two young guys chop­ping into riv­er ice near the creek mouth. The old man knew they were snip­ing for nugget gold long set­tled in rock crevices and ledges beneath the deep, strong cur­rents of sum­mer. Gold beyond the reach of suc­tion dredges and divers as well as the exten­sive plac­er min­ing of ancient val­ley grav­els, but now tem­porar­i­ly void of the main win­ter flow cours­ing against the far bank.
Sip­ping his cool­ing tea, tug­ging on jerky, the old man faint­ly heard their voic­es and ice-chop­ping sev­er­al sec­onds after their actions in the cir­cu­lar, mag­ni­fied scene at dis­tance. After a few min­utes, out to his left, he noticed the move­ment of a vehi­cle dri­ving on the riv­er ice, weav­ing toward the creek mouth, tire chains faint­ly slap­ping. He focused his binocs on at least two men in the same 4‑wheel dri­ve he had described to Sgt. Nowl­in. His heart rate rose along with the inten­si­ty of his curios­i­ty. With the dis­tance clos­ing he swung the binoc­u­lars to the place the men had been labor­ing, but they had moved now, togeth­er watch­ing the vehi­cle from near the ram­shackle cab­ins, where smoke curled. One of the light­ly-clad young men walked pur­pose­ly toward the slowed vehi­cle, both doors now open wide, two taller men emerg­ing with pur­pose. Unin­tel­li­gi­ble, ris­ing, emphat­ic voic­es car­ried as the three con­verged, arms wav­ing, a few yards apart in front of the idling vehicle.
The dri­ver turned and seemed to lunge toward his open door, the young man's jack­et­ed arm extend­ed, recoil­ing at the flash­es, then the old man heard the delayed, repeat­ed pop­ping of the hand­gun. The reel­ing dri­ver pulled a shot­gun from the front seat and fired once from his hip toward the retreat­ing gun­man, who stum­bled, return­ing fire, grab­bing at his leg. His part­ner ran from the near­est cab­in, took aim with a rifle and shot Karl down as he rose from the ice, shout­ing loud­ly, try­ing to get back to the vehi­cle. The delayed report was sharp and loud­er as Karl pitched vio­lent­ly, lay sprawled, unmov­ing, while the truck rapid­ly turned away, doors flop­ping open and shut. Both young men aimed and fired sev­er­al times at the depart­ing vehi­cle, engine revving and des­per­ate­ly claw­ing away. The echoes of the last reports returned from the bluffs across the riv­er to be swal­lowed by the immense quiet.
The old man stood mes­mer­ized, stunned by the dead­ly con­fronta­tion that he had wit­nessed, by pure chance, while the truck sped down­riv­er, escap­ing, merg­ing with the blur of dark trees and bend­ing riv­er. The woodsmoke from the cab­in increased and swirled dark­ly above the life­less body that was the only vis­i­ble evi­dence of the ter­ri­ble event.
Strick­en by an acidic fear, a revul­sion like he hadn't felt since the death­ly envi­rons of New Guinea, the old man cussed aloud as he moved to repack with renewed ener­gy. Con­flict­ed, he fid­get­ed, talk­ing to him­self, eyes turn­ing back to reas­sure him­self that what he had seen was real. The dark lump that was Krout Karl had not moved. Soon it would dark­en, his pace quick­ened in descend­ing the ridge, to return as quick­ly as pos­si­ble to the famil­iar com­fort of his cab­in, but also to an uncer­tain tomorrow.
(Authors Note: This sto­ry is a fic­tion­al­ized, but rea­son­ably accu­rate account of an actu­al event. Joseph "Pol­lock Joe" Hejek was killed instant­ly and min­ing part­ner, Dwayne Bow­ers bad­ly wound­ed by 8 bul­lets, who man­aged to dri­ve 6 riv­er miles to the road, then was helped to speed 8 more miles into the tiny min­ing enclave of Chick­en, where he bled to death at the Post Office on Decem­ber 22, 1977. The young men pled self-defense and spent short jail sen­tences before release, adding exam­ple to a fron­tier adage that "in Alas­ka you get in more trou­ble killing a moose out of sea­son, than killing someone".)
You can support the San Juan Update by doing business with our loyal advertisers, and by making a one-time contribution or a recurring donation.