Freezer Burned: Tales of Interior Alaska
"Freezer Burned: Tales of Interior Alaska" is a regular column on the San Juan Update written by Steve Ulvi.
The Consequences of Us and Them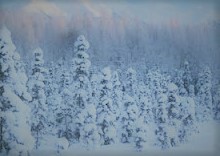 The old man emerged slowly from a cocoon of feathered warmth. The radiant heating of the cabin had waned after midnight as the stove fire laid low.
In the blackness, he searched light-fingered, found and struck a wooden match to light the bunk-side kerosene lamp.
The sound of his exhalations, slightly fogging in the soft yellow light, came from his movements in pulling on worn pants and shirt, sliding into thick moccasins. With monkish practice, he leaned to kindle a new fire. The licking flames quickly grew to a blaze and the metal box to chuff life-like. His simple morning ablutions, long a routine, followed without thought.
Natural light arrives late, by human time anyway; warily, tentatively as the year turns anew in Interior Alaska. Stepping outside in the dim first light, setting his steaming coffee by as he relieved himself, his shoulders relaxed feeling that it had indeed warmed to minus 12F. He tossed some cornbread rinds for 'his' nattering gray jay family. He knew that after a few days of deep cold, marten would be moving in the relative warmth above the laminated valley air. It would be a promising day to check dozens of pole sets along Napoleon Creek ridge. He welcomed the light gauze cloying the forested ridgelines, a warming breeze portending much-needed snow, an erasure of old patterns and a reveal of animal movements.
Several days before, as the bone-white moon hung low, circular pocks easily visible, he had been surprised by whining snow machines wending up the thickly iced, almost snowless Forty Mile River. He was busy hauling water using a carved wooden yoke, padded at the neck, dangling two plastic buckets on hooks. Years back the buckets would have sloshed, brim full. Walking back out to the river bank, he scrutinized the travelers, identical in appearance in that government way, abruptly turning toward him weaving and banging humped ice leading to his perch. He smiled, noticing a plump gray dipper, sometimes called ouzel, searching food under the wavelets riffling beneath him.
As the pair palmed the kill-switches to quiet the thrumming engines and bluish exhaust, he clearly saw that they were bulkily clad Alaska State Troopers. They removed their trapper hats, stood casually apart, calmly taking in every cue.
Morning! I'm Sergeant John Nowlin outta Tok. We're following up on another complaint from the young guys up at Napoleon Creek. I was hoping that things were cooled down after our intervention there last month. You probably heard the chopper?
Sure, I saw it fly by across the river. Kinda hard to miss! I did wonder what the hell was goin' on.
By chance, have you observed or talked with any of those guys arguing about those gold claims lately? Especially Karl Becker?
Nah. Most folks around here, in Chicken too, know that I don't think highly of cut and run nugget miners. I mean to steer clear of 'em. Those guys know not to stop by here. Every summer now suction dredgers arrive from Outside with brand new gear stupid with gold fever. I leave notes and no trespassing signs but they violate my stuff here every year. Complaints and threats bring you guys and those damned federal rangers to the river to snoop around and bother us all.
Well, alright, I understand that. But we have a duty to preserve public safety-including yours-when tensions and the possibility of violence arise. So, are you aware of anything we should know about today?
Could be. One of my ridge lines looks over the old cabins and creek mouth. Made my first sets a few weeks back with the first snow, heard some shoutin' and commotion down by the cabins there one day but couldn't see much. Was a blue and white 4- wheel drive rig stopped on the ice. Ain't a pound of common sense among em'. No respect for the simple grace of livin' out here. Next thing you know, those guys will be setting traps in my area. Slowly shaking his head, he sucked the last of his smoke, flicking the butt. He suggested their use of the old bulldozer trails he used crossing the next two willowed bends that would bypass a lot of open black water.
That Kraut Karl is a hard-ass and a bully. His partner Dan owns a rig just like that un. Don't trust him one bit. And ya, I have my trapping license at the cabin, if you wanna check it.
The seasoned troopers smiled and nodded as they conferred, eyes on the old man, then mounted the big machines and accelerated away quickly, well-separated. The old man noticed their dark rifle scabbards on each machine. Their uneven thrum of progress upriver faded, and was quickly absorbed by the immense quiet. Hours later, after dark, he heard their return and saw the long cones of headlights jouncing along the distant bank dazzling the trees and frosted brush. The lead machine was brightly lit, then not, by the trailing one as they passed by. Shimmering curtains of celestial lights, pale green but emerging from an uncommon rouge smear to the north, streamed overhead.
In the frigid, condensed days to follow, the old man bent to regular chores while ground fog obscured the river; pulling in toboggans of dry wood, skinning and turning marten and lynx pelts on stretcher boards and checking nearby rabbit snares set along a sinuous oxbow slough. He harbored hope that caribou might wander near in the light of day and watched ravens for signs. But he was content with cornbread, beans and fry meat. He liked simplicity and only ate to live. Lynx hindquarters were a bonus as his treasured case of Spam was about gone.
In the welcome warmer air, he loaded his small toboggan, fussed with the tarp, strapping his trail snowshoes on top. He gripped a short-barreled .22-410 single shot, over and under rifle and a trail axe in his gloved hands. His searching headlamp beam led the way, illuminating the tiny snowflakes that swirled around him. Earlier while sipping strong coffee and eating he had tuned in a fading KJNP weather forecast that aligned nicely with what he was seeing around him, nearly 200 miles away from North Pole.
During the preceding nights under clear skies he had been able to listen to Trapline Chatter, an evening program that connected far-flung bush dwellers with messages from others. King Jesus North Pole transmitting over 50,000 watts of Christian religious programming, had a vast and welcome reach. A high pressure atmospheric "skip" also allowed radio waves from afar; Canadian Broadcasting Corporation from Whitehorse, Yukon Territory and sometimes even KGO talk radio, that he characterized as mostly liberal crap, emanating from San Francisco.
The old man could never forget shipping out from Mare Island in San Francisco Bay with his unit of mid-western boys, many from his own Wisconsin, in a huge blacked-out convoy, deathly seasick, churning to somewhere in the South Pacific theatre. Then disembarking into the hell hole of Japanese held New Guinea in 1942. He proudly remembered 'The Ghost Mountain Boys' ordered to march over a hundred miles over a range to attack while starving, foot-rotted and decimated by malaria, beyond needed resupply. Scarred, but surviving the ordeal, he vowed that he would never live around 'Japs' or travel anywhere near steamy, infested jungles. Remote interior Alaska was intentionally a very long way from both.
Striding back along the flat, toboggan following, he freshened lynx sets with drops of beaver castor from a dropper bottle. Pulling a dead jay from his only marten pole set on the flat, he reset and rebaited the # 1 trap to later hang the carcass of the hapless bird, wings spread to catch slight air movements, to swing above the next lynx cubby, hiding # 4 jump trap. As he slogged on, he saw darting rabbits in the dim light, but was slow to shoulder and swing his rifle.
As the trail began to switchback and climb the toe of the spruce clad ridge, an unpleasant steep section, he paused to cut away some limbs and refresh tree blazes. A squirrel scolded aggressively from a small limb, with yellowed chisel teeth and bulging eyes. He looked for fresh signs of the young porcupine that trudged pigeon-toed between his favored spruce on that slope. Easy enough to find, should fat or protein run low later on.
He breathed deeply, climbing slowly and deliberately in the manner of an active old man. Removing his hat, unzipping his light parka, he relished not having to strap on snowshoes as yet. He bypassed several marten that hung at chest height by one clamped paw, head bowed in frozen death, to be collected on the way back down. He had long ago learned the hard way that caching the valuable fur animals in snow, even for just a few hours, could invite rodents to chew and diminish the pelt value.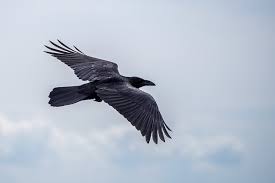 As he reached the long hogback of the ridge in the dusk of mid-day, the spitting snow and low clouds thinned to enlarge his perspective. In a few weeks he would celebrate the sun, impossibly bright, just above the rumpled southern horizon from just this place. Ravens chortled and barrel-rolled just overhead in the unpredictable way of the black tricksters, on their way into the broad valley with just a few hours in which to discover food.
He could now see the rustic cabins clustered a mile away, easily visible through the bare, blackened sticks of a decade's old burn. The comments of the Troopers re-played in his mind, unsettling him. He had his binoculars and decided to take his lunch then, enjoying a small fire for snowmelt tea. He scanned the quiet cabins set back from the low river bank, then noticed the two young guys chopping into river ice near the creek mouth. The old man knew they were sniping for nugget gold long settled in rock crevices and ledges beneath the deep, strong currents of summer. Gold beyond the reach of suction dredges and divers as well as the extensive placer mining of ancient valley gravels, but now temporarily void of the main winter flow coursing against the far bank.
Sipping his cooling tea, tugging on jerky, the old man faintly heard their voices and ice-chopping several seconds after their actions in the circular, magnified scene at distance. After a few minutes, out to his left, he noticed the movement of a vehicle driving on the river ice, weaving toward the creek mouth, tire chains faintly slapping. He focused his binocs on at least two men in the same 4-wheel drive he had described to Sgt. Nowlin. His heart rate rose along with the intensity of his curiosity. With the distance closing he swung the binoculars to the place the men had been laboring, but they had moved now, together watching the vehicle from near the ramshackle cabins, where smoke curled. One of the lightly-clad young men walked purposely toward the slowed vehicle, both doors now open wide, two taller men emerging with purpose. Unintelligible, rising, emphatic voices carried as the three converged, arms waving, a few yards apart in front of the idling vehicle.
The driver turned and seemed to lunge toward his open door, the young man's jacketed arm extended, recoiling at the flashes, then the old man heard the delayed, repeated popping of the handgun. The reeling driver pulled a shotgun from the front seat and fired once from his hip toward the retreating gunman, who stumbled, returning fire, grabbing at his leg. His partner ran from the nearest cabin, took aim with a rifle and shot Karl down as he rose from the ice, shouting loudly, trying to get back to the vehicle. The delayed report was sharp and louder as Karl pitched violently, lay sprawled, unmoving, while the truck rapidly turned away, doors flopping open and shut. Both young men aimed and fired several times at the departing vehicle, engine revving and desperately clawing away. The echoes of the last reports returned from the bluffs across the river to be swallowed by the immense quiet.
The old man stood mesmerized, stunned by the deadly confrontation that he had witnessed, by pure chance, while the truck sped downriver, escaping, merging with the blur of dark trees and bending river. The woodsmoke from the cabin increased and swirled darkly above the lifeless body that was the only visible evidence of the terrible event.
Stricken by an acidic fear, a revulsion like he hadn't felt since the deathly environs of New Guinea, the old man cussed aloud as he moved to repack with renewed energy. Conflicted, he fidgeted, talking to himself, eyes turning back to reassure himself that what he had seen was real. The dark lump that was Krout Karl had not moved. Soon it would darken, his pace quickened in descending the ridge, to return as quickly as possible to the familiar comfort of his cabin, but also to an uncertain tomorrow.
(Authors Note: This story is a fictionalized, but reasonably accurate account of an actual event. Joseph "Pollock Joe" Hejek was killed instantly and mining partner, Dwayne Bowers badly wounded by 8 bullets, who managed to drive 6 river miles to the road, then was helped to speed 8 more miles into the tiny mining enclave of Chicken, where he bled to death at the Post Office on December 22, 1977. The young men pled self-defense and spent short jail sentences before release, adding example to a frontier adage that "in Alaska you get in more trouble killing a moose out of season, than killing someone".)