Friday Harbor Film Festival Presents Music Documentaries
Posted January 28, 2021 at 5:30 am by Hayley Day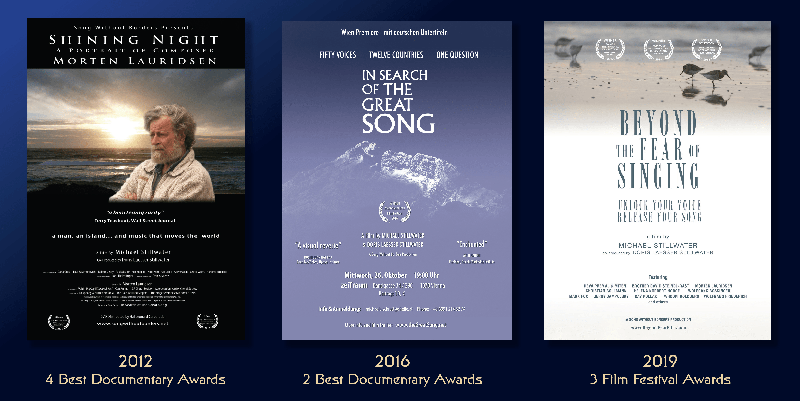 From Fri­day Har­bor Film Festival
The Fri­day Har­bor Film Fes­ti­val presents "In Search of the Great Song," an extra­or­di­nary musi­cal doc­u­men­tary series direct­ed by Michael and Doris Laess­er Still­wa­ter who were inspired by their "ded­i­ca­tion to the under­ly­ing source of music and song."
Watch online Feb. 1–17 at fhff.org. Screen Indi­vid­ual movies for $3.95 or pur­chase a tril­o­gy pass for $8.95.
"Shining Night: A Portrait of Composer Morten Lauridsen,"
This film offers a glimpse into the life and music of the artist con­sid­ered to be one of the great­est liv­ing choral com­posers and cer­tain­ly one of the most fre­quent­ly per­formed. The film fea­tures inti­mate inter­views with him in Cal­i­for­nia, Scot­land and Wal­dron Island (in the San Juans), inter­wo­ven with per­for­mances of his mas­ter­works in Amer­i­ca and Scot­land and com­men­taries by music con­tem­po­raries. It gives the view­er a rare oppor­tu­ni­ty to spend a lit­tle time with this extra­or­di­nary man, who has derived his inspi­ra­tion from the nat­ur­al world. As Lau­rid­sen has observed, "You can hear that its seren­i­ty, calm­ness, and beau­ty have crept into my music."
"In Search of the Great Song"
This film explores and cel­e­brates the uni­ver­sal cur­rent puls­ing through all life in spo­ken word, sound and music. From the Aus­tralian out­back to the San Juan Arch­i­pel­ago, from South India to the Swiss Alps the ques­tion asked of peo­ple – faith lead­ers, artists, sci­en­tists, philoso­phers, indige­nous elders, and oth­ers – is, "What is the Great Song for you?" Infused with music from around the world, 50 remark­able respons­es cross bor­ders of cul­ture, faith, arts, and sci­ence, weav­ing a mul­ti-faceted, time­less tapes­try, a cin­e­mat­ic tes­ta­ment to our com­mon spir­it. This film offers a panoram­ic, con­tem­pla­tive, and exis­ten­tial overview of the notion of the Great Song in peo­ple around the world. Fifty voic­es. Twelve coun­tries. One question.
"Beyond the Fear of Singing"
In a soci­ety where peo­ple are often mea­sured by the prowess of their per­for­mance, those of us who at an ear­ly age expe­ri­ence crit­i­cism of the sound of our voice, or find our singing con­stant­ly being com­pared unfa­vor­ably to oth­ers, may end up reluc­tant to sing. This film explores how this world-wide epi­dem­ic of silenced song is being met by an irre­press­ible upris­ing of the pri­mal urge to sing. Draw­ing exten­sive­ly on the spo­ken insights and orig­i­nal music of voice edu­ca­tors and artists from North Amer­i­ca, Europe, Aus­tralia, and India, it presents a tru­ly glob­al perspective.
These films fea­ture music by world-renowned com­posers Morten Lau­rid­sen and Alex Shapiro, both res­i­dents of San Juan Island. Lau­rid­sen is a recip­i­ent of the Nation­al Medal of Arts and was named an "Amer­i­can Choral Mas­ter" by the Nation­al Endow­ment for the Arts. Shapiro's music is known for her seam­less meld­ing of live and record­ed sounds that often include strik­ing visu­al and phys­i­cal ele­ments, and for her inno­v­a­tive uses of tech­nol­o­gy in her works.
Special Events
Direc­tors Michael and Doris Laess­er Still­wa­ter, along with com­posers Morten Lau­rid­sen and Alex Shapiro will par­tic­i­pate in a livestream Q&A. If you miss the livestream, you can watch it free online.
A video per­for­mance of "Water Voy­ages" by Alex Shapiro fea­tur­ing Sue Col­la­do (clar­inet) and Pat Nel­son (bas­soon) along with Alex's pho­tog­ra­phy, will be avail­able free on the website.
You can support the San Juan Update by doing business with our loyal advertisers, and by making a one-time contribution or a recurring donation.