Island Stage Left's Daniel Mayes Performs For San Juan Community Theatre Today
Posted January 29, 2021 at 5:58 am by Hayley Day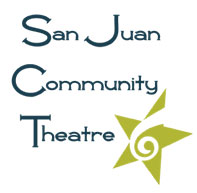 From San Juan Com­mu­ni­ty Theatre
Daniel Mayes of Island Stage Left per­forms a series of mono­logues, titled "Inter­pre­ta­tions," that will leave you breathless.
Intro­duced by Helen Machin-Smith, Daniel fills the San Juan Com­mu­ni­ty The­atre stage with life through a vari­ety of tales.
The evening begins with a mono­logue from Shake­speare's "Oth­el­lo," and then tran­si­tions to a poem by Yeats, "The Song of the Wan­der­ing Aengus."
Daniel returns to Shake­speare with "Hen­ry V," and then a won­der­ful per­for­mance from what is often called "the Scot­tish play." Daniel con­tin­ues with a poem turned mono­logue, "The Bal­lad of Tough Tom," and then gra­cious­ly offers the view­er a look at one of his well-known per­for­mances from "The Tempest."
While we dream of once again watch­ing Island Stage Left­'s Shake­speare Under the Stars in per­son, this vir­tu­al per­for­mance by Daniel will lift your spir­its and bring the arts back into your life, if but for a few moments.
You tru­ly do not want to miss this incred­i­ble performance.
Watch the show here.
You can support the San Juan Update by doing business with our loyal advertisers, and by making a one-time contribution or a recurring donation.