Register for Virtual San Juan Islands Agricultural Summit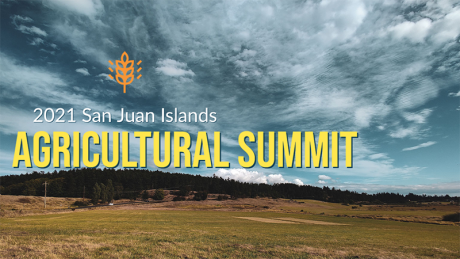 From event organizers
The 2021 San Juan Islands Agricultural Summit will be held virtually from March 20-April 16. Registration closes March 14.
Designed as a space for inspiration, education, and community building, the 2021 Summit is bringing together farmers, producers, and food system advocates to learn and discuss ways to build an equitable future for all involved in the San Juan County food system.
To provide ample space for contemplation and in hopes of preventing any Zoom burnout, 2021 Summit events will be offered over a period of four weeks in March and April. While it certainly won't be the same as gathering in person, this online format opens the door to hearing from speakers across the country, and provides the opportunity to stay engaged over multiple weeks!
Events will include discussion panels, multi-week study groups, a roundtable talk, keynote addresses, and a movie screening, covering a range of topics at the intersection of social justice and agriculture, including:
Local Indigenous Foodways
Equitable Local Food Access
White Supremacy Culture in Food Systems
History of Black Agrarianism
Reparations in Agriculture & Alternative Models
Equitable Farm Labor
Decolonizing Regenerative Agriculture
Engage with speakers from Viva Farms, Samish, Tulalip, Swinomish, and S'klallam tribal communities, Sylvanaqua Farms, Northwest Indian College, Black Futures Farm, Black Food Sovereignty Coalition, Yes Farm, Black Farmers Collective, and many more.
Read more at extension.wsu.edu.